3 Quotes That Inspire and Exemplify Yoga & Meditation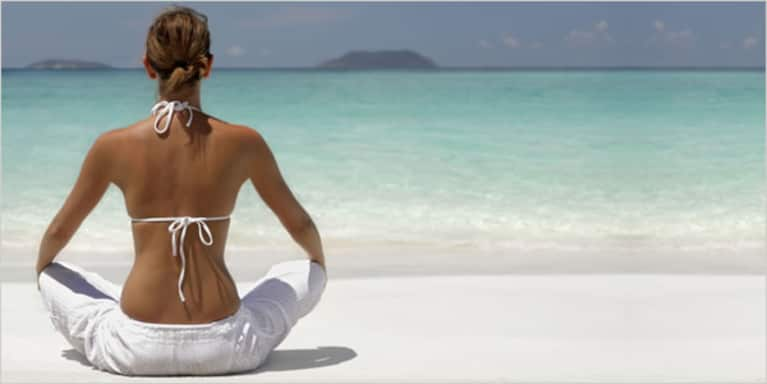 I am a girl, which means as a child growing up I had a book full of quotes. I may not keep quotes anymore, but I still find that people much smarter and more articulate than me can speak to what is that I'm feeling.
These three quotes are an inspiration and exemplify what yoga and meditation mean to me, and how I define serenity.
1. "Peace. It does not mean to be in a place where there is no noise, trouble or hard work. It means to be in the midst of these things and still be calm in your heart." -- Unknown
Whomever said this knows what they're talking about. It reminds me of the quote that "courage is not the absence of fear, but rather the judgement that something else is more important than fear." Peace is not about having a perfect life -- that would be boring! Peace is (in layman's terms) knowing how to roll with the punches and understanding how to take a deep breath and relax.
For me, and I'm sure, for many of you reading this, I find my peace in yoga and meditation - it gives me that opportunity to quiet my mind and let thoughts settle, slow my frenzied heartbeat and remember what it is like to be in my own skin. The feeling behind this quote is what I had been seeking for many years and when I found it I let out a lot of tension in my mind and body that I didn't realize that I was holding.
It's important for each of us to find that calm lake at our center -- through whatever means it needs to be done.
2. "What lies behind us and what lies before us are small matters compared to what lies within us." – Ralph Waldo Emerson
It took me a long time to realize this. What has happened to me does not define me and worrying about the future can be fruitless and pull the color out of our lives. Our strength lies within us and having the confidence to recognize and understand ourselves, and having the courage to actually take the time to know ourselves and who we are -- flaws and all.
It's amazing how little time people take in this modern world of instant gratification and digital lives to reflect and actually get to know themselves in the quiet of their own mind. People can't stand silence anymore and stillness is a stranger. How can you know yourself if you can't be in your own mind without distractions?
3. "Live with intention. Walk to the edge. Listen hard. Practice wellness. Play with abandon. Laugh. Choose with no regret. Continue to learn. Appreciate your friends. Do what you love. Live as if this is all there is." -- Mary Anne Radmacher
Radmacher's quote is perhaps one of my favorite quotes -- I guess I'm saving the best for last? There is a joyous confidence about this quote that so succinctly encapsulates living for me. "Live as if this is all there is," indeed -- because in this moment, this is all we have.
For me, one of the most important elements of living with intention is self-awareness, that understanding of self that many people are lacking. I found it through allowing myself peace and quietude, to stretch my legs and explore my own mind.
Whenever I feel myself slipping into unhappiness or discontent, I remember this and remember that I have one life to live. It picks me up out of my funk and takes me out my front door to a new place.
While all of these quotes come back to the same concept -- for me, at least -- they were all inspirations, they are all different sides of the same concept -- the goal, the thought, and the action.
What inspires you?