How 7 Simple Days Restored Me To Sanity
September 22, 2011 — 15:00 PM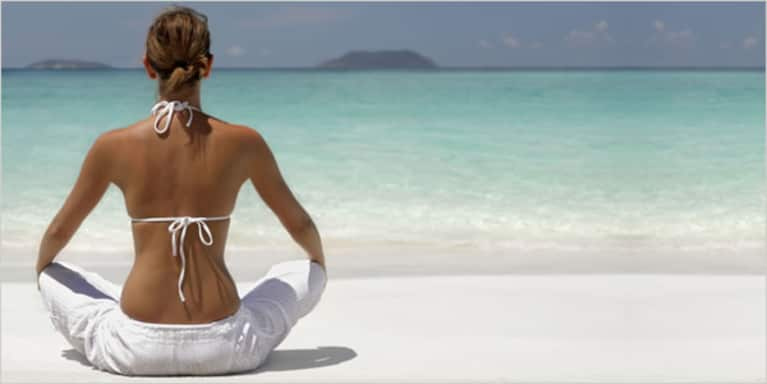 On September 25th 2009, I found myself in a very strange place. It wasn't anywhere I would have chosen to go and it's not anywhere I recommend anyone visit. I was at home with my one-year-old son and my three-and-a-half-year-old daughter, as a single parent.
I might have been in shock when the door closed behind my ex-husband, but how could I even tell? My daughter had just started pre-school three days before, which came along with new routines, friends, expectations and obligations to meet. My son was your typical one-year-old-boy. Exhausting. On his feet, on the desk, flat on his face, pulling it down, knocking it over, throwing food, hating diapers, needing a bottle, a bath, a hug, a band-aid, a helmet! He was at the time, what my ex lovingly referred to as, a "total liability." And still, there was dinner to cook and stories to read, some semblance of normalcy and stability to uphold because, even though I knew it was okay if it happened, I didn't want my children to see me fall apart.  
To compound the situation my son would wake up throughout the night and cry, so loud and so often, that I finally, with no other means of dealing with it, had to insert earplugs and move my daughter out of their room and into mine, so we could at least sleep.
In the meantime I had a small business to run. I own BodyTonic Pilates Gymnasium in Park Slope, Brooklyn. I am the proud boss and co-worker of 8-10 instructors there and was teaching clients and apprentices 4 or 5 days per week. If this is all exhausting to read you can imagine what it was to live it. I've always been responsible, but I think that this level of responsibility warrants an entirely new word. It was a completely unmanageable existence, but I didn't see any way around it. I was just spinning around and around like one of the balls I was keeping in the air.
Within the midst of all of this, I was approached to co-lead a pilates and yoga retreat in Tulum, Mexico that would happen in March. My first thought was, "I have too much on my plate." And then with a little uncertainty, and a hint of mischief, I said, "I'll do it."  
I went. And I slept and I practiced yoga, and I taught pilates, and I ate three full uninterrupted meals per day, with many uninterrupted conversations, and met many interesting people, and took a couple of invigorating hikes! And on the very last day, after all the guests left, I walked to the waves, took a deep breath in and burst into tears. I would never be able to return to my life the way it was. I could not allow myself to live a life with no time for a delicious breakfast of fresh fruit, yogurt and a croissant. I could not live a life without space for beautiful sounds, scents, sights and nature and laughter with good people.
When I arrived back in Brooklyn, the kids were fine. The ex was fine. BodyTonic was fine! And each of them grew a bit without Mom there. Voids got filled and new spaces opened up.  We all had croissants and yogurt and fresh fruit, even if it wound up on the floor! I gave up a day of work at BodyTonic and soon after, began sending the kids to Dad's to sleep one night per week. A year later I completed my Yoga Teacher Training at OM yoga Center NYC and learned for the first time, the word ahimsa.