Yoga Adventures in Babysitting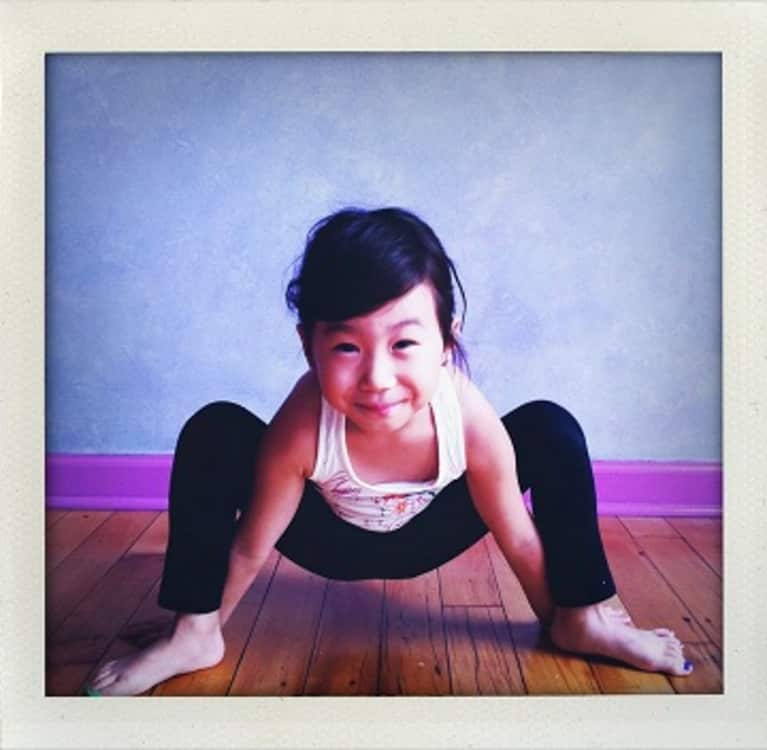 I chatted with Alexa Woods, a NYC yogi and babysitter who has found bringing yoga to the kids she babysits helps them to all bond and get along, while getting exercise. Like most things in NYC, babysitting is competitive and being a yogi helped her get a leg up (like, in Tree pose) as a sitter. I found this all interesting as this is just another way yoga can be shared with kids.
Below she talks about having yoga tools in her babysitting toolbox, and how yoga can help kids whose favorite word is "mine" let go of the sense of possession during yoga.
What are the ages of the kids you babysit?
I currently babysit two 18 month old twins (boy and girl) and a 5 year old girl. The older girl, (Rose) had done yoga a couple of times following along a yoga DVD.
How did you start sharing yoga with the kids?
The first time I showed up at their apartment, Rose pulled me I intothe living room to show me her downward facing dog. To my amazement, with her hips high and her heels low, she was in it! The twins saw their older sister in this strange shape so they followed along. Rose asked me to show her another pose, so I had everyone stand up straight, with their arms straight up and their fingers spread wide."What pose is this?", asked Rose. I told them they were in Mountain pose. Immediately, Rose called out for another one. So I took them into Cobra pose. I asked them to make the sound of a snake and to wiggle their Cobra tails. Seeing this was absolutely adorable! The kids enjoyed exploring all of the different poses I was teaching them. They had fun trying to place their bodies in all of these different shapes whether they were able to get it exactly the same or not. They were able to and wanted to try everything, something as challenging as Warrior III! It was rewarding to share something I am so passionate about with the children I babysit for. It really brought out the inner child in myself, and I believe that this helped to foster a bond of trust between the children and myself.
What are the challenges of sharing yoga with kids you're sitting?
I find that sharing yoga while sitting can be challenging because children have an incredible amount of energy. This energy can be managable or overwhelming, depending upon how many children you are sitting. It may be difficult to juggle the attention and spread it evenly amonst all of the kids. Also, children tend of have shorter attention spans so they tend to get into a pose and then want to jump to the next one. The toddlers especially tend to learn a pose, then walk away to do something else, go in another room. When they return they look and me and then strike a pose, like Mountain.
Are there any success stories you can share?
Each of the three children I babysit for has their own unique and loud personality. The second time I shared yoga with them, I was more prepared for what was in store in terms of their energies. It is useful for babysitters to have a yoga picture book with them so each child can see the poses themselves and learn that way. This will make sharing yoga with multiple children more managable-- one child could be looking at the book while another is following along with you.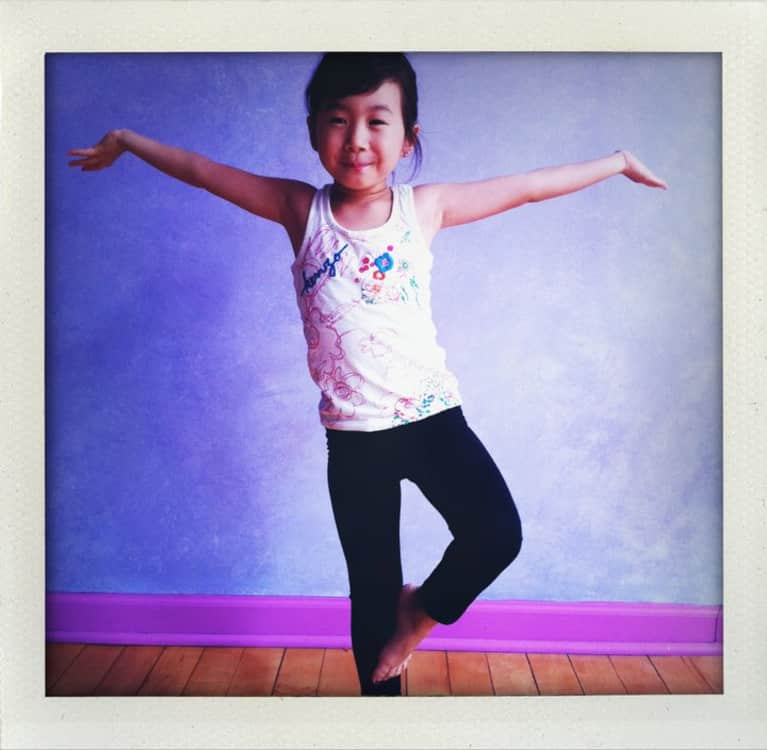 How do you teach yoga to siblings who are very different ages or don't get along?
Yoga is a great tool to have in the "babysitters toolbox". The children I babysit for have a unique dynamic. I can see that there is underlying competition between Rose and the twins. The twins, sharing a special bond that cause Rose to feel slightly jealous. Sometimes this causes fights, yelling and tears amongst the siblings. Children can be very possesive, they love the word "mine", which is
often used during activites that involve toys, cards, drawing, etc. However, when it comes to yoga time, there is no sense of possession, because the only thing required is themselves! (no mat necessary if they have a carpet) Whenever I start doing yoga with them, there is no sibling rivalry, no competition. They are all inside their own worlds discovering their own tiny bodies in space.
What are three good yoga poses to start with?
I would start with Downward Dog, Mountain Pose and Cat/Cow. These are all simple, fun shapes that you can play around with. Also, children love animal and nature poses because they can attach an image or a sound to the shape.
What did the parents/caregiver think of you sharing yoga?  Did you ask if it was ok to teach first or just dive in?
When the mother heard I was a yoga instructor, she was thrilled! She told me the children had done a yoga DVD a couple of times, and they loved it. She didn't know much about yoga, so she was happy to have me share my knowledge with her children. Also, she is a child psychaitrist, so she understands the psychological benefits of yoga as well. I have found that getting a childcare position in New York City is very competitive. Many parents want sitters with not only babysitting experience but also with an "edgy vibe" (artists, photographers, actors, etc.). I beleive that I was hired because I had this yoga tool in my toolbox.