Raw Food That Doesn't Suck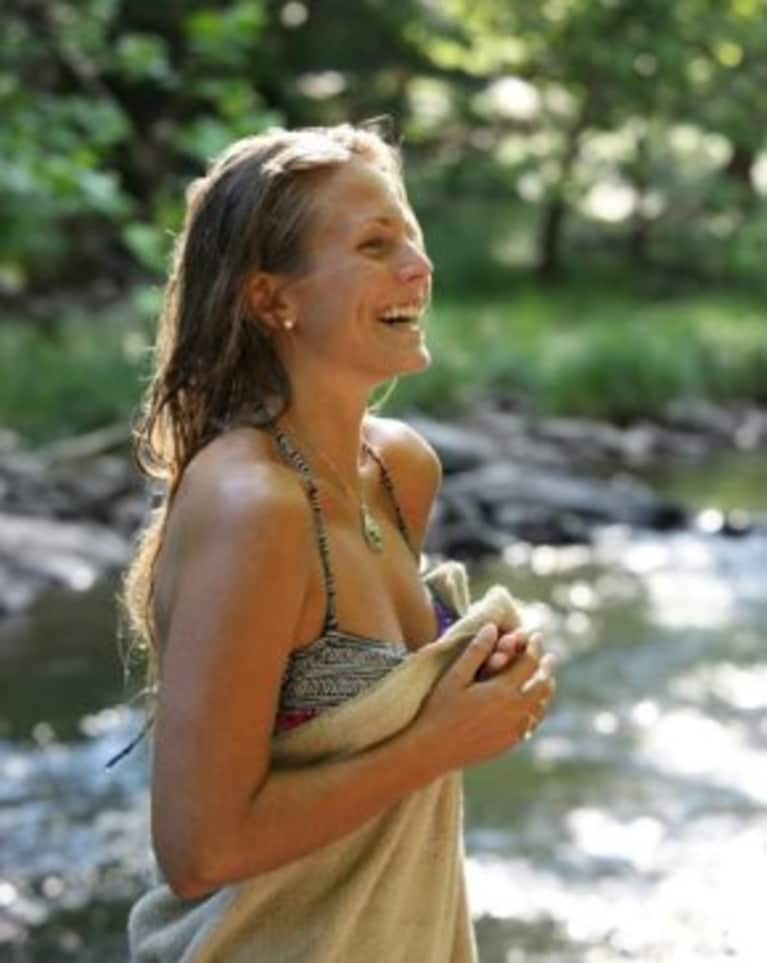 Raw food is great. I know it, you know it. But it can also suck. We all know that, too. No way of eating leaves me with as much radiant energy as eating raw food does. And no way of eating stresses me out more that eating raw food does!
I've been 100 percent raw in various (short, I admit) points of my life – always started it for the same reason, and ended it for the same reason. I want to be raw because it is the best way to eat. It truly is. Nothing compares to it. But going raw is also the most annoying feat to conquer. It's just so darn complicated! Just looking at a raw food recipe makes me a little nervous. Ever notice how, in every raw food recipe that actually sounds like it'll taste good has "ingredients" in it that are actually whole new recipes in themselves? Not fair! To make one dish, you need to first prepare a billion little dishes. I hate that. And you need all kinds of machines and equipment. Do I really need to buy a $400 Vitamix just to be able to get the nutrients in my food to taste nice?
No matter what the raw foodies say, it's not easy to go raw. It takes time, preparation and planning, and frankly, sprouting beans and dehydrating bananas is not how I want to spend my off days. And eating out? No way in hell. I'm a pain as it is already, vegan and all, but I've learned how to deal with waitresses and kitchen staff. "Dressing on the side, please", "Skip the cheese", "Can you prepare that in oil for me instead of butter?" – eating out vegan style isn't a walk in the park, but it's definitely doable. But when you go raw, even doable goes out the window. "Hold the dressing, please. I'll be eating my lettuce dry", "Yes, I said only the vegetables" and "Can you ask the chef if he could serve me these beets uncooked?" does not really make for a fun night out. So. I'm not raw, not until I'm rich and famous and have my own raw food chef prepare me three or four (or five or six or seven; did you know being raw is kind of the same as eating all day long?) meals a day. But I have developed some good recipes of my own. Recipes that won't make you suicidal. Recipes that don't require dehydrators, food processors and mandolins. You might need a blender though (sorry). It's stuff you can make fast, without a hassle, and that actually tastes good. And, the good thing about this is that there is a gray area.
You don't have to go all the way, you can be a little raw! Just stop cooking everything. I try to incorporate raw stuff into my cooked stuff, and it all comes out tasting cooked but it's not (like, make a non-raw tomato sauce but dump in a whole lotta raw greens and cabbage when it's done. Raw food, in disguise!). Find a raw way that works for you. Oh, and try this recipe, dammit.
Raw Wraps with Cauliflower Mash and Basil Salad
WARNING: YOU WILL NEED A BLENDER FOR THIS (if you don't have one, settle in eating salads for the rest of your raw life. You'll need one for everything.)
Ingredients: Cauliflower, red cabbage, chives, tomato, garlic, lime, basil, spinach, olive oil, almond milk (YES this is a hidden recipe in a recipe. But it's so simple and awesome that you have to learn how to do it anyway so why not just start now??)
OK, so start with this: Learn how to make your own almond milk. I'm going to make it very easy for you:
Buy almonds.
Put almonds in water for as long time that it takes you to watch "You've Got Mail", twice.
Drain water.
Put almonds in blender with new water.
Press button on blender that says "Blend this shit fast!!"
(don't forget to put the lid on first)
Drink. Or, use in Rachel's kick-ass cauliflower mash recipe. Or, find an old pair of stockings (a real recipe would say "go get your cheese cloth" but who in the hell owns one of those?? People that make their own cheese? Who actually makes their own cheese??) and strain it. I like my almond milk unstrained (I'm hardcore like that).
And here is the recipe for the Raw Wraps:
Put a few trees (they look like trees!) of cauliflower, maybe 4 or 5, in a blender with a dash of almond milk. Blend well (but this time you can press the button that says "blend this shit slow!")
Add chives, some olive oil and fresh squeezed lime
Keep adding cauliflower until you have a texture that is sort of, kind of or exactly like mashed potatoes
Salt and pepper, obviously
Chop one tomato, half a clove or a whole clove of garlic (depending on if you have a date later or not), lots of basil and mix with a dash of olive oil. Put in a bowl and add a fistful of spinach.
Tare off big leaves of red cabbage and put them on a plate
Put cauliflower mash on the red cabbage. Wrap. Serve basil salad on the side.