This Viral Video Has Been Viewed Over 77 Million Times. Here's The Story Behind It
I recently organized an event called Hugs Across America, in which huggers in 20-plus cities gave free hugs on the same day. We did so with the intention of bringing love to our communities in response to political divisiveness.
It was a wonderful event to be a part of. I met people around the globe who use free hugs to make a positive impact in the world on the daily. It showed me that the Free Hugs movement has gained a lot more momentum than even I realized. But who even started us all down this path? Someone did it first...
I made a sign that said "free hugs" and went into the city, scared absolutely shitless. I had no idea what was going to happen.
Several months after Hugs Across America, a friend shared this video on their Facebook page. In a flash, I remembered how and when the Free Hugs movement began.
As soon as I saw the video again, I remembered the deep emotional reaction I had when I first saw it a decade ago. I immediately had the urge to track down the founder of the hugging movement and talk to him about how it all began.
With a little Facebook stalking, I was able to connect with Juan Mann, who lives in Australia. We talked about what inspired him to start hugging and how he feels now that the movement has taken on a life of its own.
So, tell us: Where did all this start?
I think it was 2004. My family kind of fell apart [during] a chaotic divorce situation—everyone suddenly stopped talking. I left the family home [in London] and traveled to Australia. I picked it because, of all of the places I had ever visited, Australia was the one I knew the least about.
When I arrived, I had absolutely no idea what I was doing. Watching travelers meet their families and friends, seeing all the love there, kind of struck a chord. I had reached a pretty depressive point. I ended up contemplating terrible things. At that moment, I suddenly got this mental image of a guy holding a sign that said, "I get sad, too." That was enough to keep me holding on for a bit longer.
A couple of weeks after that, an old friend tracked me down and dragged me to a party. I stood in the corner awkwardly because I felt like such a fish out of water. Out of nowhere, this girl walked up to me, hugged me, and walked off. I instantly felt better. My next thought was, "How can I do that for other people? You can't just walk up to complete strangers and hug them. They wouldn't take too kindly to that, seeing as hugs are generally something you ask for permission to do."
Then, the image of the guy holding the sign that said, "I get sad, too" and the idea of the unexpected hug from a stranger sort of meshed into one. I made a sign that said "free hugs" and went into the city, scared absolutely shitless. I had no idea what was going to happen.
After just standing there feeling nervous for a while, an older woman came up and hugged me. She told me it was the anniversary of her daughter's death, and that her daughter's dog had died that morning. She was sad because she no longer had any real link to her daughter. She came into the city looking for a sign and found me, a 22-year-old guy who had no idea what he was doing, holding a literal sign. I was just putting it out there and hoping for the best.
How receptive were people in general?
That first hug just seemed to open the floodgates. Since then, there was—and always has been—a steady flow of people. I have a lot of "regulars."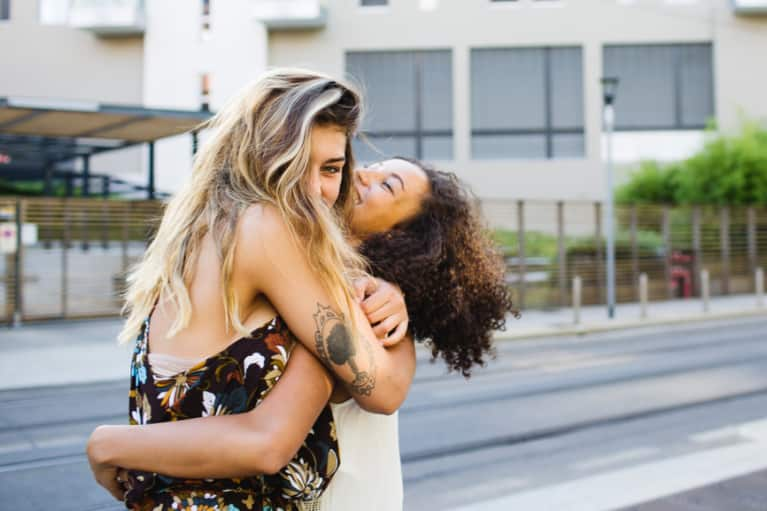 Do you have any other memorable hugging stories to share?
There was a lady who watched me for six months. She was a regular. She'd come up, give me a hug, and then run off. One day I was walking through the Pitt Street Mall where I often offered free hugs, in my regular clothes, going about my regular business. The woman spotted me and ran over and said, "Juan, I finally did it! I quit my job and sold my house and I'm moving to the nation's capital to become an animal activist."
I looked at her and said, "I don't know who is crazier—you or me." She said, "Watching you do something you love and believe in has inspired me to do the same in my life."
How does it feel for something you created to have taken on such of a life of its own?
When it comes to free hugs, I'm still the 22-year-old kid who went out there and offered the first one. I still have that admiration and healthy fear of it all. It's amazing to see something I started turn into something so significant to so many people for so many reasons. It's always going to be a shock because I never meant for it to turn out like that. I'm glad it did, but it started as a one-time thing I did to cheer myself up. It's been a beautiful life.
What other cool things have you seen huggers doing?
I'm always impressed by the accomplishments of those who have picked up the torch and run with it. Carol Miller organizes Global Free Hugs Day every year, as well as other events in something like a hundred countries every year.
Ken Nwadike Jr. started the Free Hugs Project. He inspires me. The fact that he's willing to go into conflict zones, to get between the people and the police, to put himself at great risk to try and promote peace on the front lines is quite impressive.
We need to start looking at it in that light—we have one planet to share—we don't need to focus on the divisions between nations, on borders and disputes.
Is it hard for you when other people claim to be the founder of the hugging movement?
No. I just think, "Well, you are the founder of yours, and no one can take that away from you." Besides, they're out there giving free hugs. They're doing what I was trying to do—going out there and offering people free hugs whenever they need them. So, yeah, if they want to claim they are the founder, they can go ahead. That's fine. I'm not one to get jealous over this kind of thing. I mean, come on, it has the word "free" in it. As long as the words "free hugs" are out there, I'm happy.
What would you say to people who are curious about giving free hugs but haven't quite gotten up the gumption to pick up a sign and go out there?
The only thing to be scared of is wetting your pants—but you'd have to be really scared for that to happen! There's nothing to be afraid of. People are much kinder than you could possibly imagine. Just let them show you.
Do you think that free hugs are what the world needs now?
I think they can help change the world, but that's me being ambitious. If more and more people connected with more and more strangers, locals, friends, and family, that could only be a good thing. I mean we've got one planet and we've got to share it. We need to start looking at it in that light—we have one planet to share—we don't need to focus on the divisions between nations, on borders and disputes.
Any thoughts you'd like to share before we wrap?
It's all beautiful. It's an amazing gift to be able to look at this both from a distance and up close. From what started as just a way to make me laugh for a day has become so much more—not only to myself but to so many others as well. I could never have predicted that.
Want to get involved in the FREE HUGS movement? Here are the organizations that can help you do so:
Free Hugs Project: Continuing the nonviolent movement of Dr. Martin Luther King Jr., the mission of the Free Hugs Project is to spread love, inspire change, and raise awareness of social issues.
Global Free Hugs Day: On May 6 and 7, 2017, they will be holding their 12th event with huggers currently signed up on four continents, 14 countries, and 20 states. The mission is simple—to spread kindness one hug at a time. The impact is a testament to the huge difference that can be made by small actions.
Human Hug Project: Their mission is to raise awareness of PTSD by giving love back to humanity, one hug at a time. They travel across the country hugging at every Veterans Administration (VA) hospitals.
Hugging America: They inspire others to give freely of themselves and to express compassion for their communities, one hug at a time. Their One Million Hugs Challenge launches May 6. Help them give a million hugs by the end of the year.
Hugs Are Nice: This new organization aims to bring together everyone involved in the free hugs movement so they can help connect those who need a hug with those who are offering them. In addition to giving out free hugs wherever they go, they are actively seeking out individuals and groups that believe in the healing power of free hugs.
Hug Mobsters Armed with Love offers hugs from the heart, for the heart. They hold their events anywhere and everywhere there are people who could use a good hug and invite others around the world to join their cause.