Your May 2017 Horoscope Is Here: What's In The Stars For You?
mbg Contributors
By The AstroTwins
mbg Contributors
Ophira and Tali Edut, known as the AstroTwins, are professional astrologers based out of New York and Seattle. Their work has been featured in The New York Times, Elle Magazine, Vogue and Good Morning America and they are the authors AstroStyle, Love Zodiac, Shoestrology, and Momstrology.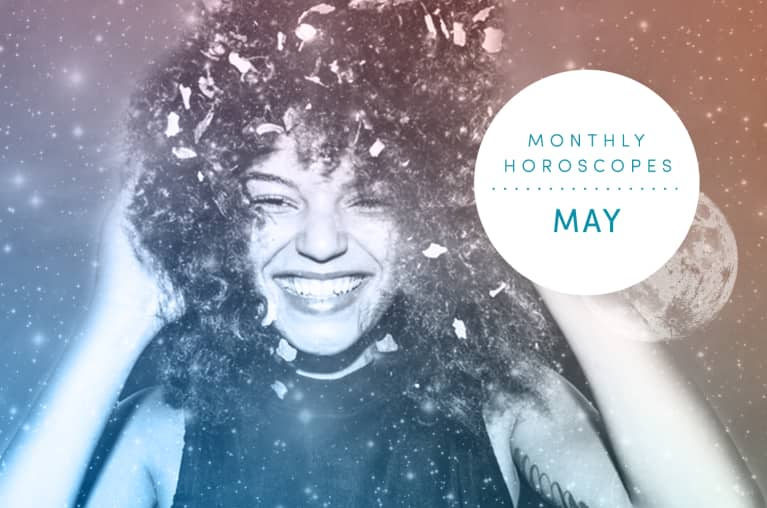 After a manic April that was packed with retrogrades, May's stars calm down a bit. Mercury retrograde ends and a transformational Scorpio full moon gets us all feeling #woke. The headline news arrives May 19, when the second of three rare Saturn-Uranus trines brings revolutionary progress and sweeping change.
Well! We won't be missing April when it's gone, will we? It was exciting, sure, but with five planets (Venus, Mercury, Jupiter, Saturn, AND Pluto) reverse-commuting in retrograde, there was SO. Much. Intensity. From the United Airlines passenger assault to a MOAB dropped on Syria to French election craziness (really, the list goes on), we got served what's become the usual platter of government and corporate crazy.
This further honed what seems to be 2017's message: "Change" and "progress" are NOT the same thing. True, there are systems that don't work and need a massive overhaul. But they can't be revolutionized with xenophobia, nepotism, or hate. Unfortunately, with so many retrogrades in effect, the clock seemed to be turning back.
Taurus and Gemini vibes—stay grounded but not stagnant:
May brings us a grounding dose of earthbound Taurus energy, urging us to pause and be here now. Sensual Taurus is the most "present" of all zodiac signs, and with the Sun visiting until May 20, a methodical pace keeps us sane. Enjoy the pleasant hum of a simple daily rhythm—no matter what's happening around you. Once Mercury retrograde ends on May 3, it will get easier to fall into a groove.
That said, we have manic Mars in Gemini all month, which could scatter our attention and spread us thin. As we take in all rapid-fire information, it could blow the circuits on our steady Taurus processors, like trying to send broadband through an old dial-up modem. We need to be discerning about how much sensory stimulation we take in (and put out) now. Otherwise, our systems can easily overload! Stay connected to your body and root into real-time, enjoying nature and the beauty of the physical world.
When the Sun moves into Gemini on May 20, we can upgrade to a fiber-optic connection. Adaptable, airy Gemini is comfortable with duality and paradox, a better fit for this "post-truth" world. Not that this is bad. Right before that practical, salt-of-the-earth Taurus energy steers us into dangerous populist terrain, Gemini intervenes to remind us that there are many (equally valid) viewpoints in this world. The Gemini new moon on May 25 could bring clarifying conversations and a-ha moments. Dialogues and ideas that start near this date could turn into something tangible by the Gemini full moon on December 3.
On May 10, Scorpio full moon, north node enters Leo:
Transformation: incoming! On May 10, the year's only full moon in Scorpio puts the spotlight on our most intimate ties. This is a crucial time for soul-searching, as what's hidden will be illuminated by these mystical moonbeams.
It's a huge day because the moon's north node—our collective karmic work—will enter Leo for the first time since its 1998-2000 visit. The last time the north node was in Leo, the dot-com era boomed and U.S. President Bill Clinton was embroiled in impeachment trials. We now find ourselves in a different political theater, with European general elections coming up and Trump just past his 100-day presidential mark.
How might this affect us? The Leo north node is a call for dignity and leadership. We don't need more royal dynasties (official or not) and overfunded tech startups. The north node will be here until November 5, 2018, teaching us to distinguish between self-serving greed (Leo's low-vibe expression) and magnanimous, heart-centered courage, which is Leo energy at its best.
On May 19, the Saturn-Uranus trine calls for "sustainable change":
Can the old guard and the new school form an alliance? The second of three rare and transformational trines occurs on May 19 between structured Saturn and revolutionary Uranus (the first was December 24; the next is November 11). Saturn and Uranus are cosmic opposites—one is a rule maker, the other, a rule breaker. Yet, they're playing nice in this rare meetup, which will take place in proactive fire signs.
Saturn, which rules government, corporations, and institutions, is in global Sagittarius from December 2014 until December 2017. The planet of structure has been reshaping all of these areas. Saturn's conservative influence in this worldly sign has also seen a rise of xenophobia, human rights violations, and terrorism. Yet, nobody's landed on a solution except those born of fear and hate (closing borders, banning Muslims from traveling freely).
When Saturn syncs up with progressive Uranus in single-minded Aries, it could go in two ways. On the upside, revolutionary ideas could finally take root, and humanitarian policies could be implemented. In your personal life, you can have a breakthrough that lasts, courageously making an important change that brings immediate and lasting benefits. Embracing the unexpected could bring an exciting opportunity, so don't get TOO stuck in one track. Stay open to possibilities!
However, since Uranus in Aries can be a fiery and even violent combination, we may see uprisings, everything from protests to picketed companies to government shutdowns. Trines are harmonious angles, but they also open the floodgates. Brewing civil unrest could be unleashed. Since Uranus rules technology, more concrete evidence of Russian election hacking could surface. This energy will need to be channeled carefully.
That same day brings a Venus-Jupiter opposition, which MIGHT increase the peace. Venus and Jupiter are called the "benefics" for their positive and helpful influence. While an opposition can be tough, these two charitable planets may still evoke the spirit of compromise. Here's hoping!
Want more insight into what the year has in store for you? Check out your love horoscope to learn more about yourself in relationships. Then, read your sun sign's full monthly horoscope here.