What The Healthiest People We Know Eat For Breakfast
Contributing Food Editor
By Liz Moody
Contributing Food Editor
Liz Moody is a food editor, recipe developer and green smoothie enthusiast. She received her creative writing and psychology degree from The University of California, Berkeley. Moody is the author of two cookbooks: Healthier Together and Glow Pops and the host of the Healthier Together podcast.
It can be easy to get stuck in a breakfast rut—especially when you're trying to start your day with healthy staples. We asked some of the country's top healthy food experts what they actually eat for breakfast, and delicious, nourishing inspiration abounded. Here's what they said.
1. A Quinoa Bowl with Spinach & Black Beans: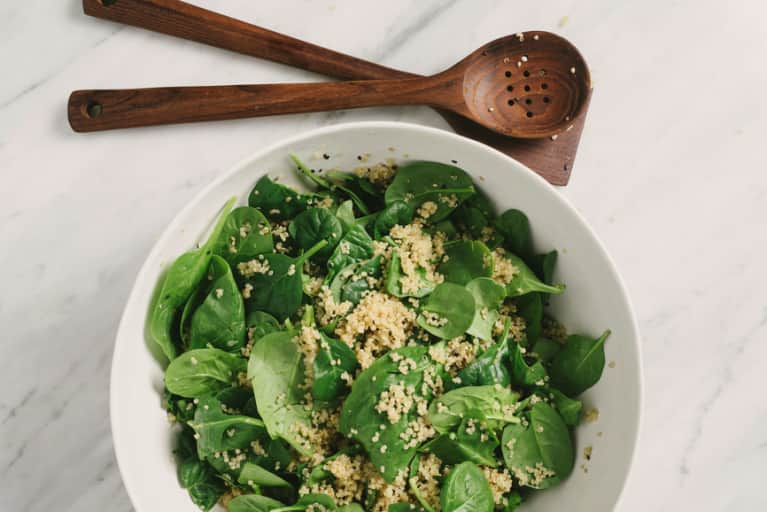 There is something very satisfying about a hot, nontraditional breakfast. This meal is loaded with protein and complex carbohydrates, which can easily carry you through to lunchtime. I throw greens into almost all of my breakfast options for extra fiber and nutrients.
—Lisa Hayim, R.D., founder of The Well Necessities
2. A Fat, Protein & Fiber-Filled Green Smoothie: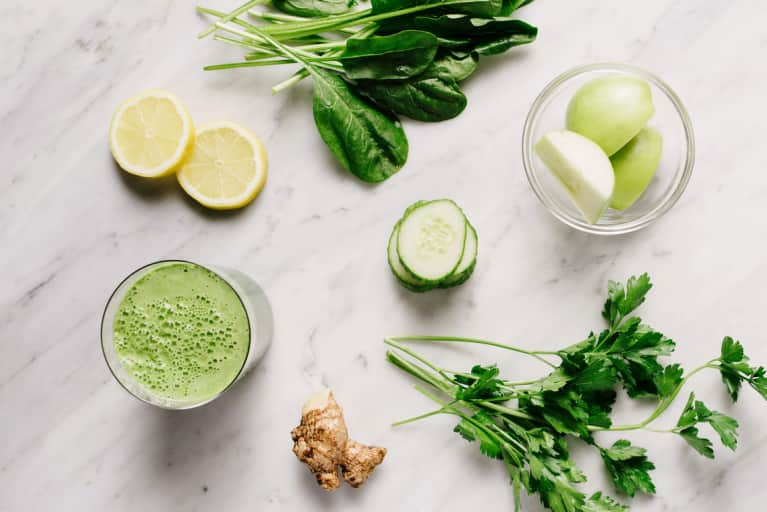 I am partial to a fruit-free Fab Four Smoothie; the protein, fat, and fiber keep me full for four to six hours, and the greens provide phytochemicals to fight off oxidative stress. The Fab Four makes sure I get what I need at every meal; protein helps maintain collagen, muscle tone, and metabolism; fat benefit hormones, skin, and cellular health; fiber helps proliferate the gut microbiome and detoxify the body; and greens (or veggies deep in color) are cancer- and inflammation-fighting phytonutrients! I always feel like a superstar when I start my day that way!
—Kelly LeVeque, CHN, founder of Be Well By Kelly
3. Baked Oatmeal with Blueberries, Seeds & Nuts:
My breakfast of choice is baked oatmeal topped with blueberries and a nut/seed blend of walnuts, sunflower seeds, and hemp hearts. I feel satisfied and energized without feeling overly full.
—Kimberly Evans, R.D., founder of Whole Health Nutrition
4. Sprouted Rye Bread with Avocado, Kale & an Egg: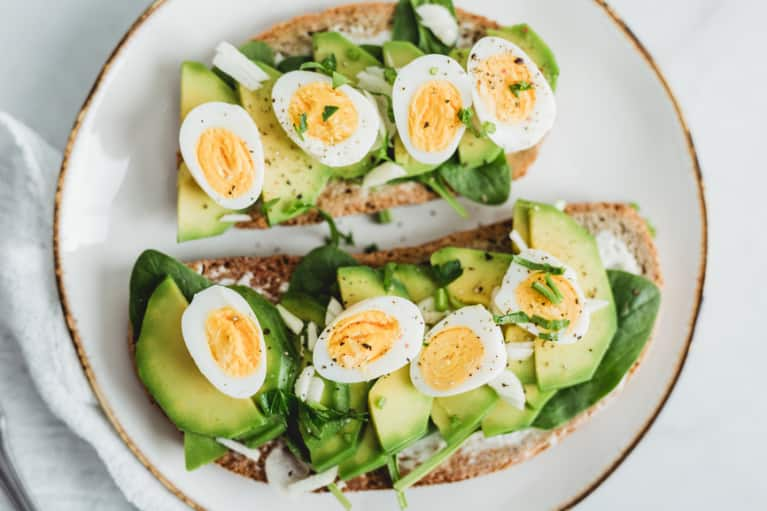 I have many favorite healthy and delicious breakfasts that I enjoy but my favorite right now is a toasted sprouted rye bread with avocado, sautéed kale, a hard-boiled egg, and chili flakes. You get the perfect combo of complex carbs, healthy fat, protein, fiber, and dark leafy greens. Ideally, you want to eat a protein-rich breakfast within two hours of waking up. Not everyone is hungry first thing in the morning, but if you go too long without eating, your blood sugar will drop and you will likely end up starving and potentially make poor food choices out of hunger. Protein in the morning helps to control your cravings and hunger for the rest of the day. I always recommend trying to get in some greens in the morning as well.
—Miranda Hammer, R.D., founder of Crunchy Radish (and mbg class instructor!)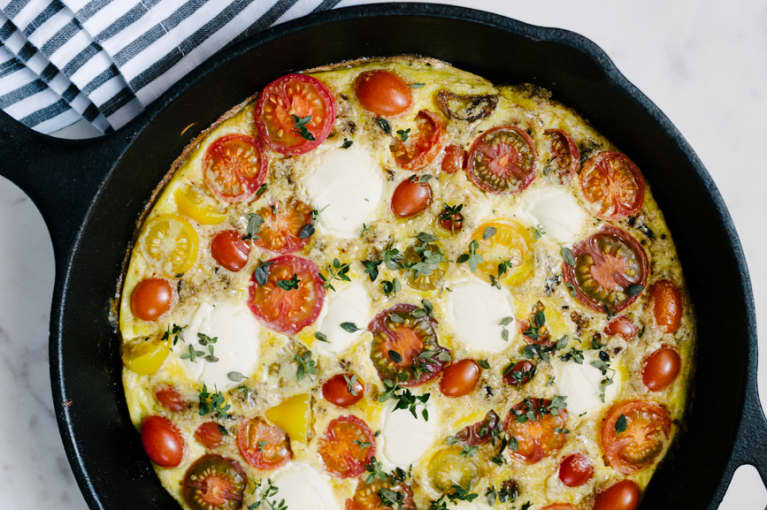 I'm a big fan of savory breakfasts for staying energized and satisfied. My go-to is a frittata with whatever veggies I have handy and a little cheese—caramelized onion, kale, mushroom, and goat cheese is one of my favorite combos. It's great because it can be made ahead of time and enjoyed hot or cold.
—Jessica Cording, R.D., founder of Jessica Cording Nutrition
6. Scrambled Eggs with Spinach & Avocado: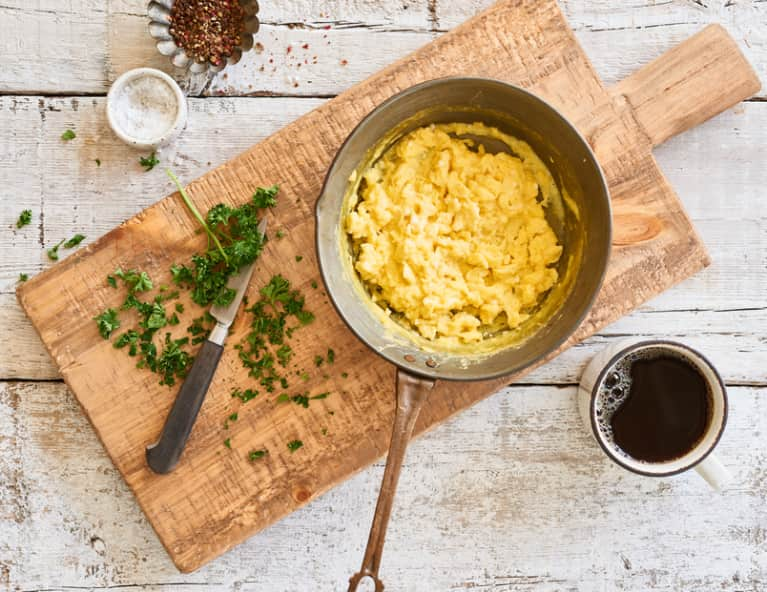 Breakfast is the one area of life where I'm all about being basic: two pasture-raised, scrambled eggs with spinach (or any leftover veggies) and ½ avocado. If it's the weekend and I have a little more time, I love a piece of Ezekiel or KNOW bread.
—Carolyn Brown, R.D., founder of FoodTrainers
7. Greek Yogurt with Diced Apples, Walnuts & Cinnamon: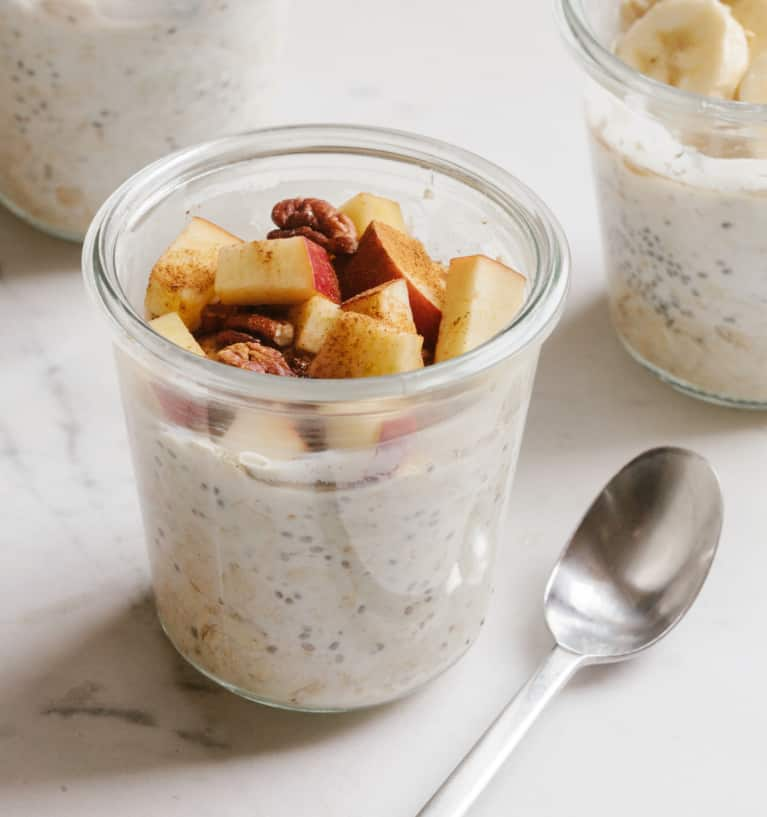 The healthiest and most delicious breakfast, to me, combines sources of fiber, protein, and healthy fat. This combination helps to keep us feeling satiated, so we're not hungry again shortly after breakfast. One of my favorite examples is nonfat plain Greek yogurt topped with diced apples and crushed walnuts (and cinnamon!). The protein comes primarily from the Greek yogurt, the fiber from the apple, and the healthy fat from the nuts. While the cinnamon doesn't fall into any of the aforementioned categories, it adds a boost of flavor and antioxidant power to the meal! Bonus: This combo is especially easy to throw in a Tupperware and bring to work!
—Leah Silberman, R.D., founder of Tovita Nutrition
8. A Bone Broth Breakfast Bowl:
My perfect breakfast is something that's warm, light, and extremely nourishing. At our house, we love to use bone broth to make a flavorful breakfast bowl with meat and veggies, similar to Asian cuisine. Here's how to assemble your perfect breakfast broth bowl: Take leftover meat—anything will do: ground turkey, pork, or fish. Warm the meat in a saucepan with the broth and veggies like kale, spinach, zucchini, peppers, onion, or carrot. You can change up the veggies and seasonings to suit your tastes. For added nutrition, top your broth bowl with a soft egg and some fermented kimchee. You'll be unstoppable!
—Alyssa O'Brien, R.D., of Nutritional Weight & Wellness
9. A Glowing Green Smoothie: