Is Soy A Health Food? A Functional Doctor (And Breast Cancer Survivor) Weighs In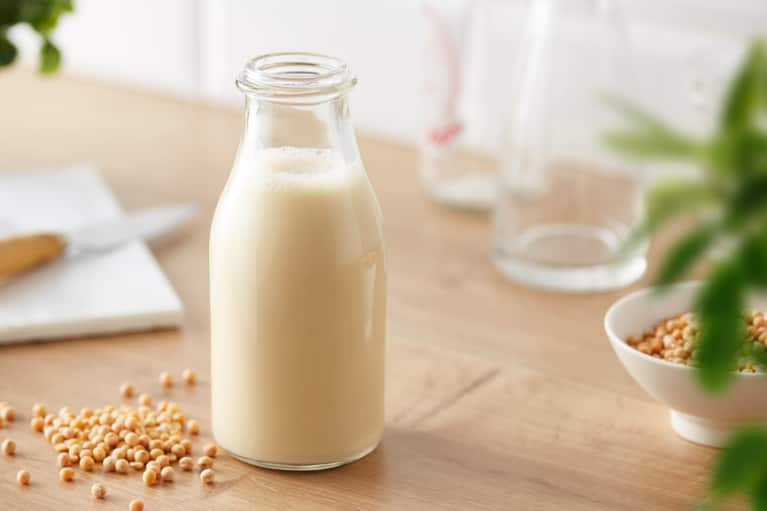 I am a breast cancer survivor and physician, and I always get asked about soy. Here are all the soy do's and don'ts that you need to know.
Soy, in its natural, non-GMO form (i.e., edamame, tofu, and soybeans) can be a great food for people who want to prevent breast cancer and even for those who have had breast cancer. Eating soy as a child or in the premenopausal years can actually result in a lower risk of breast cancer in future years. There are many theories for why this correlation is found. One explanation may be the phytonutrient genistein found in soy. Phytonutrients are components in plant foods that have many health benefits, including lowering the risk of many diseases such as cancer. This is why it is important to get a rainbow of colorful plant foods from your diet on a daily basis. The phytonutrient genistein has anti-cancerous properties and has been shown to positively modify the estrogen receptor. This may affect the way our own estrogen affects our body, lowering our risk of estrogen-related cancers.
What About Postmenopausal Women?
Postmenopausal women, whose estrogen levels are naturally lower, may not receive all of the benefits from soy. There has been some concern that for postmenopausal women who have had an estrogen-receptor-positive breast cancer or are currently fighting cancer, soy could increase a woman's estrogen level. Despite this, many studies have shown that these women do not need to avoid soy. The Shanghai Breast Cancer Survival Study is one of the largest studies to date to explore the relationship between soy and risk of breast cancer. They found that among women with breast cancer, soy food consumption was associated with decreased risk of death and recurrence. This decreased risk was found in women with all types of breast cancer (estrogen-receptor-positive or estrogen-receptor-negative) and in both users and nonusers of tamoxifen. While these results may seem confusing, the take-home message is this: Soy intake is safe and likely beneficial for all women. That being said, if you are a postmenopausal woman with breast cancer, it is important that you discuss this with your own personal doctor.
Most importantly, when you do reach for soy, make sure it is non-GMO and organic. Avoid genetically modified and processed soy. Refined soy is often added to food products such as protein bars and cereals in an effort to increase their protein content. On the label, you will see the ingredient hydrolyzed soy protein or soy protein isolates. These concentrated soy sources have not been adequately studied, so I recommend that you avoid them completely.
You don't need to be afraid of organic soy milk, edamame, tofu, and soybeans. These naturally high-protein foods are rich in healthy phytonutrients and can be an excellent component of your diet.
Remember, the key is to create a healthy terrain in your body where cancer is less likely to grow (I discuss this more in my free ebook). With the right dietary choices, you're well on your way.