When Tammy Fender started working as an esthetician 25 years ago, there wasn't much in the way of green lines. "I decided to create a custom-blend range of 100 percent pure botanical products specifically designed to address clients' concerns," she says. As a little girl, Fender was always scavenging ingredients from her kitchen to make face masks, a DIYer after my very own preteen heart. Fender also studied botany, aromatherapy, and holistic chemistry, so it's no surprise her products are made with food-grade ingredients. "Our skin is our largest organ, after all," she says about her ancient medicinal remedies begging to be slathered all over.
With a vast knowledge of plants and their healing powers, Fender is primed to fuel the narrow assumption that age is something grim and empty rather than rich with experience, confidence, and, yes, sexiness. "I'm simply awed by how well our human bodies are designed to absorb and respond to the molecular benefits we receive from nature's powerfully healing botanical remedies and how they can youth-boost and we naturally age," says Fender. "On a cellular level, we were made for this healing—we evolved in divine synchronicity."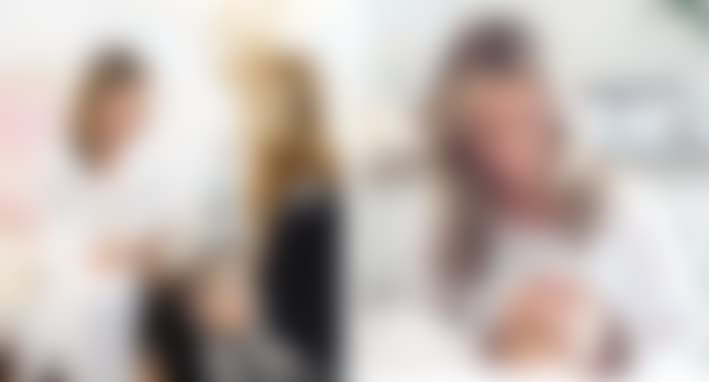 How best to treat your age, then? Stop telling the world how old you are and try Tammy's six top tips to connect, inside and out:
1. Feel connected.
For me, nothing relieves tension—our No.1 source of premature aging—for me, that's connecting with nature, taking a quiet walk along the beach, working in the garden, or enjoying the beautiful fruits and vegetables I bring home from our local farmers market while preparing our family dinner. It's so easy to get swept up in everyday busy-ness, but those times when we can slow down and feel a sense of wonder and resonance with the natural world fuel a deep sense of peace and loving care like nothing else. Of course, on the aesthetic level, inner peace also means releasing underlying tension in the facial structure, those habitual tensions that can lead to wrinkles.

2. Don't panic.
Practicing holistic medicine, however, I don't treat wrinkles but serve each person as a whole, considering their health on every level, both physically and emotionally but also spiritually. There are so many quick-fix fads out there to tempt us, but where aging is concerned, long-term, lasting results come from consistent holistic care. It's worth remembering, that while using holistic formulas it can take three to six months for clients to fully transform; habitual patterns make all the difference—from what we choose to eat to how we manage stress. Setting your goal and playing the long game—doing it right—means your beauty will be lasting, deep, and true but that you will also bring every sphere of your life into balance.
3. Get buzzed by incorporating bee pollen into your diet.
Wild-sourced bee pollen, besides packing in a massive load of minerals and vitamins and essential fatty acids, also brings the skin nucleic acids (the building blocks that stimulate new cell growth) as well as the sunny energetic vibrations of a myriad of foraged flowers. It is so incredibly powerful and blessed. Can you imagine all the resonant potency the bees have harnessed in this concentrated flower food? Sprinkle over smoothies, granola bowls, or even in mbg's Sr. Food Editor, Liz Moody's, take on a healthy unicorn latte which features bee pollen in the icing!
4. Read every label.
So many beauty brands have attempted to jump on the all-natural bandwagon, and these days marketing can be very deceptive unless you are dedicated to reading the fine print of the ingredients label before applying anything to your skin. Plus, some chemically based anti-aging techniques may actually damage skin. The surest way to support resiliency, stimulate cell growth, and protect skin from environmental stress is through botanical remedies that supply tissues with ultra-concentrated nutrients and hydration. As a rule of thumb, if you wouldn't consider eating it, then it probably shouldn't be absorbed through the skin either.
5. Try the next-level golden milk.
In ancient Ayurvedic medicine, both turmeric and saffron were revered for their rejuvenating capacities. Turmeric has a profound anti-inflammatory effect while simultaneously detoxifying and nourishing the skin. For its part, saffron encourages renewed cellular growth, tonifying the skin and bringing a fresh glow to brighten the complexion. I like to blend homemade almond and coconut milk with turmeric root from our garden, which I put through the juicer, then stir in a little raw honey, cinnamon, nutmeg, and several strands of saffron. This delicious elixir is uplifting, bright, and packs wonderful rejuvenating benefits.
6. Feel empowered to inquire within.
Healing and protecting the skin in this way, however, needn't be shrouded in mystery. When on the holistic path, it's also important to trust your intuition. Ask your cells what they want. It sounds a little silly, but you might be surprised when they answer directly—more leafy greens, please! Or more sleep, an exercise boost, more time with a certain friend. Maybe you notice that the scent of lavender is especially appealing for you right now or you have a craving for rose. When intuition can lead the way, that is pure wisdom.