8 Things You Need To Know Today (April 26)
mbg Health Contributor
By Gretchen Lidicker, M.S.
mbg Health Contributor
Gretchen Lidicker earned her master's degree in physiology with a focus on alternative medicine from Georgetown University. She is the author of "CBD Oil Everyday Secrets" and "Magnesium Everyday Secrets."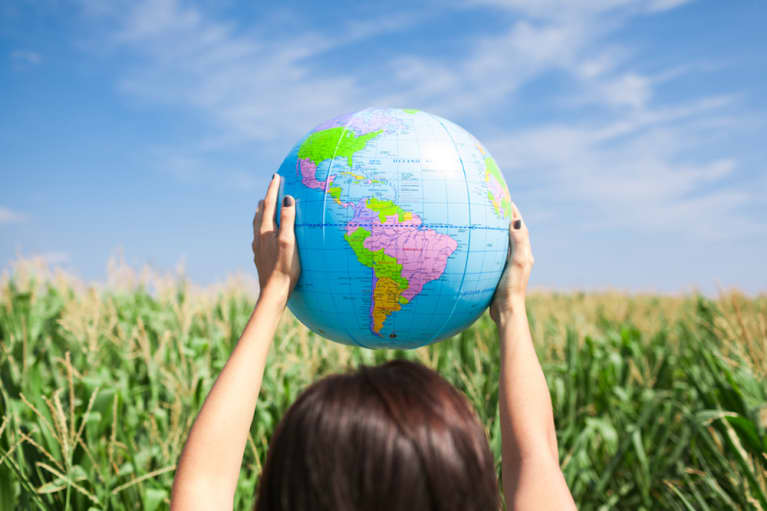 1. A new domain ending seeks to add credibility to green organizations.
.Eco is a brand-new web address ending that recognizes businesses, government bodies, nonprofits, and individuals who have taken a pledge to work toward a more sustainable future. Fifty environmental organizations, including WWF, United Nations Global Compact, and NRDC are backing this exciting new tool that will help people more easily learn about environmental initiatives. (.Eco)
2. We need to talk about the dark side of online shopping.
Sure, we all know that online shopping is convenient, but an Atlantic article encourages consumers to take a closer look at how companies may be manipulating them. For example, around Christmas 2015, the price for pumpkin pie spice on Amazon fluctuated between $4.99 and $8.99, depending on where you looked. And sure, you can get same-day delivery on those shoes you love—but expect to pay a pretty penny for them. In other words, online retailers may be making fools of us all. (The Atlantic)
3. More than 15 percent of older Americans have been taking this drug, and it isn't making them feel any better.
Studies following senior citizens with higher-than-normal TSH levels (a symptom of hypothyroidism) showed that, while TSH levels became nearly normal while on levothyroxine, the symptoms associated with hypothyroidism improved negligibly over the course of a year, as compared with a placebo. The takeaway: If your TSH levels are only mildly elevated, this drug isn't going to make you feel better. Luckily, there are a ton of holistic ways to care for your thyroid. (NYT)
4. Veggie burgers have officially gone mainstream.
While plant-based protein and veggie burgers are definitely getting more attention lately, we thought we were still a while away from fast-food chains adopting a variety of veggie burgers. White Castle proved us wrong when they announced their second veggie burger on the menu—a vegan black bean slider that's, "everyone approved." (VegNews)
5. "Stealthing" during sex might be the most dangerous "trend" we've ever heard of.
"Stealthing" happens when two people are having sex and one of them removes the condom without consent from the other. Evidently this behavior is on the rise, and while it may seem relatively innocent, it's actually being treated as a form of rape and even violence, as it leaves the non-consenting partner vulnerable to sexually transmitted diseases and/or pregnancy. (NY Post)
6. The latest hero in the fight against plastic? Worms.
After noticing that plastic bags containing wax worms quickly became riddled with holes, scientists realized that the creatures have the unique ability to ingest polyethylene plastic and break it down into its raw material, ethylene glycol. They're hopeful the discovery will serve as "a viable way to get rid of plastic waste (and) save our oceans, rivers, and all the environment from the unavoidable consequences of plastic accumulation," says the study's author. (Science Daily)
7. The right way to wash your hair (yep, there is one).
Ever wondered how to wash your hair the right way? You should. According to A-list colorist Christophe Robin, it's the question most widely asked by clients in his Paris-based salon as French women are getting savvier about the effects of harsh, synthetic chemicals and detergents in their shampoos. In between washing, he advises a few spritzes of ACV at the roots to remove oil. Anything our French sisters are doing... (NYT)
8. Something fishy is going on with Washington, D.C.'s seafood.
Researchers used genetic testing to ascertain that 33 percent of seafood served in D.C. is mislabeled. The good news—the actual seafood was similar to its label. The bad news—you're not actually getting what you think you're getting. If you're trying to eat to avoid certain types of seafood for environmental or health reasons, be wary! (Science Daily)