How To Start Running Again When All You've Been Doing Is Yoga
mbg Contributor
By Leigh Weingus
mbg Contributor
Leigh Weingus is a New York City based freelance journalist writing about health, wellness, feminism, entertainment, personal finance, and more. She received her bachelor's in English and Communication from the University of California, Davis.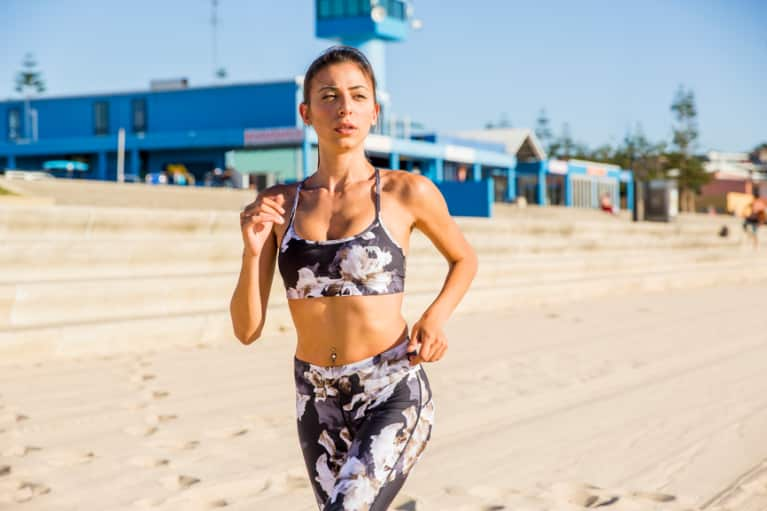 As a runner, I can confidently say that there's nothing quite as soul-satisfying as a long, sweaty run in the summertime. But for me, months of freezing temperatures, rain, and snow often mean my winter workouts are confined to my cozy local yoga studio. It's hard to complain about that.
The one downside of this is that by the time I lace up my sneakers and hit the pavement again, running isn't exactly easy. One year I went too hard too fast and ended up with a hamstring injury; another time I found the whole experience so exhausting that I didn't run all summer.
If this sounds familiar to you, take heart in knowing that you're not alone—and there is a way to ease back into running safely and comfortably.
Here's what you need to know.
Once the sun breaks through the clouds and the ground is no longer covered in ice, there's nothing more appealing than outdoor exercise. And you should definitely go for it—but make sure to ease in. Professional athlete and sports and conditioning coach Andia Winslow suggests starting with walking if you've been somewhat sedentary all winter. "Then increase the vigor of your walks," she suggests. "Next, walk-jog if you must. Before long, you'll be able to hold pace and form. Runs can be outside or on a treadmill, whichever works best for your time, location, and weather considerations."
Jeff Gaudette, owner and head coach at RunnersConnect.net, says that the reason many of us burn out when we haven't run in a while is because our aerobic system gets fitter faster than our bones, ligaments, and muscles do. "What this means is that you'll progress quickly so you're not out of breath running, but your structural system won't be able to handle the pace or distance and you'll wind up getting injured," he explains.
So as excited as you may be, take it slow. Your body will thank you.
While running does strengthen the body on its own, supplementing your jogs with other forms of training is crucial. Jeff recommends strength training a few times per week and keeping up mobility work through exercises like yoga. And don't forget to foam roll!
Andia suggests body weight work that is "multi-joint" in nature. "What this means is that you should get the major parts of your body to work together first before focusing specifically on any one area like the back, arms, or legs," she explains. "Once you're used to managing your own body weight effectively, you can slowly begin introducing exercise equipment back in the mix. The goal is to get all parts of your body communicating with each other once again, not just for performance sake but to avoid injury and discomfort."
Drink enough water and give yourself time to recover.
Trust me on this one: Recovery is crazy important. Give your muscles time to regenerate by getting enough sleep, take rest days from running, and stay in tune with what your body really needs.
"As we start running again, our metabolisms will speed up and we will be hungrier," vegan ultra-endurance cyclist Brock Cannon tells mbg. "Eat to feel full, but don't overdo it. Veggies are a great food to eat unlimited amounts of because they fill the stomach, provide a massive amount of nutrients, and still allow us to enjoy our food. The bottom line? As you begin to feel an increased desire to eat a lot more as you start your exercise back up, focus on veggies!"
Brock also stresses how important it is to stay hydrated. "In the morning, before your coffee (yes, really) drink between 20 and 40 ounces of water immediately. It's even better if you can mix lemon in," he says. "For the rest of the day, fill up a water bottle or jug with another 40 ounces of water, and drink up!"
What are you waiting for? Lace up those sneakers and get back out there.