What's Up With The Essential Oils Your Yoga Teacher Uses At The End Of Class?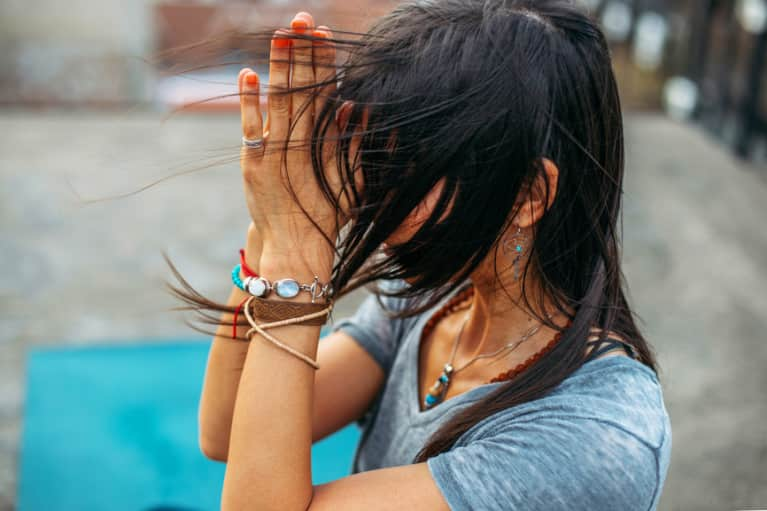 There's nothing quite as relaxing as the scent of essential oils at the end of a yoga class. But have you ever wondered why your yoga teacher uses beautifully aromatic oils at the end—and sometimes in the middle of—your practice? After many years of studying and teaching yoga and using essential oils, I have found that like yoga, aromatherapy strives to support the well-being of the mind, body, and spirit.
Aromatherapy achieves its effects through the direct application or diffusion of the volatile oils extracted from plants (essential oils), which influence a strong sense of wellness, a positive emotional state, and mental clarity among several other things.
Combining aromatherapy with yoga greatly enhances your practice, and this duo puts you on an extremely powerful journey toward positive health and wellness. The following essential oils, which are commonly used by yoga teachers and studios around the world, can help make your yoga practice a much more holistic experience of the mind. These are some oils you should know about:
Vetiver, ginger, and patchouli.
These essential oils are grounding and earth-connecting, while sandalwood, frankincense, myrrh, and cedarwood are stabilizing, meditative, and centering. All of these essential oils will help with balance and stability in your yoga poses and deep connection within the practice of meditation.
Peppermint, eucalyptus, and rosemary.
These oils encourage the flow of energy and self-expression and help you achieve steady, deep inhalations and exhalations. Mastering the breath is as important to successful yoga practice as mastering the poses.
Lavender, geranium, and chamomile.
These scents are calming, relaxing, and support mindful rest—they are commonly used at the end of your practice in savasana.
Bergamot, lemon, and orange.
These oils lend a sense of positivity and joy to your yoga practice.
Neroli, jasmine, ylang-ylang, and rose.
These scents promote transcendence, connection to others, and spiritual expression. You may catch this one mid-practice or during partner work.
Now that you know which scents are used in your yoga classes, consider introducing them into other areas of your life as well. If you find that lavender has an especially calming effect, for example, consider using a few drops before bed. Enjoy!