Why You Should Say "F*%k Brunch" & What To Do Instead
mbg Contributor
By Leah Vanderveldt
mbg Contributor
Leah Vanderveldt is an author living in Brooklyn, New York. She received her bachelor's in communications and media from Fordham University, and is certified in culinary nutrition from the Natural Gourmet Institute. She is the author of two cookbooks: The New Nourishing and The New Porridge.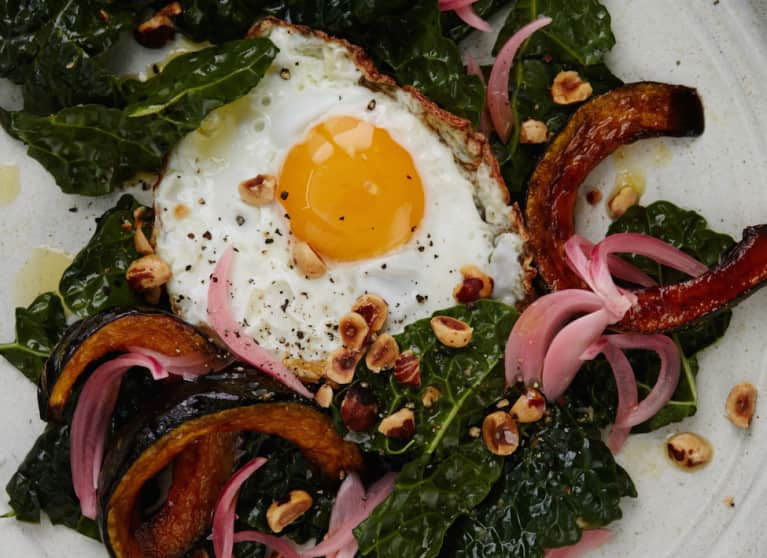 Our editors have independently chosen the products listed on this page. If you purchase something mentioned in this article, we may
earn a small commission
.
Julia Sherman's award-winning blog and Instagram, Salad for President, is all about merging the worlds of art and salad. In her book, Salad for President, Julia weaves together great vegetable-focused recipes with inspiration from artists, chefs, and creatives. In addition to making us think about food on a higher level, Julia has also introduced us to the simple but powerful concept of "F*%k Brunch."
Not only is it the first chapter in her book, but it was also the name of the pop-up restaurant she started with some chef friends in Red Hook, Brooklyn. The idea is simple: Why bother waiting in line for the same boring brunch that everyone else is eating? There's no reason to skip the weekend-specific meal altogether; instead invite friends over for a vegetable-centric feast at your place. Breakfast and brunch fare are some of the simplest to prepare at home anyway.
Think about it: You can probably come up with three creative (but still fairly easy) brunch dishes off the top of your head that are way better than the standard eggs Benedict. In Julia's words, "Let's trade pancakes and bottomless mimosas for piles of veggies, eggs, and herbaceous cocktails."
We're on board. So how can you start living the F*%k Brunch lifestyle?
1. Invite the brunch crew over to your place.
Instead of scrolling through menus, picking a neighborhood, and debating which place might have the shortest wait, make the decision easy and declare that brunch is at your apartment/house.
Shoot for late morning or early afternoon on a Saturday or Sunday.
2. Plan a menu (but don't take it too seriously).
Inspiration can come from anywhere. Think about your favorite brunch dishes, easy weekday breakfasts, that great veggie side you made last week, or a simple cocktail you've been wanting to try.
That roasted vegetable frittata you had at the last slightly disappointing brunch restaurant? Your version will be far superior, simply by virtue of using your favorite veggies, cheese, and good-quality olive oil or butter.
Have your overnight oats recipe down pat? Perfect. Just give it a little upgrade with a simple fruit compote or some fresh berries and toasted coconut. Make you latest smoothie obsession and pour it into little shots or small jars.
Make something delish with sparkling wine and fruit puree, try your hand at a spicy margarita, or just grab a few different kombucha flavors and call it a day.
This isn't about perfection; it's about a better weekend meal with friends! Ask them to bring a dish that they love for a brunch-style potluck.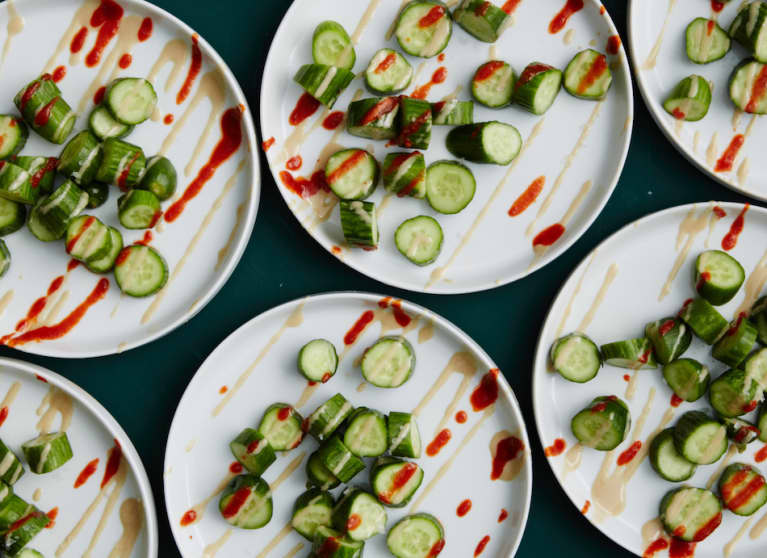 3. Add salads and eggs, of course.
We're talking about epic and exciting brunch-level salads worthy of taking center stage on your plate. Salads are one of the best dishes to bridge breakfast and lunch, if you think about it. Salads have flavor, texture, and lots of nutrients and are almost always better with an egg on them. The salad below is a great example.
Julia says, "This salad, shared with me by actress Hayley Magnus and bookstore owner/creative director David Kramer, fares well for lunch, dinner, or brunch, but topped with a fried egg, it's a meal that can carry you through the day. If you are of the vegan persuasion, jettison the ghee, the feta, and the egg, and you will still have yourself a rich main-course salad.
"Kuri squash might be less common in your local market, but it's a great one to try if you have had your fill of run-of-the-mill squash. It is not as sweet as its brethren, so if you are playing it safe and subbing in the classic butternut here, cut the maple syrup down to 1 tablespoon (or even less)."
Lacinato Kale, Roasted Kuri Squash, Hazelnuts + Marjoram Salad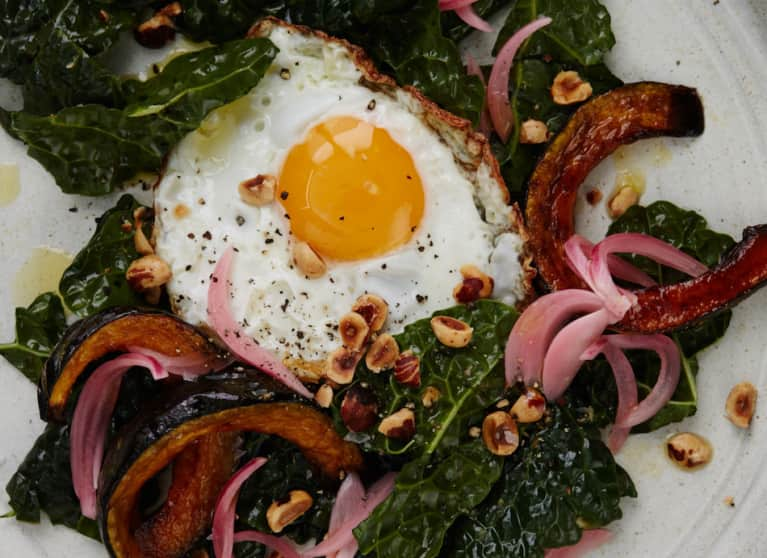 3 tablespoons, plus 1 teaspoon olive oil
1 teaspoon ghee, melted
1 to 2 tablespoons maple syrup
1 tablespoon fresh lemon juice
1 red kuri or other winter squash, halved, seeded, and cut into ¾-inch (2-cm) slices (no need to peel if using kuri)
Sea salt and cracked black pepper
2 teaspoons fresh marjoram leaves
½ cup (70 g) peeled hazelnuts
2 bunches (approximately 10 ounces/280 grams) lacinato kale
1 teaspoon salt, plus more to taste
1 tablespoon sherry vinegar
¼ cup (40 g) crumbled feta cheese (optional)
1 tablespoon pickled red onions
1 to 2 teaspoons grapeseed oil
4 large organic eggs
Method
1. Preheat the oven to 400°F (205°C). Position a rack in the top third of the oven.
2. In a medium bowl, whisk together 2 tablespoons of the olive oil, the ghee, maple syrup, and lemon juice. Add the squash and toss to evenly coat. Season with salt and pepper and sprinkle with 1 teaspoon of the marjoram. Spread the squash on a baking sheet and roast for 20 minutes. Flip the squash slices over and roast until they are soft and golden brown, about 15 minutes longer. Set aside.
3. Put the hazelnuts in a small ovenproof pan and drizzle with 1 teaspoon of the olive oil. Place in the oven on the lower rack. Toast until light brown and fragrant, about 10 minutes. Let cool and roughly chop.
4. While the squash and nuts are in the oven, remove and discard the center ribs and stems from the kale. Tear the kale leaves into bite-size pieces and massage the leaves with the remaining 1 tablespoon olive oil, 1 teaspoon salt, and the sherry vinegar. Add the cheese, if using, and toss to thoroughly distribute.
5. Arrange a large handful of kale on each serving plate and top each with squash, hazelnuts, and a few slices of pickled onion.
6. Heat a 12-inch (30.5-cm) cast-iron skillet over medium heat and add 1 teaspoon of the grapeseed oil. Swirl to evenly coat the surface. Crack two eggs into the pan and cook without moving them for 1 minute, then cover the skillet and cook for an additional 2 to 3 minutes, or until the whites are solid but the yolks remain bright yellow and glossy. Transfer each egg to a salad. Repeat with the remaining two eggs, adding more oil to the skillet if needed.
7. Season the salads with cracked black pepper and a pinch of salt. Scatter the remaining 1 teaspoon marjoram over the top and serve.