How To Find A Workout You'll Actually Stick To Based On Your Zodiac Sign
mbg Contributor
By Leigh Weingus
mbg Contributor
Leigh Weingus is a New York City based freelance journalist writing about health, wellness, feminism, entertainment, personal finance, and more. She received her bachelor's in English and Communication from the University of California, Davis.
You know exercise is good for you physically and mentally, but you're struggling to find a workout you can actually stick with. Not to worry—we've all been there. Your inability to find a workout you love and stick with it may be because you're not honoring your own truth.
Just because your best friend the Aquarius loves barre class doesn't mean it's for you. Maybe your Sagittarius nature is better suited to a long hike in the fresh air. Read on to find which workouts are best suited to your zodiac sign and never dread the gym again.
Aquarius: Group fitness classes.
Whether it's barre, yoga, or group cycling, Aquarians thrive on the community aspect of fitness. So go check out a group fitness class with some of your friends. You'll have a blast and keep going back for more.
You're a natural fit for the water, Pisces. So join your local pool and try swimming a few times a week. You'll quickly become addicted to the gentle, rhythmic nature of this workout—and you won't grow sick of it easily.
Boxing is the it workout of 2017, which is good news for Aries because you're a natural fit for the boxing world. You're courageous, optimistic, and you don't like inactivity. So pull on those gloves and start punching.
Time to lace up those sneakers and hit the track, Taurus: You were born to run. You're well-grounded and practical, making your body and mind well-equipped for running.
It's time to join a kickball team, Gemini. And if kickball isn't your thing, make it soccer. Teamwork is your specialty, so apply that gentle, playful nature to your mode of exercise.
Cancer: At-home workouts.
Cancers need alone time. If you're a Cancer, you probably don't crave the social aspect of group fitness classes, and you love your at-home hobbies. So add at-home fitness to that list. Whether it's a HIIT workout you can stream on an app or an at-home yoga flow, sweating at home is an excellent way to actually stick to an exercise routine.
Calling all creative, passionate Leos: You're fearless, and you know it. So make a date with your local CrossFit gym, and get acquainted with the fiery feeling of box jumping and rope climbing. Your body and spirit will thank you.
Virgos are sensitive creatures. If you're a Virgo, you're probably familiar with feelings of shyness and worry. But you're also precise and detail-oriented, so you'll get a lot of satisfaction out of weight training, which requires precise attention to detail and steady, measured progress.
Libra: Anything—as long as you do it with a buddy.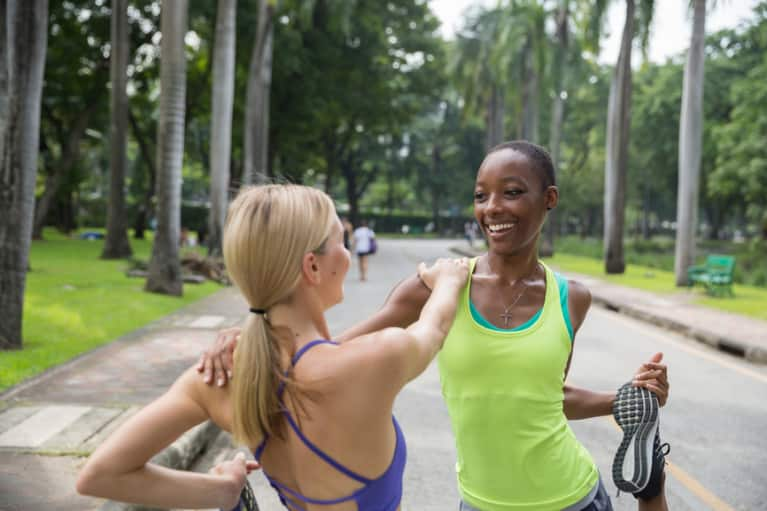 Libras work best in pairs, so find a workout buddy and make exercise a social aspect of your life. Go for a run, tackle a hike, try out a new yoga studio. As long as you have your buddy with you, you'll stick to whatever workout you set your mind to.
Scorpios are intense. They're brave, they're passionate, and they're stubborn. If you're a Scorpio, hot yoga is a perfect match for your fiery personality. It may seem intimidating at first, but give it a try—you may find that you can't get enough of this sweaty workout before long.
Sagittarians value travel, freedom, and being outside. If you're a Sagittarius, hiking will always be an enjoyable way for you to get your heart rate up and break a sweat. In every new place you visit, take advantage of local hikes. You'll never get bored of it.
Capricorns are strong, responsible, and disciplined—they persevere no matter how difficult the challenge. If you're a Capricorn, you can accomplish anything you set your mind to, which is why cycling is a great workout for you. Whether it's pedaling uphill outdoors or tackling a particularly difficult segment of your spin class, you'll consistently look forward to the unique but rewarding challenge cycling brings.