The Summer Soup That Will Change Your Life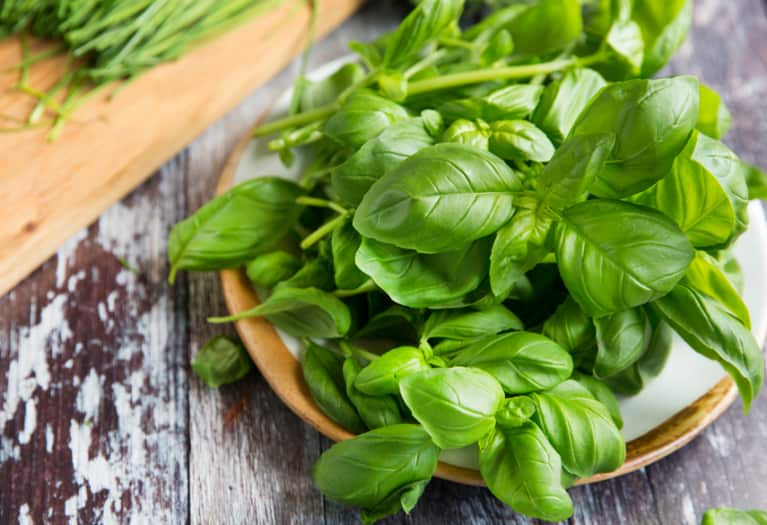 Basil is not only a beautifully fragrant, versatile herb (it's at home in Mediterranean dishes and various Asian cuisines alike), a handful of fresh leaves is teeming with great health benefits, too.
In blogger, writer, and cook Lily Diamond's new book Kale & Caramel, she explores different types of herbs and flowers and showcases their healing qualities and taste profiles in recipes for eating and topical use. She kicks off the book with basil: "In India, certain varietals of basil are called holy and are used to treat internal and external health challenges. Closer to home, your local, garden-variety basil can also be used to treat disturbances of the skin and the digestive system."
The herb contains anti-inflammatory properties and antioxidants, antibacterial oils that boost immunity, and lots of vitamin K, which helps maintain healthy blood vessels.
The good news: Basil can grow almost anywhere and is widely available. Once you've got your hands on it, give this soup from Kale & Caramel a try.
Zucchini Basil Soup with Creamy Hemp Swirl + Garlicky Breadcrumbs
This soup changed my life. I learned the simple blended soup method from a friend on Maui who is a tremendous healer—of spines (she's a chiropractor), of hearts, and of bellies. I'll admit, I was deeply skeptical when Tracey told me we'd be making soup from steamed zucchini. I abhor steamed zucchini, and I couldn't imagine she'd have a miraculous way to change my mind.
But my first taste of the soup she made that day was astonishing. It was vibrant green, with a smooth, rich texture and an earthy taste that was both bright and mellow. There was no zucchini weirdness in sight (or taste). It was filling, packed with vitamins and minerals from the nutritional yeast and hemp seeds, and powerfully vibrant. I felt more alive with every spoonful.
In the years to come, the soup morphed as it became a nourishing staple in my own kitchen. I added herbs I had on hand and kale and hemp seeds for an extra hit of plant protein. In this version, basil sings a dulcet melody to zucchini, adding a layer of summer sweetness to the soup.
The ume plum vinegar (found in the Asian section of most grocery stores) contributes a unique depth, hitting three tastes at once: It is irrepressibly salty, sweet, and sour. The soup is finished with homemade garlicky breadcrumbs and topped with a light and creamy hemp swirl that can be blended with olive oil for a delicious salad dressing if you have extra.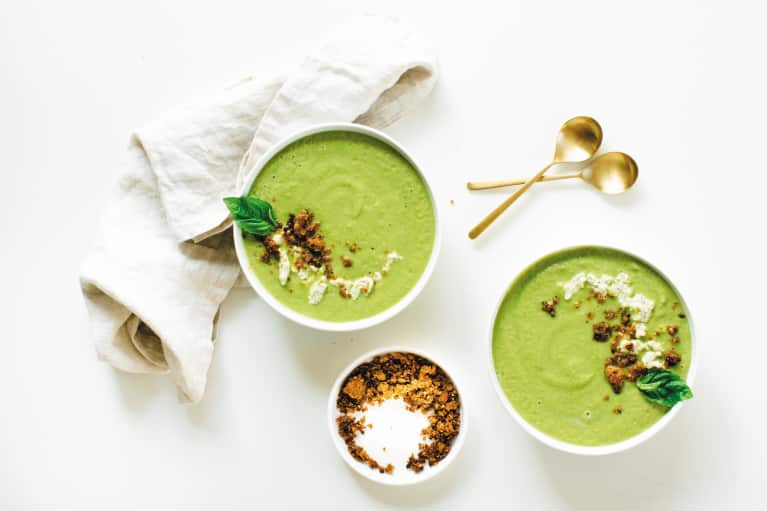 1 cup chunky breadcrumbs, from crushed stale bread or torn fresh bread (I love seeded multigrain)
2 tablespoons olive oil
1 garlic clove, finely grated or minced
A few pinches of sea salt
½ cup hemp seeds
½ cup water
1 tablespoon plus 1 teaspoon lemon juice
1 to 2 small garlic cloves, or to taste
½ teaspoon sea salt
3½ cups water, for steaming and blending
4 medium zucchini (1½ to 2 pounds), sliced lengthwise and cut into 2-inch pieces
1 medium onion, quartered and layers separated
2 garlic cloves
4 large leaves kale, stems removed and leaves torn
½ teaspoon sea salt
1 tablespoon ume plum vinegar, or 2¼ teaspoons sherry vinegar plus ¾ teaspoon sea salt
2 tablespoons hemp seeds
1 tablespoon olive oil, plus more for drizzling
3 tablespoons nutritional yeast
¾ teaspoon ground coriander
7 large fresh basil leaves, plus more for garnish
Freshly cracked black pepper, to taste
Method
1. Make the breadcrumbs: Preheat the oven or toaster oven to 450°F. In a small bowl, mix the breadcrumbs, oil, garlic, and salt. Toss thoroughly to combine.
2. Place in a single layer on a small baking sheet and bake for 2 to 3 minutes, until just golden brown and fragrant. Remove from the oven and set aside.
3. Make the hemp swirl: Place the hemp seeds, water, lemon juice, garlic, and salt in a small food processor or blender and process until completely smooth.
4. Make the soup: Fill a large stockpot with the water and bring to a boil, covered, over medium-high heat. Once the water is boiling, place a metal steamer basket in the pot and add the zucchini, onion, and garlic. Replace the lid and steam the vegetables for 8 minutes, then add the kale and steam for 1 more minute, until the zucchini is tender and the onion is just slightly translucent.
5. Remove from the heat, and transfer the veggies (careful, hot!!!) to a blender. Add 1 to 1½ cups of the steam water (you can add more later if need be, depending how thick you like it). Then add the salt, vinegar, hemp seeds, oil, nutritional yeast, and coriander, and blend on high until everything is fully incorporated. Add the basil and blend until creamy smooth.
6. Pour the soup into bowls and top with the creamy hemp swirl, breadcrumbs, basil, a drizzle of olive oil, and some pepper. This soup is excellent hot or chilled.