I Got A $1,000 'Smart' Bassinet To Help My Baby Sleep. Was It Worth It?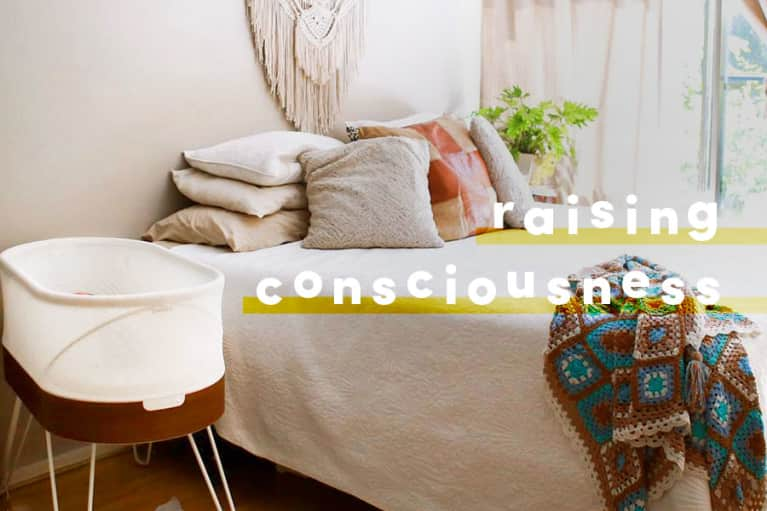 Parenting is hard, and it's anything but perfect. Our new series
Raising Consciousness
is all about real parenting in the wellness world and what happens outside the frame as we try to raise kind and conscious kids. Please write to us at
editor@mindbodygreen.com
and share your stories to be featured as part of this ongoing series. Let's have this conversation!
Before bringing my daughter into the world earlier this year, there was one thing that scared me. It wasn't pregnancy. It wasn't labor. It was the massive sleep deprivation that comes with the few months of parenthood.
I have never uttered the words "I don't need a lot of sleep." I don't take red eyes. I practice specific sleep hygiene because it's really important for me to get sleep to be able to function and feel good.
Sleep deprivation scared me more than any other aspect of becoming a first-time mom.
Sleep deprivation when parenting an infant is more than an inconvenience: It affects the parents' well-being and can lead to potentially dangerous environments for the child. Pediatrician and renowned baby whisperer Dr. Harvey Karp refers to this state in new parents as "drunk parenting," when the caregivers may be unable to make safe choices for themselves or their babies due to severe sleep deprivation.
There are several sleep-training and baby-soothing philosophies, but my husband, child, and I really resonated with Dr. Karp's 5 S's: swaddling, shushing, swinging, sucking, and stomach or side position. The philosophy is based on the idea that babies are born earlier than other species and that recreating the womb can be soothing for newborns in the "fourth trimester" of life.
When I learned that Dr. Karp had developed an app-operated smart bassinet, the Snoo, in collaboration with legendary designer Yves Behar, I had to give a try. The Snoo delivers on three of the five S's—swaddling, shushing and swinging—and helps to recreate the womb-like state. The Snoo has an organic mattress that can "swing" half an inch in each direction. The Snoo also detects the sounds of a waking baby and responds with increasing sound.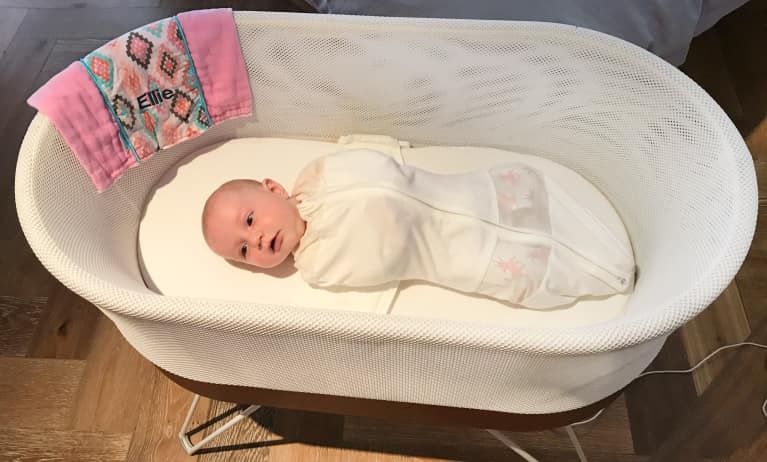 The most compelling element of the Snoo for me was the safety component: The baby is "swaddled" in a super-tight zip-up onesie with wings, so she's fastened to the bassinet, which makes it impossible for the baby to move off her back and greatly reduces the risk of SIDS.
In pursuit of sleep, I was willing to try anything.
I had a great experience at our hospital and was a little reluctant to leave. The nurses were so helpful with everything from lactation to soothing questions that I was worried about our first night at home without experts just a call button away.
When it became time for bed, we put our daughter in her Snoo swaddle suit, which was easy to use. There's Velcro to keep the arms down and a two-way zipper for easy diaper changes. It's so much more snug than a typical swaddle.
The first few nights were adventures and we were newborn neophytes, managing without any help at night. Neither my husband nor I had ever baby-sat for a newborn during the night, so the beautiful, strange sounds of a newborn breathing, which sound like a dinosaur, would wake us up throughout the night.
Once we got used to a newborn's breathing, we were better able to trust the Snoo to do its job. As she became more fussy throughout the night, the Snoo would "soothe" her through increased motion and sound so that we didn't have to wake up until she needed human help, whether it was a diaper change or a feeding. At times we were so exhausted that we would stay in bed until the last possible moment. We knew it was time to soothe Ellie with a human touch when the Snoo app would tell us "Ellie needs your assistance."
Turns out, it is possible for a newborn baby to sleep too much.
We did some things wrong in the first week. We let her sleep too much and didn't wake her every three hours, which meant she wasn't getting enough food and lost more weight than she should have in the first few days. When we were unable to soothe Ellie (after holding her, diaper changing her, and feeding her), we would put her in the Snoo and expect the bassinet to have the magic touch. A really fussy baby doesn't get soothed. Even in the Snoo.
But we also found out what worked for our family. We started using the Snoo only at night. We tried to send a signal that this sleep was meant to be her "dream" sleep. She would sleep in her far less expensive $50 Fisher Price chair during the day and she still spends a lot of her daylight time in the chair when she is not in my arms.
Maybe it's Ellie, or maybe it's the Snoo.
At around six weeks, she started sleeping through the night. She sleeps anywhere from 7 to 11 hours a night now, but there are a few nights when she wakes up unexpectedly.
Did the Snoo help her sleep training? Or is she just an "easy" baby? I don't know.
What I do know is that the Snoo gave me peace of mind during the first few beautiful, chaotic weeks of nurturing a newborn. At almost three months, she's still sleeping well in her Snoo suit and Snoo and we love having her sleep just a few feet away from us at night.