7 Things You Need To Know Today (April 18)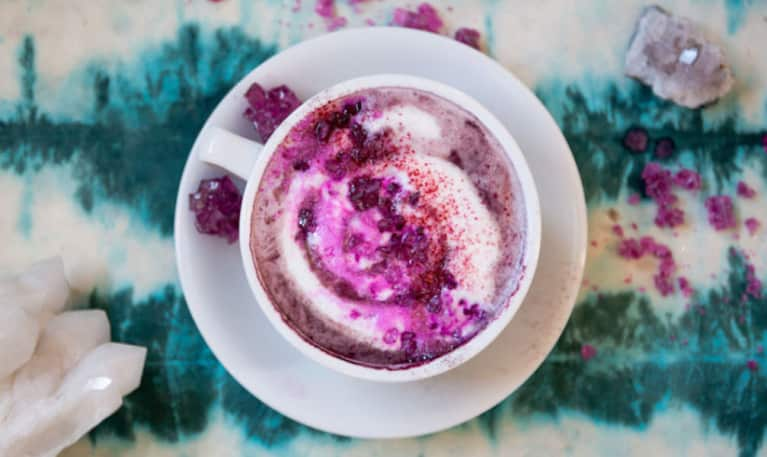 1. Starbucks cashes in on the unicorn trend.
2. This 94-year-old proves creativity is not exclusive to the young.
John Goodenough, 94, just filed a patent for a new type of battery that promises to be cheaper, safer, and more lightweight than anything on market—and revolutionize the electronic car industry. Late-blooming geniuses often contend with strong ageism, especially in the tech sector. (NYT)
3. This is why mystic haircuts are becoming a phenomenon.
While Wicca and other nature-based faiths are far more than just a trend, lately, beauty is borrowing elements from their traditions. Our own staffers have gotten tarot card manicures, and the number of serums that have been blessed and infused with sacred plants has skyrocketed. So it makes sense that self-described HairWitch Adriana Rizzolo is resonating so profoundly. As she explains, a haircut isn't a banal beauty ritual but a piece of "everyday magic" that people have been tapping into for ages. (NYT)
4. Science may have a solution for water scarcity problems.
Here's a new invention we can behind: Scientists have developed sunlight-powered devices that can literally pull water out of thin air. The hope is that this device can deliver fresh water to places with water scarcity problems. (MIT Technology Review)
5. The March for Science, scheduled to happen on Earth Day (this Saturday, April 22), has given us an opportunity to question and discuss the role of science in society.
In the massive debate that's been ongoing for most of this year, that role is unclear: One side argues that science should be separate from politics completely, and the other maintains that is impossible. One thing that's agreed upon? The increasing importance of science and its power to heal. (Science of Us)
6. You might want to think twice about investing in brain games.
A new study published in Frontiers in Aging Neuroscience shows that many of these games don't actually prevent age-related brain decline or improve cognitive performance. The brain game industry is now a billion-dollar business, which researchers suspect is resting on inflated claims—without the research to back them up. (Science Daily)
7. Prince Harry is opening up about his mental health struggles subsequent to the death of his mother.
As part of the ongoing effort by the young royals to ease stigma on sufferers of mental illness, Prince Harry spoke on the podcast Mad World about how long it took him to recognize that he needed help, and to actually address his issues. (Telegraph)