We All Know We Should Spend More Time Outside. Here's How To Actually Do It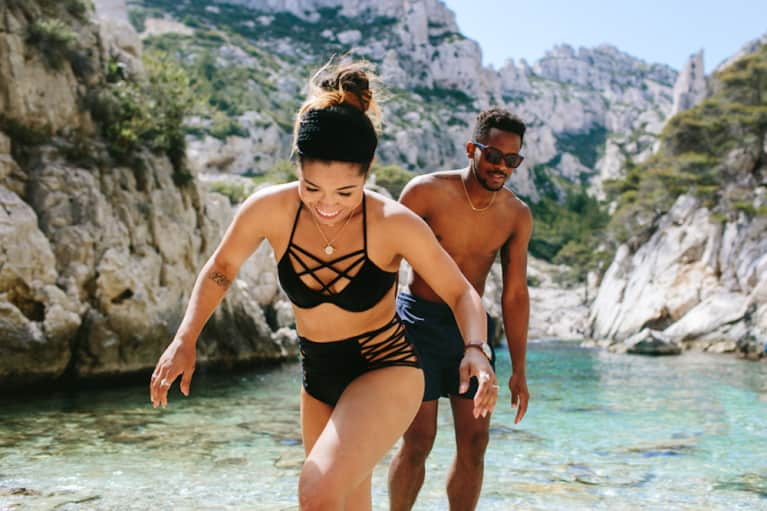 "I went to the woods because I wished to live deliberately, to front only the essential facts of life. And see if I could not learn what it had to teach and not, when I came to die, discover that I had not lived." —Henry David Thoreau, Walden
Although published in 1854, Thoreau's insights on the healing and perspective-changing properties of nature are timeless. The vast, beautiful great outdoors serves as a scenic sanctuary, and there is great physical value in practicing self-reliance, being in motion, and breathing fresh air.
It sounds like common sense, right? It's the kind of advice that everyone gives, but not many listen regularly enough. Of course, we should all spend more time outside—especially in these days of social media and internet overload. But then again, if life is a mess, how much is outside time really going to help?
More than you might think.
Totally incredible health benefits of spending time in nature.
Research shows that spending time in nature can improve cognitive functioning, short-term memory, creativity, and more. It's also been proven to be particularly beneficial to people struggling with addiction, with many nontraditional treatment programs prescribing nature and its benefits as part of a balanced recovery plan.
"Current thinking in the mental health community is incorporating forms of nature-based therapy into traditional addiction treatment creates a more holistic, robust approach to global sobriety, health, and wellness," said Dr. Riana Chagoury of Malibu Hills Treatment Center.
"Traditional talk therapy is extremely effective at addressing cognitive distortions and emotional processing, and nature-based therapies bring an experiential dimension to treatment. These two modalities tend to complement, inform, and mutually reinforce each other. Treatment focuses on building self-esteem, resilience, and learning how to develop open, honest relationships by leading clients out into the woods where they must live and work together as a team," she added.
Here are a few of the most encouraging scientific studies on the role nature can play in recovery:
When combined with the tangible benefits above, the act of changing your routine, learning a new skill or experience, and spending time with yourself can make nature-based therapy a great option for everybody—even those who aren't suffering from a specific medical ailment.
No matter what you choose to do in nature, make sure you take a moment to reflect on the experience.
Whether it's committing to a simple evening walk or learning a new athletic skill, spending time outside can help you grow inner and outer strength.
How to actually get outside more:
Combining exercise and outside time provides a double dose of goodness, thanks to the extra endorphins released through physical activity. Walking or jogging is an easy way to start, and picking up a recreational sport has the added benefit of social opportunity. Experiment with swimming, kayaking, paddle boarding, bike riding, or anything that sounds fun or interesting. The more you love your new hobby, the more it will feel like a treat rather than a chore.
Push yourself outside your comfort zone while spending time outdoors. Hiking, camping, rock climbing, kite boarding and white-water rafting can offer a change of scenery and a rush of adrenaline. Who knows, you might even impress yourself with a sense of newfound courage.
If your heart needs to rest instead of race, don't underestimate the power of simply being in nature. Walk in the woods, search for shells on the beach, take up gardening, or sit quietly and meditate in a meadow. If you're looking to commune with others along with nature, find an outdoor yoga class or a low-key group activity. Concentrate on your breath and on cultivating a sense of self and acceptance.
No matter what you choose to do in nature, make sure you take a moment to reflect on the experience. Feel the sensation of your body in its place and of your breath filling and leaving your lungs, and tune into the sounds of the world around you. And then appreciate yourself for the effort.
Although we don't all have the luxury of taking two years to ponder our Thoreau-like existence, it's possible to enjoy the same therapeutic experience. Whether you're in recovery, in need of healing, or just looking to improve life in general, the answer to a brighter future may be waiting right outside your front door.