What Exactly Is 'Sick Building Syndrome' + Do You Have It?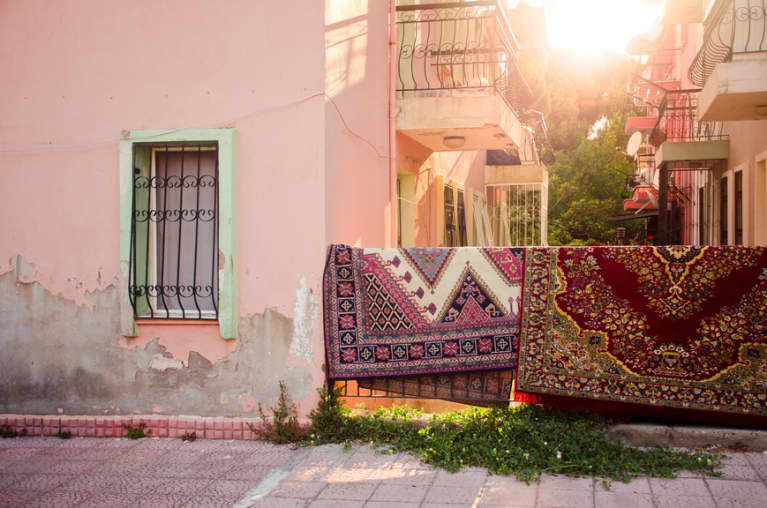 Our editors have independently chosen the products listed on this page. If you purchase something mentioned in this article, we may
earn a small commission
.
Back in the 1980s, I was living the American dream: I was healthy, happy, married, and had a new baby girl on the way. I was loving it all. But once my law office (I was an organized-crime prosecutor at the time) moved into a new building in Miami, something strange started happening. I developed sore throats, constant dizziness, and burning eyes and lungs. I chalked it up to stress, thinking it would pass. But it only got worse.
I eventually became hypersensitive to almost everything around me: pollens, molds, foods, perfumes, hair spray, detergents, newsprint, auto exhaust, and many everyday chemicals. It got so bad that I would experience seizures upon certain exposures. That year, I consulted with countless doctors who tested me for every imaginable illness. We eventually concluded that my symptoms were a result of sick building syndrome (SBS), caused by the building I was working in.
I was breathing dangerous chemicals outgassing from the new carpeting, glues, paints, plastics, and other construction materials that were coalescing without any fresh air to dilute them. My exposure to these toxic chemicals damaged my immune system—and I wasn't alone. Others in the building experienced symptoms that ranged in severity. Everyone's resistance to environmental toxins is unique, like a bio-chemical fingerprint, and different people can have different adverse responses to the same chemicals. You may be less resistant to mold than me, but I may be less resistant to formaldehyde than you. It all boils down to your unique set of genes and how they interact with your environmental exposure. However, up to 30 percent of new and remodeled buildings worldwide cause health problems related to poor indoor air quality.
My experience with sick building syndrome.
Once I was diagnosed, I tried every alternative treatment imaginable to rebuild my strength: naturopathic, homeopathic, herbal, supplemental, you name it. Nothing worked. In order to avoid further chemical exposure, my doctors recommended that I actually move to an isolated desert in Arizona, far away from mold, humidity, and pollution. My new home was in the middle of nowhere, and it was cold, empty, and austere. But along with the development of new anti-seizure medication, it ultimately saved my life.
Thankfully, most victims of SBS don't need to resort to such extreme measures. However, my injuries were severe because it took me a while to properly diagnose them. Let my experience be a reminder of the importance of listening to your body and speaking up when you notice something feels off.
What you can do to protect yourself from SBS.
Many people are unaware that hidden chemicals lurking in our homes, workplaces, and schools can be completely devastating to our health. Even so-called "harmless" household chemicals have the potential to become dangerous in the right conditions.
Causes of SBS include inadequate ventilation, chemical contaminants from indoor sources (carpeting, upholstery, manufactured wood products, copy machines, etc.), chemical contaminants from outdoor sources, motor vehicle exhaust, poorly located intake vents, pollen, and mold. These culprits often act in combination with other factors including inadequate temperature, humidity, or lighting. There are still a lot of unknowns about SBS, though, and more research needs to be done before we can determine exactly how to prevent it.
The good news is that you can do a lot to protect yourself from SBS. Here are my top tips for keeping yourself safe from environmental contaminants at home and at work:
1. Use ozone-free HEPA air purifiers and make sure your air conditioning brings in some outside air.
2. Regularly open your windows.
3. Leave shoes outside your home to reduce tracking contaminants indoors.
4. Buy a test kit to determine if mold, radon, asbestos, carbon monoxide, or lead is present in your building.
5. Use nontoxic home-cleaning products that are fragrance-free and chemical-free. Substitute with natural alternatives.
6. Don't use pesticides in your home and garden. Use natural alternatives such as boric acid for ants and cockroaches and old-fashioned traps for mice and rats.
7. Use volatile organic compound (VOC)–free paint.
8. Install ceramic tile, stone, or solid wood floors with washable area rugs. Avoid wall-to-wall carpeting containing petrochemicals and stain resisters.
9. Use furniture made from solid wood, metal, or glass. Avoid furnishings built with plywood or particle board.
10. Sleep on an organic cotton, flame-retardant-free bed.