I Live In A Van. Here's Why I Think It's The Ultimate Life Hack
If my 15-year-old self found out that one day I'd move into a 40-year-old trailer, I probably would have wondered where my life had gone terribly wrong.
How could moving into an old trailer possibly make me happy, let alone be something I'd do on purpose? What my younger self didn't realize was how much of a rat race the real world truly is.
As soon as I left college, it became a competition to get the fanciest car, the biggest house, and the nicest stuff to put inside that big house. My husband and I played along because we thought that's just what you're supposed to do. But slowly we started waking up to the fact that the people around us were working themselves ragged to pay for luxuries they barely even had time to enjoy.
Everything society was telling us to chase started looking like the exact opposite of happiness. We realized that we found true contentment when we took vacations and spent time outdoors exploring, seeing new things, and living in the moment, not when we were spending days stuck in traffic, sitting in a cubicle, or staring at the TV screen.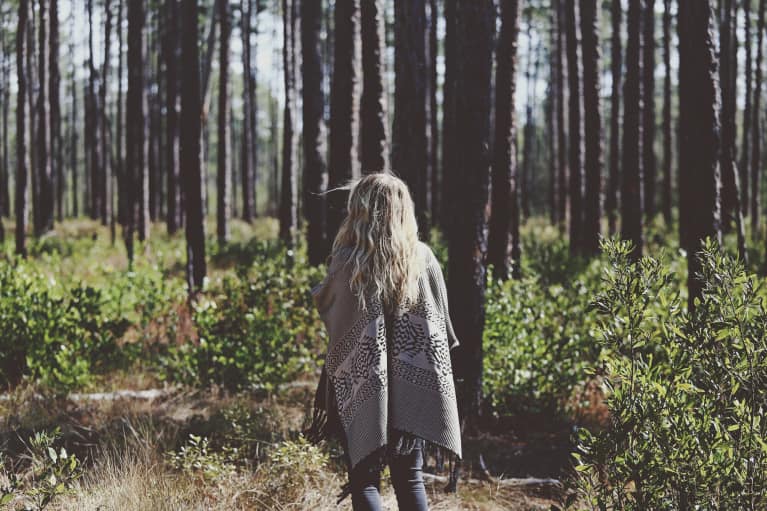 After we decided it was time for a change, we spent years downscaling and dreaming, sketching, and reading about tiny homes. The one thing we couldn't decide on was where to build our tiny home. Then it hit us. Why not build our home on wheels? That, to us, would be the ultimate act of freedom. It would give us the ability to travel the country and live in interesting places as long as we wanted. So, we took a total leap of faith and bought the only trailer I had my eyes on—a vintage Airstream. In the meantime, my husband began his search for a full-time telecommuting job. (Turns out they're out there, and they're plentiful!)
Over the next seven months, my family helped us do a complete remodel of our Airstream. Then came the scary part—moving into our new tiny house.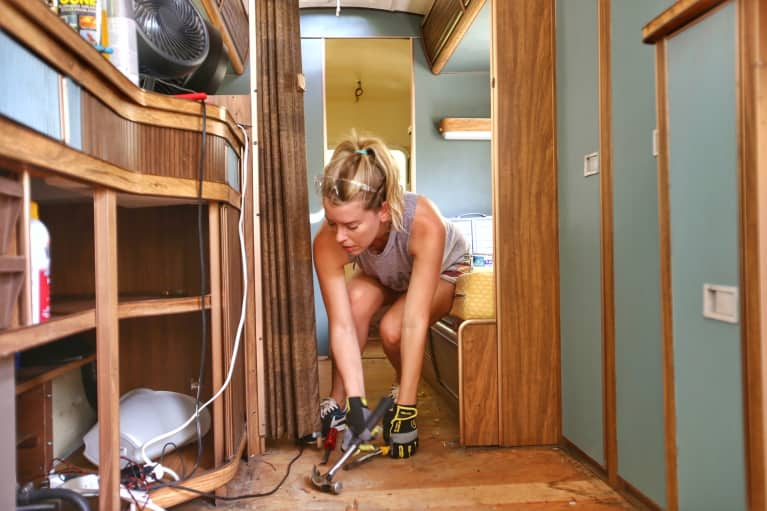 During the remodel, we had felt very disconnected from the trailer. We looked at it as a project and really didn't have an emotional relationship to it yet. To suddenly be living in it felt so foreign. Every moment of our day became unrecognizable. We experienced just about every emotion during those first few weeks: joy, excitement, stress, frustration.
At first we were distracted with settling in, playing with all of our new appliances, eating off new dishware, sitting on new furniture, sleeping in a new place. We'd giggle when we'd bump into each other or hit our head on something. We were like giddy little kids. After a few days, though, the struggles of coexisting in such a small space came to the surface. Working, eating, sleeping, and exercising—all the things we'd always taken for granted—suddenly became activities we had to relearn in a small space.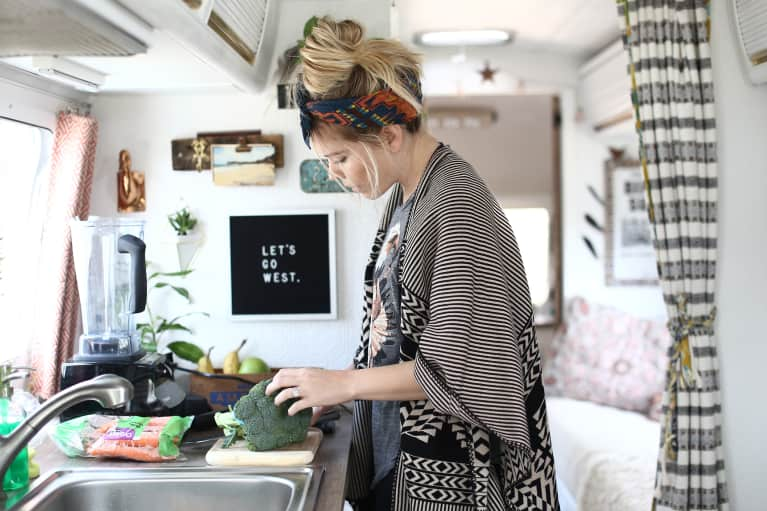 Along the way, we slowly found our footing: We learned that a white noise machine strategically positioned between our work areas was our new best friend. We found ways to make fresh, healthy meals in minutes using our induction cooktop and Vitamix. We discovered that sleeping in a space that didn't have noise insulation meant waking up with the birds and welcomed this new sleeping rhythm as a way to feel closer to nature.
Eventually, the awkwardness we felt with our new home went away. We finally landed on our rhythm. It was as if we developed a choreographed way of navigating the trailer and existing in the same small space together. We came to love the Airstream and everything about it.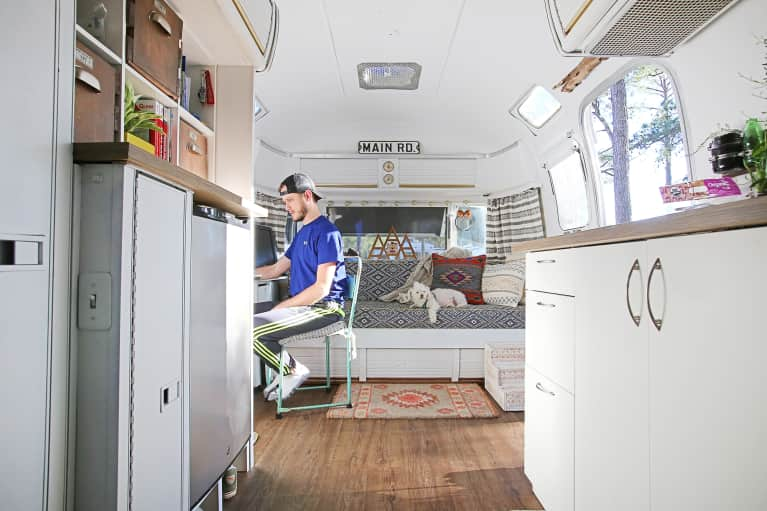 We constantly marvel at the fact that we built a fully functioning, comfortable house for a fraction of what we paid for one of our cars before. We started wondering what all that space and stuff had been for in the first place.
Simplicity is a beautiful, calming thing.
After a few months on the road, I feel like I've discovered this huge, earth-shattering life hack. My husband and I suddenly have an abundance of the resource we value the most: time. We don't spend weekends working in a yard or weekday hours cleaning. We still have jobs, we still make money, but our days are now our own. Instead of sitting in traffic after work, we hop on our bikes and go exploring. Instead of sitting in a cubicle, we work in a sunny spot in the Airstream or outdoors on beautiful days. Instead of mindlessly staring at the TV in the evenings, we find new places to watch the sunset. We never have the same day twice.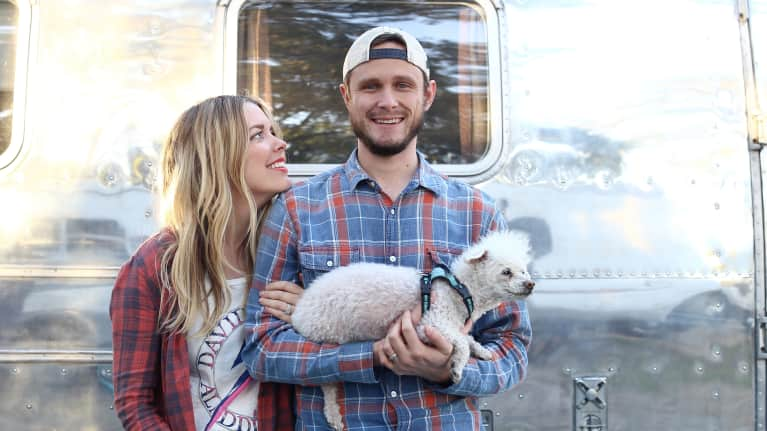 Our minds are clear and the anxieties we once thought were a normal part of existence are gone. This whole experience has led us to a deeper understanding of what's really important in this life—accumulating experiences, not stuff. We feel enlightened and more connected to Mother Nature than ever before. We are realizing that our lives are our own and they don't belong to anyone else.
And here's something that my 15-year-old self would have never imagined saying: My husband and I couldn't be prouder to be trailer folks.