How To Make Your Hike A Spiritual Experience (No Matter How Short)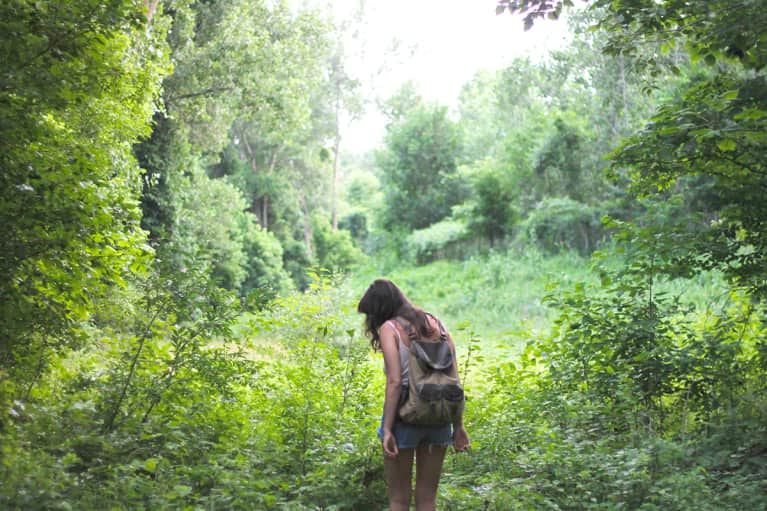 My mother was a single mom of four kids. She would wake up at 3 in the morning, go to her first job as a baker for a few hours, come home to send us off to school, sleep, greet us when we got back, then head out for her second job in retail for the rest of the night. I get tired just thinking about her schedule.
The most impressive part, though? On weekends, Mom would load the four of us into her Subaru wagon to go explore the vast landscapes of the state of Utah.
Mom thought it was unacceptable to live in such a beautiful place and not get out and experience it. Yes, those outings turned me into one of those tree-hugging, granola-crunching kids who wore wool socks and hiking boots in high school. And my love for hiking and exploring mountains has never stopped.
I was raised Mormon, but over the years my spiritual identity has shifted away from organized religion and today, most of my transcendent experiences come from nature. This is a sampling of lessons that I've picked up during hikes long and short. They've totally shaped my perspective, and I hope they inspire you to spend a little more time out on the trail too.
The magic seems to come when I am finally quiet enough to listen.
1. Hiking allows the Universe to speak to us.
New ideas, the clarity to overcome problems, the inspiration to forgive—they've all come to me while hiking. I've had business ideas hatch while hiking, fallen deeper in love with my partner on the trail, and overcome anxiety with long days outside. The magic seems to come when I am finally quiet enough to listen.
The answers to my questions arrive with the sounds of the trees as they sway in the wind, the river as it moves below in the canyon, and the crickets as they sing in the early evening. It's peace, it's solitude, it's greater clarity gained in the moment. It's like moving meditation, therapy, and church all wrapped into one. And it's so simple. All we have to do is find a trail and move our feet.
2. We have spirit animals.
I used to chuckle at the idea of spirit animals, but one September day I was running on a mountain ridgeline at nearly 11,000 feet and was startled to see a large white mass lying right on the trail. Soon enough, I was standing mere feet away from a large white mountain goat.
Amazing? Yes. To me, mountain goats are the closest things to Unicorns. I marveled, but he wasn't scared. He just stared right back. All indications showed that he wasn't going to move anytime soon, so I merely sat down on a rock less than 10 feet away and had lunch with him. I remember looking into his eyes; it was as if he knew that I wasn't there to harm him. I was a friend, just a fellow patron of the high mountains. It was one of the most spiritual experiences of my life. To this day, I continue to stumble upon families of mountain goats, yet most of the avid hikers I know have never seen the elusive creatures.
While you can probably never know what your spirit animal is for sure, just pay attention. Animals seem to exude pure love and act as mirrors that reflect what's inside each of us. If you keep seeing a certain hawk, chipmunk, lizard, or porcupine over and over, tune in to how your body feels when they're around. You might just stumble across a beautiful spiritual connection.
3. The importance of humility.
Learning humility is perhaps the biggest spiritual lesson from my hikes. This past winter, I had two (very) near-death experiences while skiing, and I've had countless others where I was near hypothermia and broke down into tears because I was so humbled by the elements. Spending time hiking is a good way to remember that we aren't as big and tough as we may think and that nature is the true master. I've been so humbled by the Earth so many times, returning to my little world carrying the reminder that I am just a small part of this Universe. Thoughts like these bring us back to our true selves, which can be found only when our ego disappears. And when our ego disappears, new breakthroughs can surface.
So as the snow now melts in many areas of North America, hit the trails, my friends.