How To Avoid Junk Food & Booze (Without Killing Your Social Life)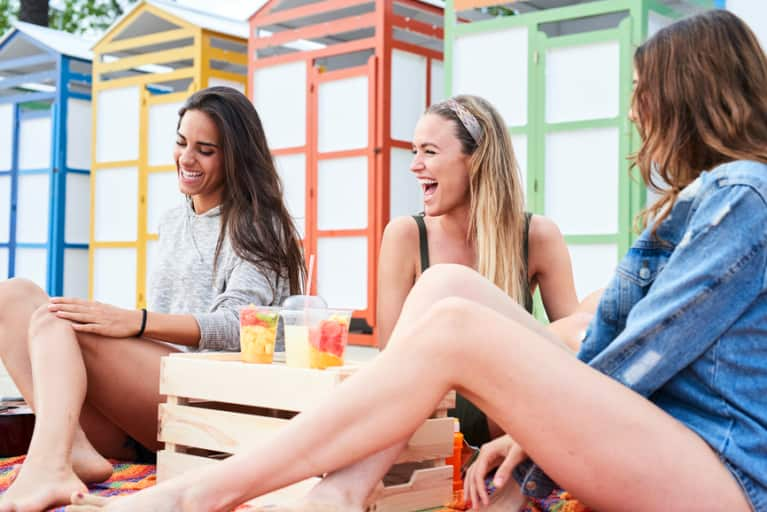 Our editors have independently chosen the products listed on this page. If you purchase something mentioned in this article, we may
earn a small commission
.
"The morning started in good fun until someone suggested an all-you-can-drink mimosa brunch," my friend confessed with guilt in her voice. "Too many drinks and a plate of French toast later, I was feeling pretty guilty over how the afternoon had gotten out of control." Blame it on too many Sex and the City episodes or just social conditioning, but many of us think that an evening (or afternoon, for that matter) can't be complete without shopping, indulging in sweets, or keeping the party going with a few glasses of chardonnay.
Don't get me wrong. As a health and life coach, I love a nice glass of champagne, can't imagine life without chocolate, and get a total serotonin high finding a killer bargain at Century 21. But when those things become your staple activities, the results can be disastrous for your body, budget, and peace of mind. And it raises the question: Is this the only way we think we can let loose?
Fostering community and reinventing fun.
Thanks to an episode of Parks & Recreation—when Amy Poehler's character celebrated her girlfriends with Galentine's Day—on February 13, my girlfriends and I started celebrating self-love and love for each other; we laugh and play and spend the day making new memories without relying on junk food, shopping, or wine. And truthfully, any day can be like this. Celebrating and strengthening the bonds of friendship becomes a great way to also cultivate self-love. When we connect more authentically and vulnerably, we thrive. We reduce the stress and constant demands that fill our days. But to do this without excessive amounts of alcohol or sugar, we need to foster a supportive community and reinvent our definition of fun and "blowing off steam."
The role of indulgence in our social lives.
Too often these important bonding experiences revolve around food, alcohol, and other crutches that can distract us from being our most open, authentic selves. "When 'taking the edge off' with a couple of glasses of red wine becomes a routine, our experiences of joy and love and trust will become duller, too," writes Brené Brown in Rising Strong. "With less positive emotion in our lives, we are drawn to numbing." And numbing—whether that means online shopping, throwing back a few beers, or making a midnight Chunky Monkey run—becomes the opposite of healthy as we shut ourselves off from the world.
On the other hand, when we let our emotions out with people we love and trust—by laughing, crying, talking, or otherwise showing our authentic, vulnerable selves—we stimulate bonding and even hormones that help us feel happier and more at ease. Time like this spent with friends is a great way to optimize oxytocin and other hormones. Among its benefits, studies show that building deep friendships as adults:
Increases your sense of belonging and purpose.
Boosts happiness and reduces stress.
Improves self-confidence and self-worth.
Helps you cope with traumas such as divorce, serious illness, job loss, or losing a loved one.
Encourages you to change or avoid unhealthy lifestyle habits, such as excessive drinking or lack of exercise.
When you cultivate healthy, supportive friendships, you optimize feel-good hormones like oxytocin and endorphins, shifting your body into a prime metabolic and digestive state. (Yes, laughing, crying, and bonding can even be good for your digestion!)
Try something new for girls' night out.
So who needs a guilt-inducing taco and tequila night when you can blow off steam in other healthier (and more fun) ways. Here are four suggestions for your next outing that will leave you feeling connected, reinvigorated, and won't sabotage your health or weight loss goals.
1. Bounce around (or just move more)!
Trampoline parks like Sky Zone are a great way for friends to have physical fun together, and so are roller skating, inline skating, hiking, or simply taking a run or brisk walk in the park. One study found that engaging in group exercise is more effective at increasing endorphin levels.
2. Have an improv comedy or stand-up night.
Beyond reducing stress, studies show people who laugh more have higher endorphin levels, which contribute to social bonding. Studies show that when you do improvisational comedy (improv), "fear of failure loses its sting—a net of support is constructed from the openness, trust, and acceptance expressed within the ensemble. Individual vulnerability creates collective strength."
3. Have a cry-fest movie night.
Contrary to what you might think, crying releases endorphins just like laughing. That might sound antithetical, but think about the last time you had a good sob: You probably felt better and less tense, right? Choose a sure-to-tear-up weep-fest (The Notebook, anyone?), whip up some healthy snacks, and keep the tissues nearby.
4. Set up a bad art party.
In honor of Galentine's Day last year, I hosted six women at my apartment. We put together our random craft and art supplies in a big pile and got creative. "Bad is the new perfect!" I announced. By allowing ourselves to be silly, color outside the lines, and not worry about getting things right, we had a blast and created some fun crafts!
My challenge to you is to create (and maybe even host) your own alcohol- and sugar-free party. It's easy; just text a couple of friends and plan a Sunday afternoon "play date" together. Come up with a few ideas that would be playful and fun and commit to a day with little-to-no sugar or alcohol. Play becomes the ideal way to foster connection, strengthen your relationships, and cultivate self-love.