What The Healthiest People We Know Order At Starbucks
Contributing Food Editor
By Liz Moody
Contributing Food Editor
Liz Moody is a food editor, recipe developer and green smoothie enthusiast. She received her creative writing and psychology degree from The University of California, Berkeley. Moody is the author of two cookbooks: Healthier Together and Glow Pops and the host of the Healthier Together podcast.
Starbucks is one of the most ubiquitous food chains in the world, and lately, they've really tried to amp up their healthy offerings. We're all about being able to grab quick, healthy food wherever you are, so we reached out to some of the country's best registered dietitians to find out what they ordered at Starbucks. Here are their picks.
1. An Americano and an egg sandwich:
To me, an Americano shows a barista's talents to pull a good shot. I love that it's brewed fresh to order because I am worth that! For food I opt for the egg-based sandwiches.
—Kimberly Evans, R.D., founder of Whole Health Nutrition
2. A grande coconut cappuccino and sous vide egg bites:
I am a grande coconut cappuccino, all day! Food-wise, clients are digging the new sous vide egg bites.
—Carolyn Brown, R.D., founder of FoodTrainers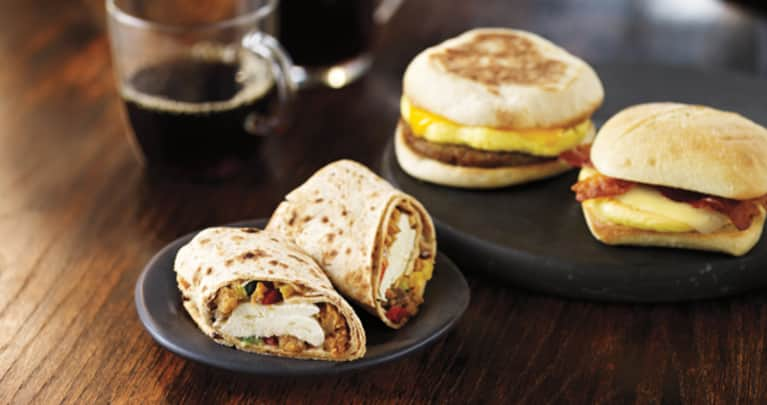 3. An espresso and a Spinach and Feta Wrap:
My not-so-guilty pleasure is the Starbucks Spinach & Feta wrap. It offers a balance of protein, complex carbs, and even some veggies for not quite 300 calories. I have a serious savory tooth, so oatmeal with dried fruit or a pastry is just not going to do it for me in the morning, especially if I'm on the go and need something to keep that midmorning hunger at bay. I know it's high in sodium, but when compared to many other savory breakfast options out there, it's not so ridiculous. To balance it out, I'll be mindful to limit high-sodium foods elsewhere in my day and drink plenty of water.
When it comes to drinks, I love my espresso, so I'm either going for that or an Americano. I can make drip coffee at home! Also, espresso actually only has 75 mg of caffeine, compared to the 330 mg in a grande drip at Starbucks, so it's not going to make me as jittery or feed my caffeine addiction monkey as much. If I want something that's going to fill me up for a little, I'll order a short cappuccino, since the milk provides a little protein.
—Jessica Cording, R.D., founder of Jessica Cording Nutrition
4. Chai tea with steamed almond milk:
At Starbucks, I order a Chai tea (in the tea bag, not the concentrate) with some steamed almond milk on top. I love the aroma of chai and the milk adds a creaminess that adds body to a normally thin boring drink! I like to sprinkle some cinnamon on top, and a touch of stevia.
—Lisa Hayim, R.D., founder of The Well Necessities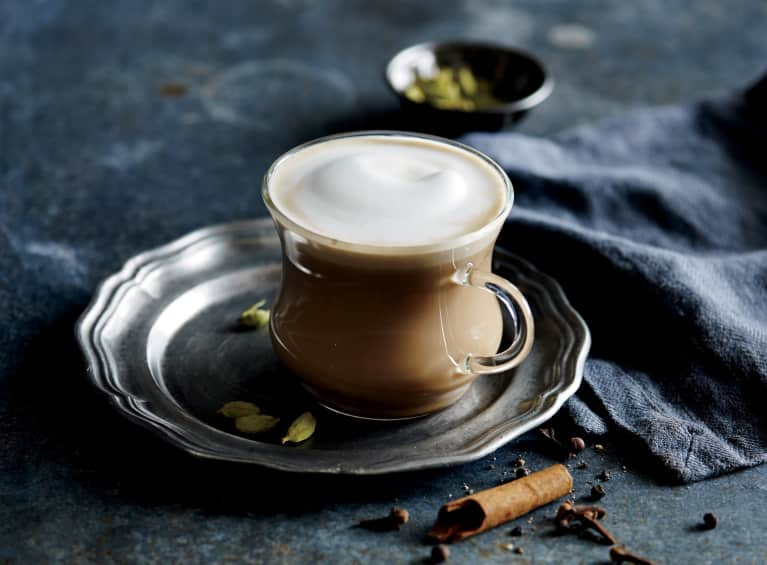 5. An Americano with cream and cinnamon:
I order an Americano and I add cream and sprinkle cinnamon on top. The cream is a good source of fat to keep me full and satisfied, plus it's delicious. The cinnamon adds some sweetness without adding sugar and cinnamon has health benefits, including blood sugar balance.
—Britni Thomas, R.D., of Nutritional Weight & Wellness
6. A Passion Tango herbal tea:
I am not a coffee drinker as I've always been caffeine sensitive, so I always go with the Passion Tango herbal tea. I love to order this tea iced, with no added lemonade or sweetener. Then, I simply add in a teaspoon of honey instead to cut the tartness and give it a little natural sweetness! It's so cool and refreshing, a perfect summer drink!
—Cristal Sczebel, CHN, founder of Nutrition in the Kitch
7. Hot coffee with soy milk:
My go-to healthy Starbucks orders are either a hot coffee with soy milk or an unsweetened mint tea. In the morning, I opt for soy milk in my coffee because the brand that Starbucks offers is slightly sweet and provides more flavor than skim milk, in my opinion. If I make a Starbucks run in the afternoon, I'm going for the tea, mostly because if I drink coffee after 3 p.m. I'll have trouble falling asleep.
—Leah Silberman, R.D., founder of Tovita Nutrition