Become A More Optimistic Version Of Yourself With These Tried-And-True Tips From A Psychiatrist
Holistic and Integrative Psychiatrist
By Aparna Iyer, M.D.
Holistic and Integrative Psychiatrist
Aparna Iyer, M.D. is a holistic and integrative board-certified psychiatrist in Frisco, Texas. She studied at St. George's University and completed her residency at Albany Medical College.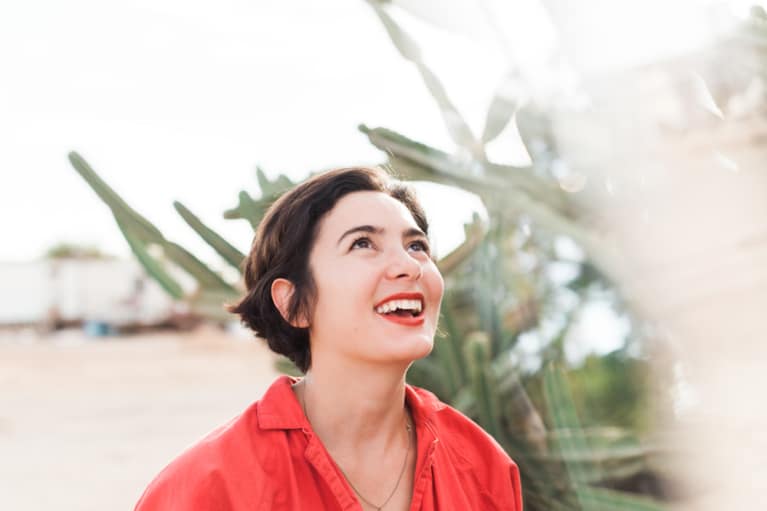 Many of my patients experience something difficult or traumatic in their lifetime, which can leave them struggling with feelings of depression, anxiety, or low self-worth. One of my patients in particular—a clear optimist—admitted to her painful past and the depression that followed, but what set her apart was how quickly she bounced back during the course of therapy. As a psychiatrist, this is a trend that I see quite often with those who are able to maintain an optimistic outlook despite their life situations.
Does being an optimist actually have consequences for your health?
Optimism—a mindset that tends to be positive and views events and outcomes as favorably as possible—is typically seen as the "glass half full" mentality. Optimists tend to be upbeat and look on the bright side of things, frequently viewing the world as a positive place, determining ways to affect the outcome of even difficult situations, and finding meaning in darker times. Meanwhile, pessimists tend to see things in a darker light, tend to blame themselves for unfortunate events, and often feel as though situations are out of their control. When compared to their pessimistic peers, optimists:
1. Recover more quickly from difficult or traumatic life events.
A positive outlook is the single most important factor in resilience. Due to this, optimists tend to endure and bounce back more quickly. In many cases, optimists can find the silver lining even in the darkest situations. Optimists will typically try to find meaning in adverse situations, an attitude that was shown in one study to be linked to survival and resilience in war veterans who had experienced significant trauma.
2. Tend to have more positive health outcomes.
Multiple studies have shown that cardiac patients who are optimistic are less likely to have hospitalizations or heart attacks. Optimists tend to have lower blood pressure and cholesterol, fewer strokes, better immunity, fewer infections, and better overall survival—even in serious medical conditions, such as some cancers. Optimists also tend to exercise and eat healthier foods.
Studies from both the United States and Europe show that optimists tend to live longer, even after major medical ailments, than their pessimistic peers. It has been discovered that the healthy behaviors associated with optimism do not fully account for this longevity, leading us to believe that optimism itself is a factor that promotes a longer life.
4. Handle stress more effectively.
Even in highly stressful moments, optimists tend to search for ways that they can improve the situation or the outcome. Instead of feeling that a situation is hopeless or completely beyond their control, optimists will often quickly devise a plan of action. As a result, they tend to be more positive and less overwhelmed, even in the most stressful situations.
Want to be more optimistic?
Not a natural optimist? Not to worry. The good news is that people can incorporate more optimistic habits at any point in life. In fact, studies show that optimism can be learned. Here are some great ways to shift to a more hopeful and positive outlook:
1. Keep track of what you're grateful for—every single day.
This might be the single most transformative thing you can do to train your brain to start considering "the bright side." It doesn't have to be a gratitude journal—it can be whatever works for you. Some ideas include: writing down three positive things that happened to you that day, reviewing what you're grateful for five minutes every morning, or sending someone a quick note telling them you're grateful are all great ideas.
2. Smile. It's contagious.
It might be the last thing you want to do especially if you're feeling gloomy, but do it anyway. One trick I like? Thinking about something that makes me laugh, every time. The thing about smiling is that it's contagious; studies have shown that humans have an automatic reflex that causes us to mimic the facial expressions of others. So be intentional about smiling and surround yourself with people that do the same!
3. Remind yourself of something you did that made you proud or happy.
Pat yourself on the back! This is something we don't do enough. Remind yourself of something you created, that you achieved, a trip you took, a moment you had—something that makes you smile. Remembering why you did it and what it asked of you in the context of how it makes you feel still today is a nice reminder that you are capable of so much.
4. Try a random act of kindness.
If you're not feeling great and smiling is out of the question, try doing something kind for someone else. Make a donation to your favorite cause. Give up your seat on the subway. Doing something to make someone else's day a bit brighter or easier helps us remember that we are in this together, a comforting thought that can illicit the warm fuzzies even on the darkest of days.
5. Watch for judgmental thoughts.
It can easily turn into a negative thought spiral, whether you're thinking about someone else or yourself. Simply being more aware of them as they arise will empower you to change course, and choose to direct your attention elsewhere.
Optimism isn't a gene—it's in your power to cultivate an optimistic outlook on life. Plus, it could have a huge impact on your interactions, relationships, and your health, too.