You Can Biohack Your Smoothie. Here's How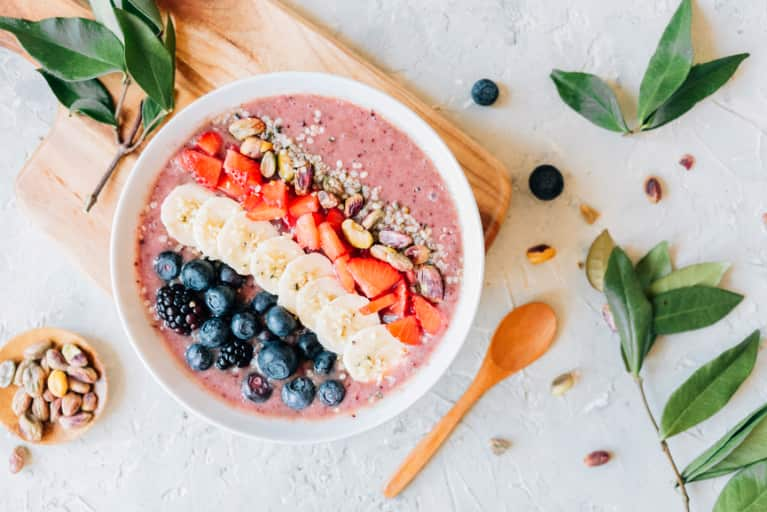 Our editors have independently chosen the products listed on this page. If you purchase something mentioned in this article, we may
earn a small commission
.
I'm a big believer in functional food. Food should not only taste and look good but make you feel good. It should improve your health and well-being, not detract from it.
Thus I'm always finding ways to tweak real-food recipes to make them work harder for my body, so that I, in turn, have to do less. This practice has now officially been coined "biohacking" thanks to David Asprey, creator of the infamous bulletproof coffee.
He claims that if we want better outputs—to have more energy and focus, to be free of disease, to have a better memory, to perform optimally in business and athletics—we need to adjust the things we put into our bodies and minds to stack the deck in our favor.
Think simple upgrades like blending MCT oil with your coffee for sustained energy and stabilized blood sugar levels or adding apple cider vinegar to salad dressings for a boost of good gut-healing bacteria. Or, in this case, adding just the right amount of nutrients to your smoothie bowl for amazing results, both in the bowl and with your body.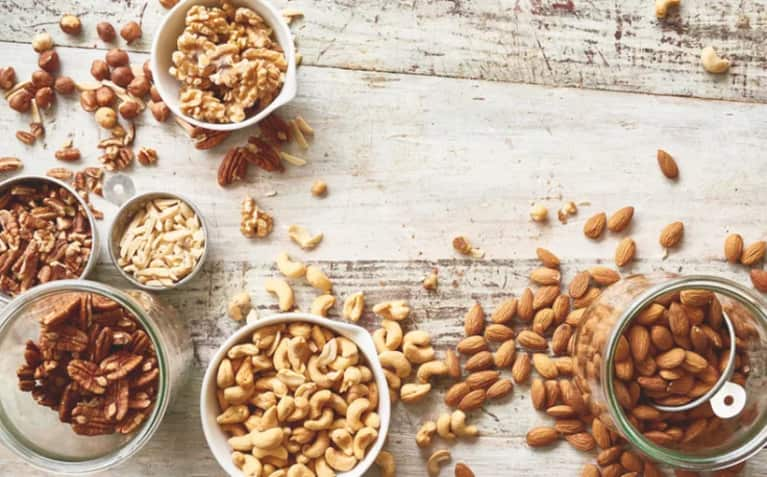 While the green smoothie trend is one I'm fully on board with, not all of them are created equal. A smoothie loaded with simply fruits and veggies supplies you with some great nutrients, but a lack of protein sets you up for low blood sugar levels later. Adding some quality protein will ensure your stabilizing energy, plus it adds a thick, creamy texture to smoothie bowls. Try natural, plant-based sources of protein like nuts or seeds, nut/seed butter, and coconut meat. If you're reaching for a protein powder, look for one with as FEW ingredients as possible. My current go-to (and one I use in the recipe below) is a vanilla bone broth collagen protein. Which leads me to...
Frequent exposure to antibiotics, toxins, processed foods, chemicals, and beauty products damages the good gut bacteria in our intestines, which regulates everything from digestion and detoxification to brain health, and allows bad bacteria to thrive, which can cause a plethora of health problems.
Bone broth is one of the most beneficial foods to consume to restore gut health and therefore support immune system function and healthy inflammation response, while collagen and glutamine help seal these openings in the gut lining and support gut integrity. Try adding a scoop of collagen or bone-broth protein in your smoothie and you can check No. 1 and No. 2 off your list, or reach for probiotic-rich coconut yogurt.
Fats rich in heart-healthy omega-3s like avocado, coconut oil, nuts and seeds, nut butter, and coconut all slow the absorption of food in our blood stream, giving us that level, sustained energy we need (and helping us stay satiated and fuller longer). When my clients tell me they're constantly hungry, it's almost always from a lack of quality fat in their diet. Adding fat to your smoothie bowl adds amazing taste and texture and helps keep brain fog at bay while assisting in fat loss, weight control, and moisturizing skin.
4. Veggies...because green smoothie.
This one is pretty much a no-brainer at this point, but there are ways to get creative with your veggies for additional health-boosting benefits. While spinach is always an easy and healthy option, try reaching for frozen zucchini or cauliflower. They're high in fiber and magnesium, which assists in muscle function and reduces sugar cravings.
5. Make your toppings count.
Let's be real: The best part about a smoothie bowl is the toppings. But instead of reaching for any old granola, grab superfood-status foods that taste good and have a sense of purpose. My go-to is bee pollen, which gives you a natural energy boost and is rich in L-glutamine, a key nutrient in helping to reduce sugar cravings and stabilizing blood sugar. Some of my other faves include pumpkin seeds, fresh mint or herbs, shredded coconut, blueberries, sliced banana, cashew butter, cacao nibs, and even a dusting of spirulina.
While the smoothie bowl trend is one of my fave creative ways to get a delicious daily dose of nutrients, they can also be a sneaky source of serious sugar (think lots of fruit, dates, agave syrup, sweetened nut milks, granola, etc). Making your own and "biohacking" it with plenty of quality fat, protein, veggies, and nutrient-dense toppings will ensure your smoothie bowl sets you up to look and feel your absolute best.
Biohacked Green Beauty Smoothie Bowl
1 cup full-fat canned coconut milk (or other unsweetened, nondairy milk)
1 scoop vanilla bone broth protein (this is my favorite)
1 heaping cup frozen spinach
½ cup frozen zucchini
½ cup avocado, skin and pit removed
1 teaspoon fresh ginger
1 frozen banana
1 handful frozen blueberries
Get creative! Try bee pollen, berries, sliced banana, cacao nibs, pumpkin seeds, shredded coconut, nut butter, fresh mint and herbs, spirulina, or a clean granola like Wildway of Life Grainless Granola.
Method
Add all ingredients together in a high-speed blender and thoroughly mix. Pour into a bowl and top with any of the options listed above.