Ever Get That Smoothie Bloat Feeling? Here's How To Avoid It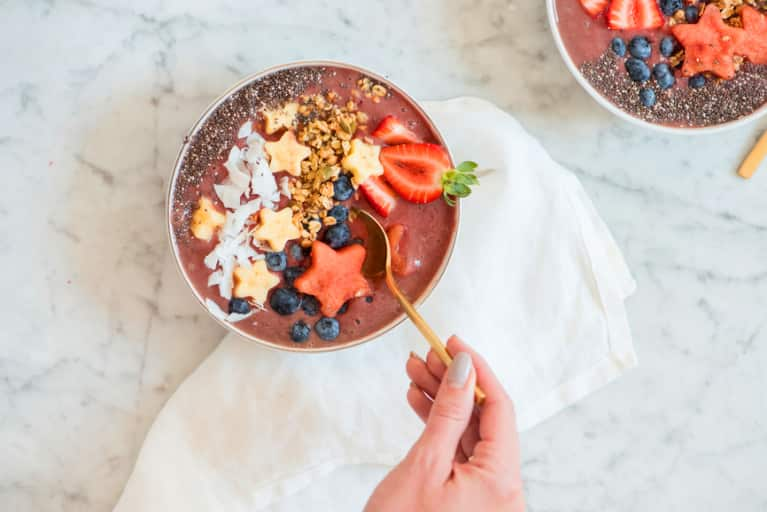 I've been a fan of smoothies for years because of how many nutrients you can pack into one glass. But I've also noticed something you may find to be true as well. I tend to drink them fast. Like, under two minutes fast.
That's a lot of food entering your stomach at an unnaturally fast rate, which can lead to things like bloating, gas, indigestion, and overeating. You can drink fruits and vegetables at a rate of about 2 cups per minute when you get them through a smoothie. This can undermine your body's capacity to recognize that you're full because the body needs about 20 minutes to register that you're satiated once you start eating.
So, what's one idea for slowing down your smoothie drinking pace? Make a smoothie bowl!
All you're really doing is using slightly less liquid (about ½ cup less than usual), so you end up with a thicker consistency that can be poured into a bowl instead of a glass. It's important to use thickening ingredients like chia seeds, avocado, frozen banana, soaked raw cashews, and even...zucchini.
Peeled zucchini can be added to smoothie bowls or smoothies to thicken it and to upgrade the veggie count without adding any noticeable flavor. Plus, it helps beat that bloated feeling.
For more smoothie bowl recipes, check out this post: "11 Smoothie Bowl Recipes To Take Your Breakfast Up A Notch."
Berry Yummy Vegetable-Packed Smoothie Bowl
1 teaspoon flaxseeds or flax meal
2 teaspoons hemp seeds
2 teaspoons chia seeds
1 teaspoon coconut butter (optional but tasty!)
1 teaspoon vanilla powder or extract
½ teaspoon raw honey
1 cup baby spinach
½ peeled zucchini, chopped
1 cup almond milk
½ cup frozen blueberries
½ cup frozen raspberries
Method
1. Blend all ingredients, except the berries, in a high-speed blender for about 15 to 20 seconds.
2. Add berries and blend until smooth, adding additional almond milk, as needed, until it reaches your desired thickness. You may have to stop blending to scrape down the sides during the process. Pour into a bowl and top with additional berries and a sprinkle of hemp seeds.