Meet The Former Vegan Who's Changing How We Eat Meat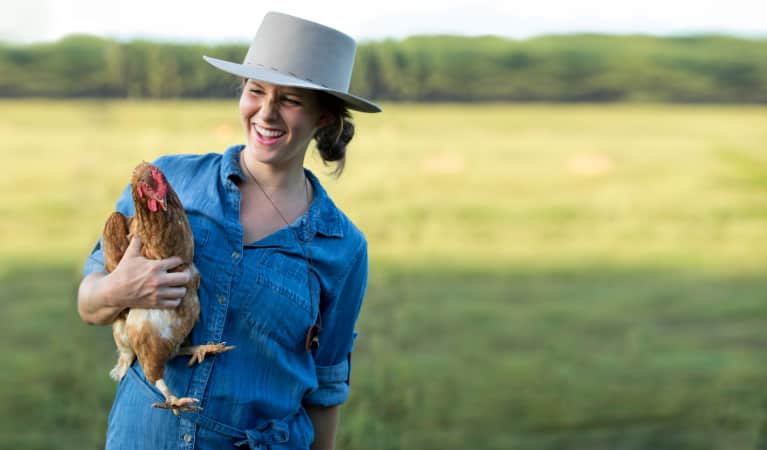 At mindbodygreen, we celebrate the female entrepreneurs who are passionate about making the world a healthier place. In this new series, we're profiling #WellnessWonderWomen who inspire us with vision and dedication—Let them inspire you, too.
Meat is a contentious topic in the wellness world. Some people totally swear it off, citing health and environmental concerns, while plenty of others think it's fine to enjoy in moderation—as long as you know where it comes from.
Katie Forrest falls into the latter camp. The vegan-turned-carnivore is making a case for just how beneficial meat can be to the body, and the planet, with her line of ethically sourced animal products, EPIC. Co-founded in 2013 with her husband, Taylor Collins, EPIC's success ($6.8 million in sales in its first year of operation) speaks to a burgeoning industry of conscious carnivores. I sat down with the entrepreneur to talk all things meat, stress, and effectively working with your partner.
Have you always known that you wanted to be an entrepreneur?
I've always wanted to be my own boss and I've always craved the freedom to work on my own schedule. Being an entrepreneur was never something anyone ever told me I could be, though. I really thought there were only five different career paths out there growing up.
I discovered your first natural food product, Thunderbird bars, at a local Austin juice store. What did you learn from that business?
Taylor and I learned a handful of life lessons with Thunderbird, our line of vegan, gluten-free energy bars. Through trial and error, we quickly became experts on recognizing our mistakes and pivoting with the business to avoid repeating them. We learned that we needed to focus on our strengths and spend time doing things we enjoyed that also grew the business.
We carried this into EPIC and have built out an incredible team of people who are frankly much smarter than us. As founders, we are able to focus on marketing and sales while the team fills orders and scales production.
You were once vegan, but now you are the founder of a meat-based snack company. What caused the evolution in your diet?
Oddly enough, the roots of EPIC were planted shortly after Taylor and I became vegan. We wrongly believed that a "clean diet" was plant-based, and in order to replenish our bodies after hard workouts (I'm a marathon runner), we consumed large amounts of soy and other highly processed proteins. To compound the stress we were putting on our systems, we followed the advice of sports nutrition "experts" and subscribed to a diet that was high in carbohydrates and low in fat. As a result, we were making ourselves unintentionally sick with gastrointestinal distress and a myriad of inflammatory ailments. Not knowing what to do, we decided to go vegan, and when things got worse, we decided to follow a raw food diet.
Unable to maximize our own vigor and wellness, we looked for answers in the whole foods consumed by our human ancestors. Within a week of adopting what is now called the paleo diet, which emphasizes healthy animal fats, grass-fed protein, and leafy vegetables, our bodies and minds radiated with exuberance. Through modifying the foods we ate, we reached exciting new levels of performance during competition as well as daily life. Within a few months Taylor and I were stronger, faster, and leaner than we'd ever been.
What do you enjoy about working with your husband every day? What's difficult about it?
I love it. I feel so lucky we get to spend so much time together and express our creativity as a team. The business feels like our baby in that it has some of Taylor's traits and some of mine. We get each other's struggles and anxieties about work, which is unique.
Over time, we've also learned to set boundaries. When we first started the business, Taylor and I worked in a commercial kitchen together, which we quickly realized was a bad idea because we have opposite opinions on cleanliness and would argue about it every night after we got home.
What is one of the most challenging aspects of being an entrepreneur?
Having your (and your staff's) entire existence depend upon the success of your efforts is very stressful. We were young when we started being entrepreneurs, so we'd always just ask ourselves, "What's the worst that could happen?" We didn't own a house, didn't own a car, and didn't have kids. But as the business started growing, we realized that it could collapse at any minute and the years we had spent growing it would ultimately be wasted.
General Mills acquired EPIC. How did you know this was the right partner for EPIC? How have you been able to scale successfully?
Simply put, General Mills was the right partner because they proposed an acquisition structure that allowed Taylor and me to accelerate our positive impact on the planet (by growing supply chains of regenerative meat) and increase the accessibility of high-quality protein to consumers. In the first year of General Mills' ownership, we have retained our company culture while accomplishing massive wins. Asides from growing over 2.5 times, we have purchased over 1,000 live bison headed to feedlots and diverted them to humane, grass-fed ranches.
What are some staples of your wellness and self-care routine?
I really enjoy exercise early in the morning. When I wake up, I have a lot of energy and don't have to worry about stress that's accumulated from the day. I typically run four to five days a week and then cycle two to three days. It's a good balance of solid baseline cardio that alternates my targeted muscle groups. At the end of every day, I go on walks with Taylor and our baby girl, Scout. This has become our ritual and it's the best way to wind down.