Why Everyone Should Watch "13 Reasons Why"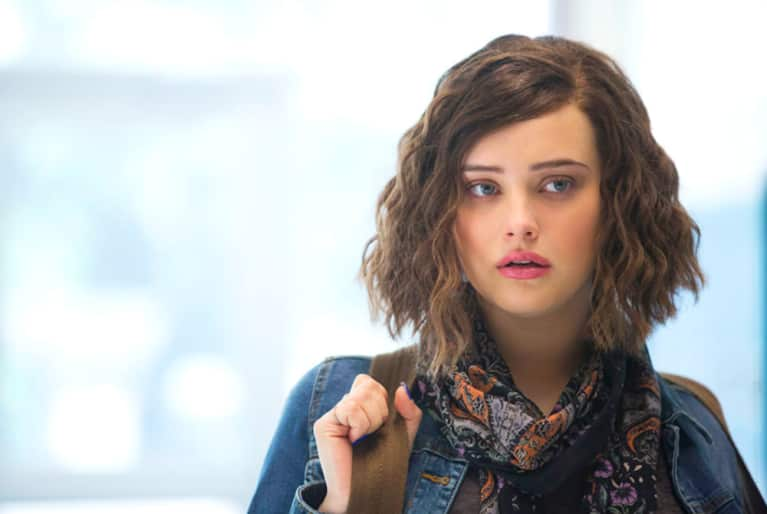 The new Netflix series 13 Reasons Why, based on Jay Asher's best-selling young adult novel about a teen suicide, isn't your average teen drama. While the dialogue isn't lacking in clichés, the soundtrack wonderfully telegraphs every emotion and plot twist, and the characters are high school tropes (the popular jock who's secretly lonely, the Asian overachiever who's afraid to come out of the closet, the geeky kid who finally finds his voice) given new dimension through effective character development.
This 13-episode drama, released in its entirety on March 31, isn't just about winning Emmys—it's about raising awareness. The fiction reflects the facts: 17 percent of high school students have seriously considered suicide, and 8 percent have made an attempt in the previous 12 months, according to the U.S. Centers for Disease Control and Prevention.
More parents should watch the show than probably will.
Even if the show's premise doesn't reel you in, it's a must-watch for everyone living in a technology-driven world (which is to say, everyone). More than ever, we need to be educated about the causes and warning signs of teen suicide. And Asher and the show's creators (Diana Son and Brian Yorkey) have definitely done their homework. Here are 10 things that 13 Reasons Why gets right:
This is a stage in our growth when both external circumstances and developmental changes can have an enormous impact on emotions and mood. "Sometimes she would run around the house singing show tunes in a funny voice and showering us with hugs, and other times she was quiet and moody and it would be hard to get a word out of her," says the mother of Hannah, the character whose suicide sets the stage for the action on Reasons.
2. Kids can be cruel, but it's usually because they're hurting.
The show moves back and forth in time, with Hannah narrating via a set of cassette tapes, laying out the events leading up to her suicide. With a few exceptions, most of the peers she pinpoints as contributing to her choice are shown not as one-dimensional villains but as confused kids who use her as a scapegoat for their own fears and insecurities.
3. Teens are on their phones all the time.
It's rare to watch anything nowadays (unless it's on the BBC) that doesn't rely on a mobile device for one plot point or another. But the high schoolers on this show are rarely without their devices, reflecting research showing that 59 percent of parents feel their teens are addicted to their phones, and 50 percent of kids themselves agree.
4. Cyberbullying is serious.
According to a 2016 study, 34 percent of teens have been bullied online. The show focuses on exactly how hurtful this can be. As Hannah says, "The interwebs make everything worse."
5. Sexual assault among teens is common and usually not reported.
Graphically depicted events like those in the show occur all too frequently in real life: Research shows that 53 percent of high school girls are sexually assaulted by a peer.
6. Substance use among teens is rampant.
The show depicts underage teens buying alcohol, getting high, and drinking heavily at parties, a school dance, and a basketball game, with no adults the wiser.
7. Parents often fail to communicate effectively with their teens.
The parents of both Hannah and Clay (the show's male protagonist) are depicted as loving adults with stable marriages, yet they have no idea what's going on with their kids. Parents on the show are often neglectful, invasive of their teens' privacy, or too quick to give up trying when their kids shrug them off. More parents should watch the show than probably will.
8. Psychotropic medications aren't always a solution.
In one episode, Clay's mother, sensing something is wrong, tries to get him to start taking his anti-anxiety meds again. He refuses, and the show makes it clear that she's pushing the pills because she doesn't know what else to do.
9. Schools have to do more.
Teachers and guidance counselors are repeatedly shown as well-meaning but clueless. They're ineffective, unable to gain teens' confidence, and too busy to follow up when they should.
If anyone ever even hints that they are feeling suicidal, you need to seek support immediately. Never wait.
10. You need to pay close attention to know when someone is suicidal.
Throughout the show, parents, teachers, and peers express regret for not having recognized that Hannah was suffering. But there are ways to tell.
Here are 13 signs a young person you know is in danger:
They make hopeless statements such as "Nothing matters" or "I wish I wasn't here."
They withdraw from friends and family.
They act hostile, intensely irritable, or aggressive.
They seem preoccupied with death in conversation or media.
They neglect their personal appearance.
They begin to use (or increase use of) alcohol or drugs.
They've suffered a recent loss, through death, divorce, or a breakup.
They're sleeping too much or too little.
You see other drastic changes in their weight or appearance (in the show, Hannah gets a dramatic haircut).
They lose interest in things. people, or activities they used to care about.
They have trouble concentrating and/or you see a drop in academic performance.
They begin to suffer migraines, frequent stomachaches, or other physical complaints.
They engage in risk-taking or self-destructive behavior.
Each of these red flags warrants further investigation and observation; any of them could indicate a need for professional help. And of course if anyone ever even hints that they are feeling suicidal, you need to seek support immediately. Never wait.
Bottom line: Bullying, sexual assault, and teen suicide are tragic realities, and they happen every day. Bravo to Netflix for portraying the truth of being a teen.