This Portland Cabin Is A Colorful Sanctuary. Let's Take A Tour
mbg Sustainability Editor
By Emma Loewe
mbg Sustainability Editor
Emma is the Sustainability Editor at mindbodygreen and the author of "The Spirit Almanac: A Modern Guide To Ancient Self Care."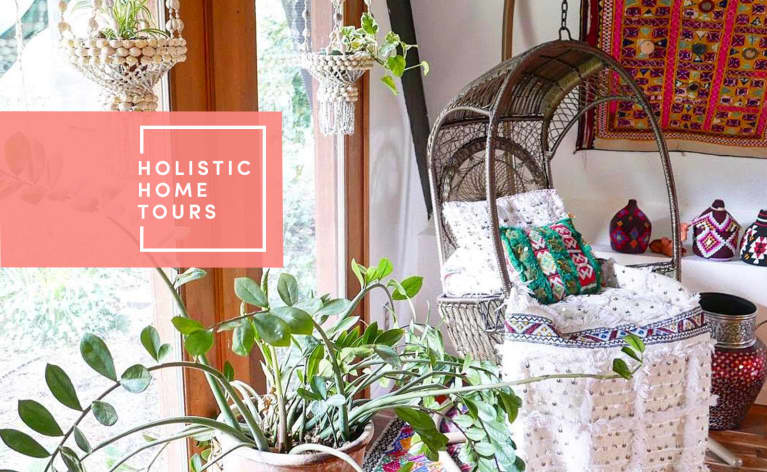 Today on Holistic Home Tours, we're heading to Portland, Oregon, to check out a cozy cabin that's alive with color, texture, and art.
If you drive 30 minutes outside of Portland and follow the chorus of chickens, guinea pigs, and Pomeranians, you'll eventually stumble across Anna Margaret's dramatic A-frame. The cabin, which the online boutique owner shares with her husband, two daughters, and their small farm of animals, feels like a creative exhale. Colorful relics from travels, bold pieces of art, and hand-spun touches appear and multiply everywhere you turn. Margaret lovingly tags it with #ourmagicAframe, a fitting description for a space that might as well have fairies popping out of every corner.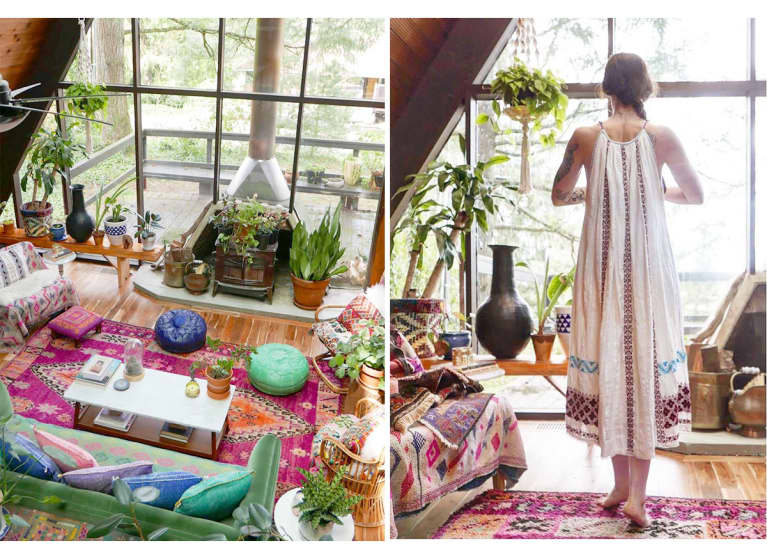 What three words describe your design philosophy at home?
Eclectic, nostalgic, colorful.
Favorite place to buy accessories?
Thrift stores and estate sales.
What's the oldest thing in your home? The newest?
Books! I have lots of my grandparents' and great-grandparents' books. The newest is our green velvet sofa from Scandinavian furniture retailer Article.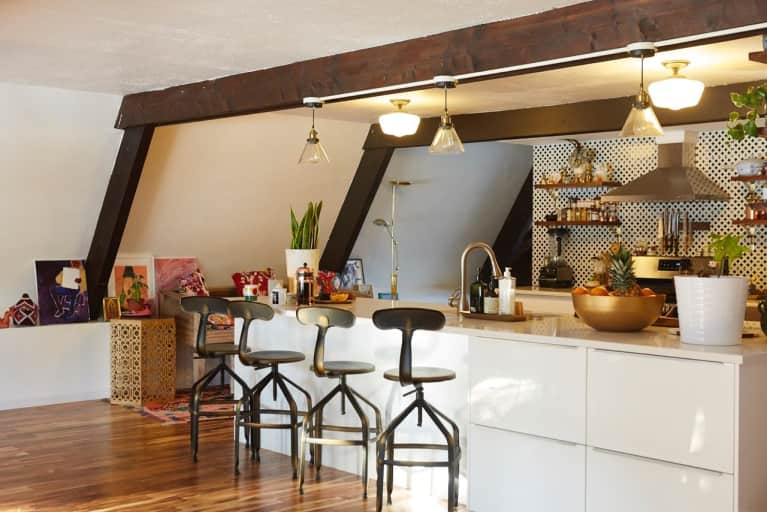 Favorite season in your home?
Summer, when all the sun comes pouring in through our windows and we get to utilize our balcony and backyard.
Coziest spot in your home?
Our living room, especially in the winter when a fire is burning.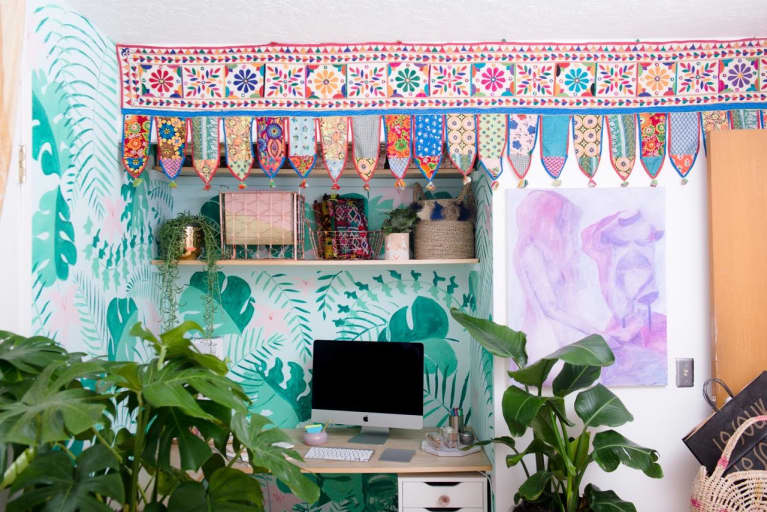 What's the most sentimental thing hanging on your walls, and what's the story behind it?
My partner, Srijon Chowdhury, is an artist, and he gifted me a gorgeous botanical painting on one of our first Christmases together. It's my absolute favorite!
What's your favorite room in the house, and how do you use it?
Our living room. It's the peak of our A-frame and it's so full of windows and light. We have coffee there every morning as we sit around listening to our favorite records.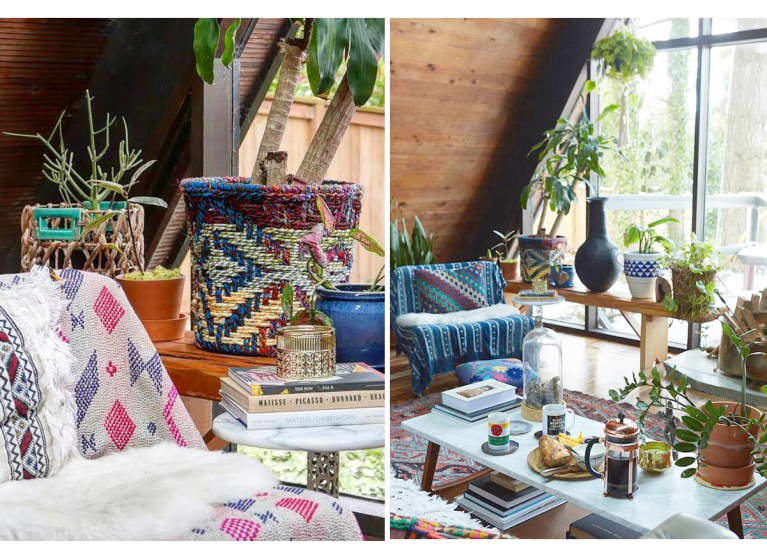 How does your home relax you? How does it motivate you?
It's a good 30 minutes outside of the city, so it feels very quiet and private, and being surrounded by nature is always relaxing to me. On the other hand, when the sun is shining on our backyard, it motivates me to get pruning in the garden.
What's the best compliment you've ever received on your space?
I love to decorate every corner, but it's also important that it feels usable to everyone—not too precious to enjoy. Many of our guests love the textures and light and the unique comfort our A-frame offers.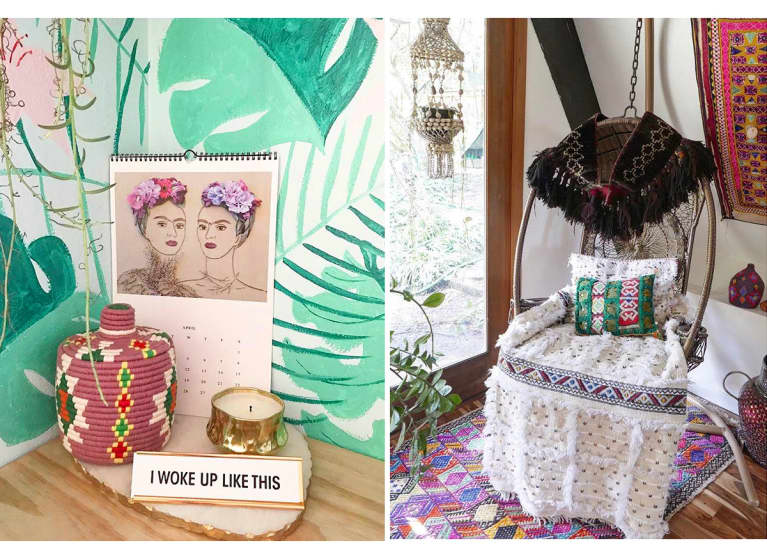 Here's a primer on how to bring some of Anna's high-vibe touches into your own space, wherever it may be.