These Are The Sleep Routines Of The Happiest People We Know
Contributing Wellness & Beauty Editor
By Lindsay Kellner
Contributing Wellness & Beauty Editor
Lindsay is a freelance writer and certified yoga instructor based in Brooklyn, NY. She holds a journalism and psychology degree from New York University. Kellner is the co-author of "The Spirit Almanac: A Modern Guide to Ancient Self Care," with mbg Sustainability Editor Emma Loewe.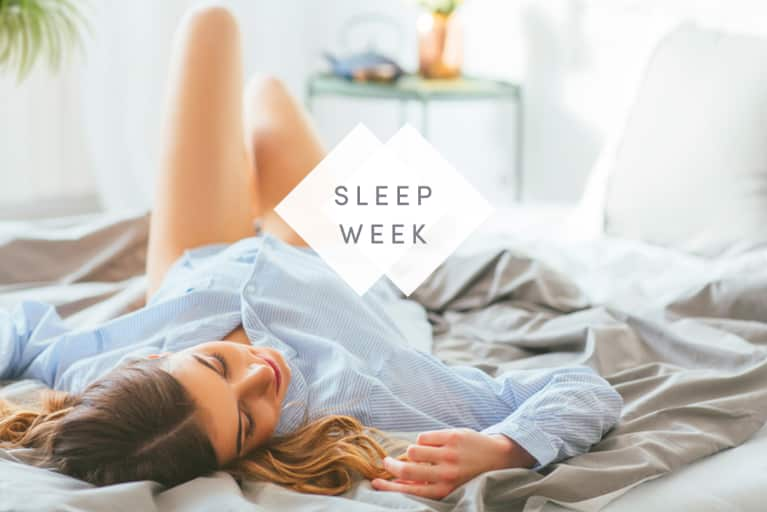 mbg's Sleep Week is your guide to getting the best rest of your life. We think sleep is one of the most fundamental acts of self-care. We'll empower you with the latest and greatest research, plus actionable advice from doctors and psychologists on how to embed pro-sleep habits into your daily wellness routine to optimize your health, energy levels, hormones, and mood.
To round out Sleep Week, we wanted you to know that you're not alone in the quest for a good night's slumber. Even the healthiest people we know struggle with sleep from time to time, but they have practices in place to help bring them back to the land of nod. But they're not perfect! Some are self-proclaimed Instagram addicts, while others like falling asleep with the TV on, and others, still, enlist the help of herbs and teas to calm their systems after a stressful day. Here are the tricks that help the wellness community fall asleep, including nighttime routines, sleep habits, and morning rituals.
1. Comforting background noise.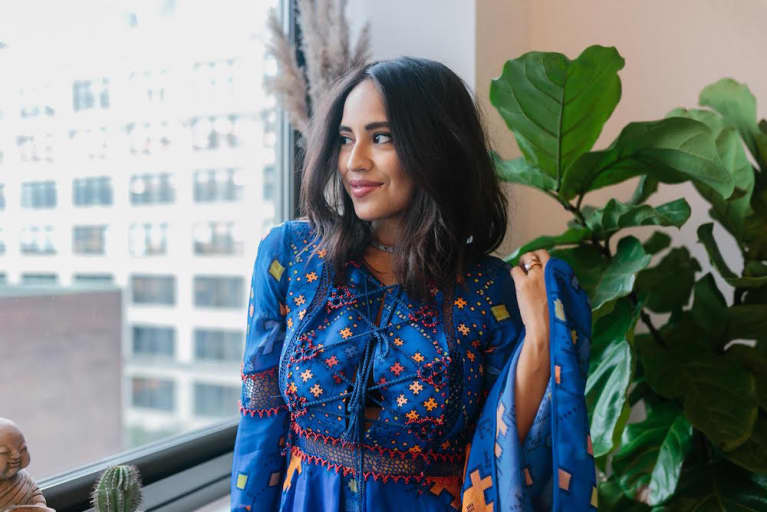 "On average, I sleep seven to eight hours a night. Before bed, I peel myself off my couch when I'm almost passed out, wipe my face with Neutrogena face wipes, brush teeth, get in bed. Sometimes I have a spoonful of Nutella before all of this. First thing I do in the morning? Check my phone. :-/ If I can't sleep, I put on a show I'm familiar with, which usually is Friends. If I'm having a really hard time, I pull out the Melatonin."
—Cyndi Ramirez, founder of Chillhouse and Taste the Style
"I sleep seven hours when I'm being good. I use the bedtime app on my phone to time sleep. It's like having a digital mother telling you when to get your jammies on. Before bed, I obsessively cram in a few emails before a hot salt and essential oils bath. Skincare, skin care, skin care. Idea for a new book occurs to me in bath, take notes even though I'm tired. Crash. Say to myself, "I love my bed." Fall asleep in right away. First thing int he morning, Meditate. I sit in bed and do my mantras or meditation. If I get out of bed I get too distracted. Then I check Instagram for news and inspiration and email for anything fun. THEN, out of bed and rock n' roll. I tell the truth and I don't do much that I don't want to do. So I never have problems sleeping."
—Danielle LaPorte, international speaker, poet, and author of the White Hot Truth
"I am up by 6:00 a.m. most days so I aim to be in bed by 10pm. My goal (key word - goal) is eight hours of sleep per night. After I put my kids to bed, I usually do a little work and then make sure everything is in order for the morning. Sometimes I take a bath, sit for an evening meditation or put my 'legs up the wall' all while attempting to not look at my social media. If I have trouble sleeping, I practice slow breathing to try and slow my mind down (one of the tools that we teach in The Class). The first thing I do in the morning? Brush my teeth and scrape my tongue."
—Taryn Toomey, founder, The Class by Taryn Toomey.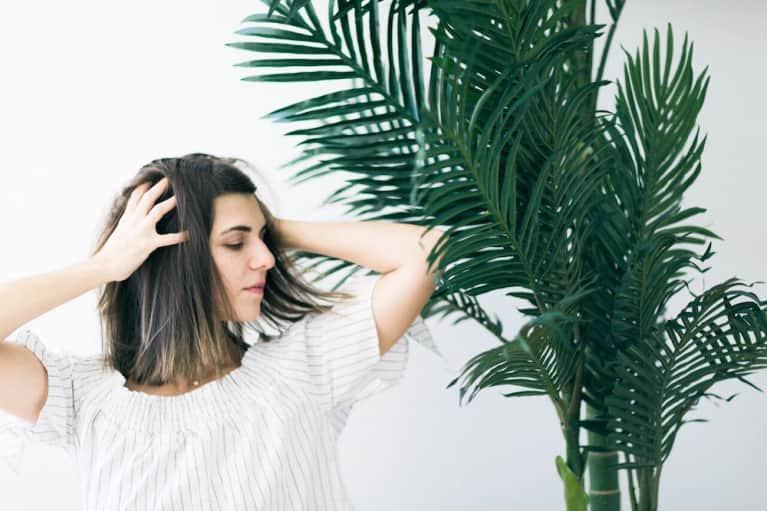 "I typically get seven to eight hours of sleep each night. At the end of the day, I wind down with a cup of tea, write affirmations, and read spiritual literature by candle light. First thing in the morning, I drink water, have an espresso, meditate, and write affirmations to remind myself what's actually going on in the world. I then go to yoga. I don't do this in any specific order. I am a rebel. It's rare that I can't sleep! But when it happens I do deep breathing and hold the breath at the top for 12 seconds with long release. This soothes me and calms my nervous system."
—Biet Simkin, meditation teacher and founder of Center of the Cyclone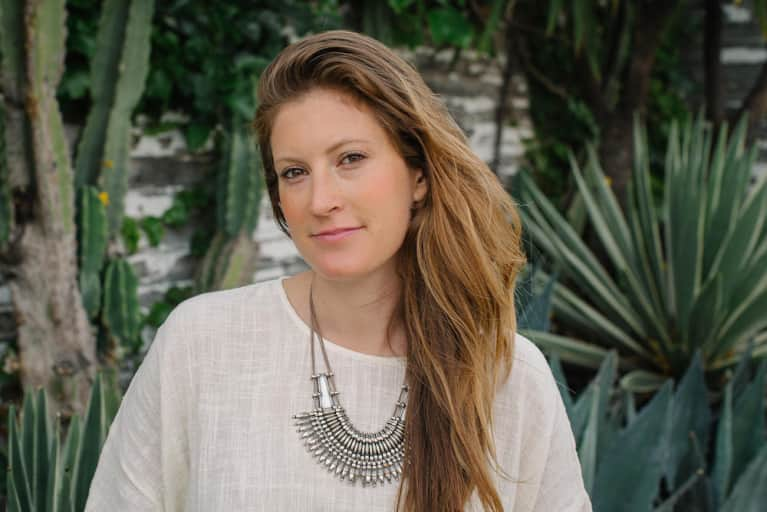 "On an average night I get between six and nine hours. I love sleeping and it is a major priority in my self-care practice.
I usually wind down by making a cup of an herbal tea after dinner, choosing one with kava if it has been a particularly stressful day, and then either foam roll or do some light stretches.
If I'm having a hard week or feeling stressed my answer to supporting my sleep is always adding more plants. I use a sleep tincture with plants like valerian, skullcap and passionflower in it or a cannabis vape pen like hmbldt with a sleep formula. I keep these helpers next to my bed and for if I wake up in the middle of the night and need help falling back asleep.
The first thing I do when I wake up is drink warm water with either ghee or lemon or raw coconut oil, sip that and look out the window or sit outside and try and wake up as slowly as possible."
—Jessa Blades, natural beauty expert and makeup artist
"I wish I was one of those people that get or need eight hours a night but to be honest I get about five to six hours. I only need about four to function as a human person in the world. My nighttime routine probably has a lot to do with my lack of sleep because it usually consists of staying out a little too late, having a glass or two of red wine and then for sure looking at my iPhone at full brightness, up until the time I decide it's way too late for me to still be awake. Surprisingly, I generally wake up in a good mood, but first thing on the schedule is reading the news and making a bulletproof coffee or matcha. As a wellness "person," I should probably have some ancient breathing ritual that I participate in, or some herbal superfood tea that I brew when I can't sleep but instead I just keep looking at the Internet until my brain simply gives up."
—Chinae Alexander, wellness influencer and adidas women ambassador
7. One-hour screen detox.
"I usually get about seven hours, but sometimes I wake up at 3:00 or 4:00 a.m. and can't fall back asleep. When I wake up so early, I know that I am stressed. I try to get off all electronics by 9:00 p.m. the latest, including the computer, tv and iPhone, and like to be asleep by 10:00 p.m., but often am asleep earlier then that. When I'm really good, I get up and meditate first thing in the morning in my meditation chair. When I'm good, I meditate in bed. And when I'm not so good, I go straight to my computer and start checking emails. I usually don't have a problem falling asleep, but if I do, I use the Be Well Sleep Formula."
—Dr. Frank Lipman, mbg class instructor and integrative medicine doctor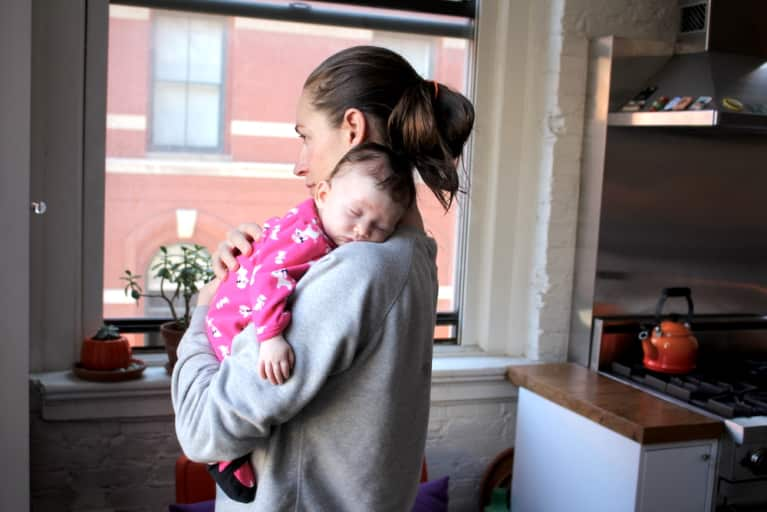 "We have a newborn so I'm getting a couple three to four hour naps at the moment, and sometimes sneaking an hour here and there during the day when she naps. Daisy usually sleeps from 9:00 p.m. to 11:00 p.m. or 12:00 a.m. with us in the living room and I do my best to use the time to nap instead of catch up on things around the house. From there I feed her and she sleeps from 1:00 a.m. to 4:00 a.m. or sometimes 5:00 a.m. and that's a proper "nap" for me. At 5:00 a.m. after feeding her, she usually naps a bit more and I'm most usually up for the day.
Realistically, I'm getting 6 hours on average (with wake ups every three to four hours), counting the early evening nap. And that's a HUGE improvement from her first few weeks of being here where I was a complete zombie barely sleeping an hour here and there.
At night, I feed Daisy, hold her until she winds down, put her down to rest, pump and stash breast milk, do the dishes, eat something, cuddle with Mike, answer any pressing emails, stretch out my hips and shoulders (sore feeding and baby carrying muscles) crash out. First thing I do when I wake up? Feed Daisy.
If I have the opportunity to sleep, meaning Daisy is sleeping, then I have no problem closing my eyes and passing out."
—Tara Stiles, mbg class instructor and founder of Strala
9. 15 to 20 minutes of meditation.
Chloe: "It's super important for me to get eight hours of sleep every night. My evening routine consists of a shower/bath, face steam/cleanse/moisturize, legs up the wall on my bed and turning my phone to airplane mode!!! First thing in the morning I use the restroom, splash my face with water and sit for 20 minutes in meditation before starting my day. I'm an astonishingly good sleeper—I'm known to fall asleep in minutes of lying down—but when I can't fall asleep I soothe myself by taking slow belly breaths which generally works to calm me down and help me drift."
—Chloe Kernaghan, co-founder of Sky Ting Yoga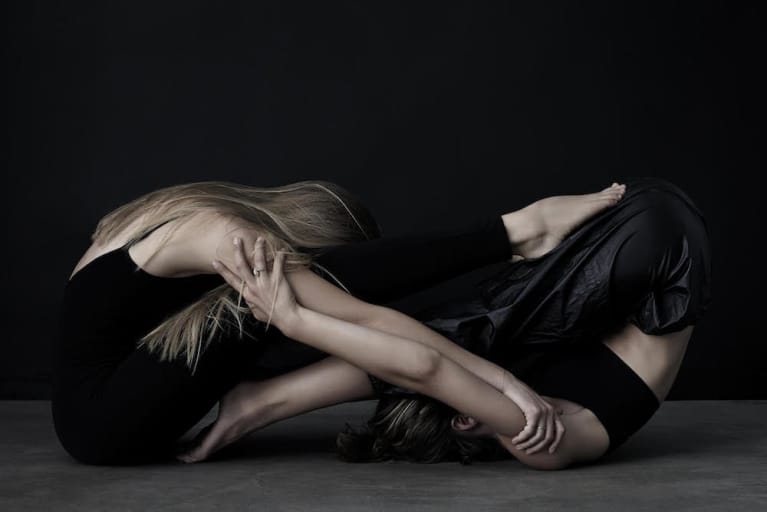 Krissy: "My ideal night is I get home and take a bath, do a 20 minute restorative yoga practice with breath work, make a lemon ginger tea, read, oil my face, and fall asleep. I put my phone on airplane mode and I use an app called Sleep Cycle that wakes you up during the lightest part of your sleep cycle, so I wake up more refreshed.
First thing upon waking, I turn off my alarm and give myself 15 minutes to lie in bed and space out a little or focus on my breath. I set a back up alarm in case I fall back asleep. Then I make hot lemon water, wash my face, eat something, brush my teeth, put on clothes, and head out the door! If I have more time in the morning, ideally I meditate and then read the paper. I don't check my phone until I'm out the door—I need to give my brain time to adjust before it's go go go!
I read when I can't sleep, or listen to a podcast which normally tires my brain out."
—Krissy Jones, co-founder of Sky Ting Yoga
Sometimes one of the toughest thing about sleep is giving ourselves permission to actually do it, whether it's staying in on a Friday night to rejuvenate or sleeping in on a Sunday morning. Taking that first step might be a little easier once you take a look at the facts: sleep is foundational to our well-being, arguably moreso than nutrition and exercise. So next time you're having a hard time sleeping, or wondering what to do on your next night in—take a page from the sound sleepers of the wellness world, and sleep well!