Yup, the secret to shiny and luscious locks is in your kitchen cupboard! If you eat well, you'll feel well, right? Don't we all want thicker, healthier hair? Well, a few dietary tweaks here-and-there and you can have it all. I'm being serious.
With each passing birthday I seem to gain some frizzy texture hair and lose volume, shine, and thickness by the bucket-load. UV, diet, and yes, our age, all chip away at our hair's vitality. Luckily, there's plenty we can do within our diet to restore our hair to its fuller glory. The food you eat actually has a huge impact on hair growth, shine, strength, and softness—so pretty much everything that matters.
So get your shopping list ready. I'm breaking down exactly how to snack and chew your way to deliciously healthy hair. Spoiler alert: Nuts are definitely on the menu.

1. Combat thinning hair with vitamin C.

In the beauty world, vitamin C is already an established MVP—when it comes to your skin. But it also plays an equally big role in your hair. Vitamin C is essential to building collagen in our bodies, and a deficiency in it could actually lead to breakage, dry hair, and more split ends than usual. Taking a vitamin C supplement is fine, but it's always better to eat the real thing. Try these overnight orange oats and garnish with some nuts and toasted coconut flakes.
2. Consume enough protein.

Protein is essential for hair growth, so consuming enough protein can make sure that the body has the necessary building blocks for hair. Complete sources of protein like meats and fish are the most beneficial for hair growth, and many meats also contain iron, which is another essential aspect of proper hair growth. Alternatively, try some high-protein vegetables that you can add into your life for more energy and to help create vibrant hair naturally.
3. Boost volume and bounce with almonds.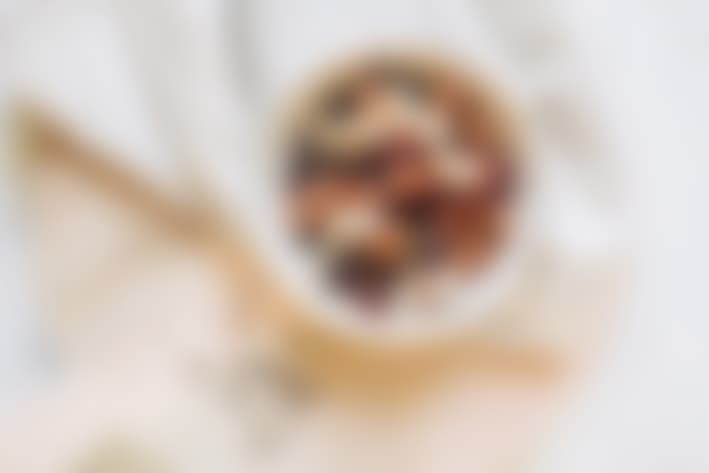 The unassuming almond is a stress fighter. As well as being high in protein, almonds also contain magnesium, which helps to maintain healthy thick hair (as well has strong nails) by reducing stress in the body, which could otherwise lead to hair loss. Gobble them raw or blitz them with water in a Vitamix to make your own almond milk. Key ingredients are selenium, omega-3 fatty acids, and zinc, which are good to prevent alpha-linolenic acid deficiencies, which can lead to hair shredding, brittleness, and dry scalp.

4. Shine with salmon.
The fatty acids in salmon are rich in omega-3, vitamin B-12, and iron all provide a high-quality protein source—the vitamins and iron support a healthy scalp and dull-looking hair. I love this super-simple orange-ginger salmon recipe, which your hair will be ever so grateful for AND is a total mouth-party.
5. Increase hair growth with flaxseeds.
Flaxseed is an epic source of omega-3 fatty acids, which help with dry scalp and dull hair. The seeds are easy to sprinkle on cereal and yogurt (and can add 4 grams of fiber per serving). We can't stop making this grain-free flax bread in the office...