Save Your $$$ By Creating An At-Home Wellness Retreat: Here's How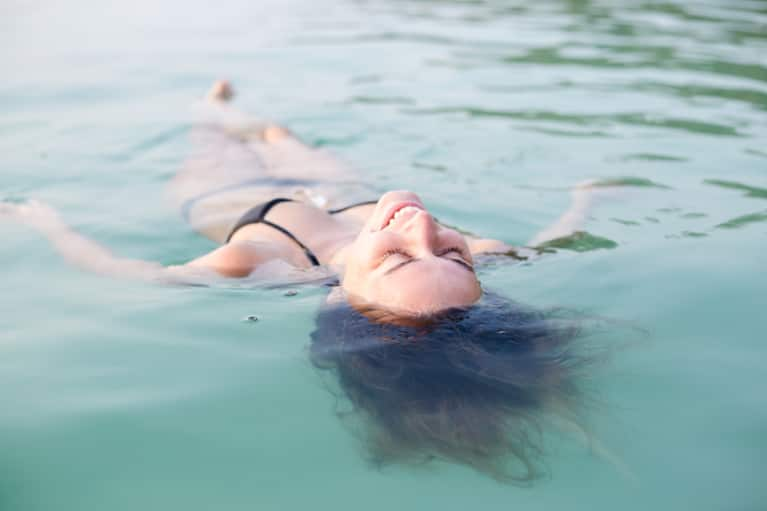 I love traveling; it really is a bug that I caught very early on. But it's only in the past few years that I've discovered the wide world of wellness retreats. Detoxing, yoga, mindfulness, massage, fasting, cooking, breathing—you name it, these days there's a retreat for it.
I have made it my own personal mission to visit as many of these resorts as possible because I love coming home from holidays feeling nourished, relaxed, and centered instead of exhausted. And over the years, I've picked up tips and tricks that help me bring this sense of wellness into my life at home, too. Here are a few of my favorite ways to craft a holistic, high-vibe retreat without leaving your front door.
1. Practice breathing exercises.
Let's face it: Very few of us can say we've mastered the whole meditation thing. Breathing exercises, on the other hand, seem much more attainable. I was taught the Ayurvedic way of breathing, Pranayama, while attending a yoga workshop at the Maya Ubud in Bali. It involves counting your breaths, listening to your breathing, and inhaling and exhaling through alternating nostrils. My teacher explained that this ancient form of deep breathing can help reduce our stress hormones, primarily cortisol.
Do it at home: Every night before bed, sit on the floor and practice breathing exercises. It's such an easy way to relax and de-stress.
2. Write down what you're grateful for.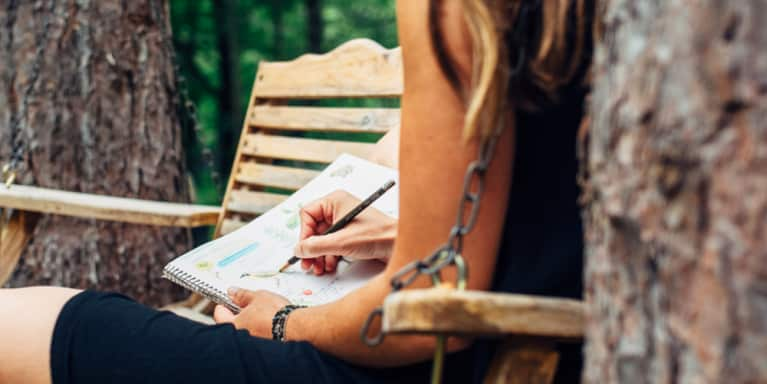 While visiting Canyon Ranch in Arizona, I attended a lecture about practicing gratitude and learned that it can actually improve your health by helping you live in the moment, feel more confident, and be thankful. One of the easiest ways to do so is with a gratitude journal.
Do it at home: Every day before you open your computer, take a few minutes to write down two to three things that you are grateful for that day. It will immediately put you in a better mood and allow you to start working from a positive place.
3. Go on a digital detox.
My absolute favorite wellness retreat is Kamalaya Koh Samui in Thailand, where I first embarked on a digital detox. There is no Wi-Fi in public areas of the retreat (OK, there is in the library if you really need it) and guests are encouraged to leave their digital devices in their rooms and enjoy nature rather than technology—no easy task for someone who is always switched on like me. I tried it out for three days and could feel such a difference in my calmness and relaxation. Focusing on the stunning sea views rather than my cellphone made so much sense.
Do it at home: Challenge yourself to one or two days a week (I like to do it on weekends) when you don't open your computer, social media, or phone.
4. Make essential oils and tea part of your nightly routine.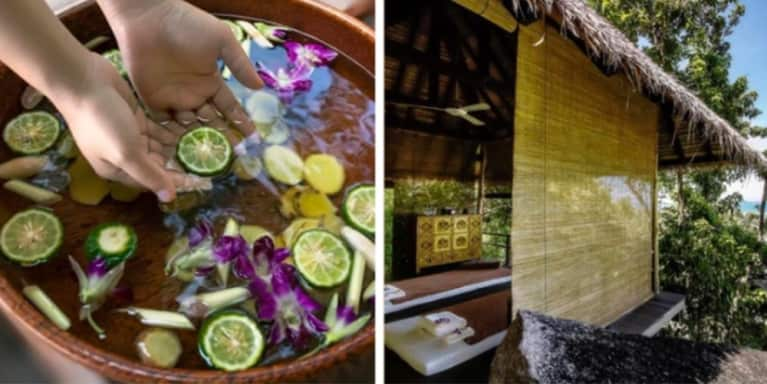 All the spas I have visited use essential oils and tea to help guests calm down before treatments. Bringing a little "spa vibe" into your bedroom can be a great way to help you unwind since bedtime is often when you start thinking about all the things you haven't done, making it hard to relax, let go, and fall asleep.
Do it at home: Start a bedtime ritual of drinking a cup of herbal tea (chamomile or lemongrass, for example) and putting a little lavender essential oil on your pillow to relax and prepare your body for sleep.
5. Cook with the music on.
Eating at a wellness resort is such a luxury and it often made me think, "How great would it be if only I could eat like this at home!?" Well, I can. I've found that reframing cooking as a fun activity instead of a chore makes it much easier to prepare my own healthy meals each week.
Do it at home: Put on some great tunes or listen to a podcast, and use your cooking time as an opportunity to relax.