5 Ways To Get Rid Of Eczema That Really Work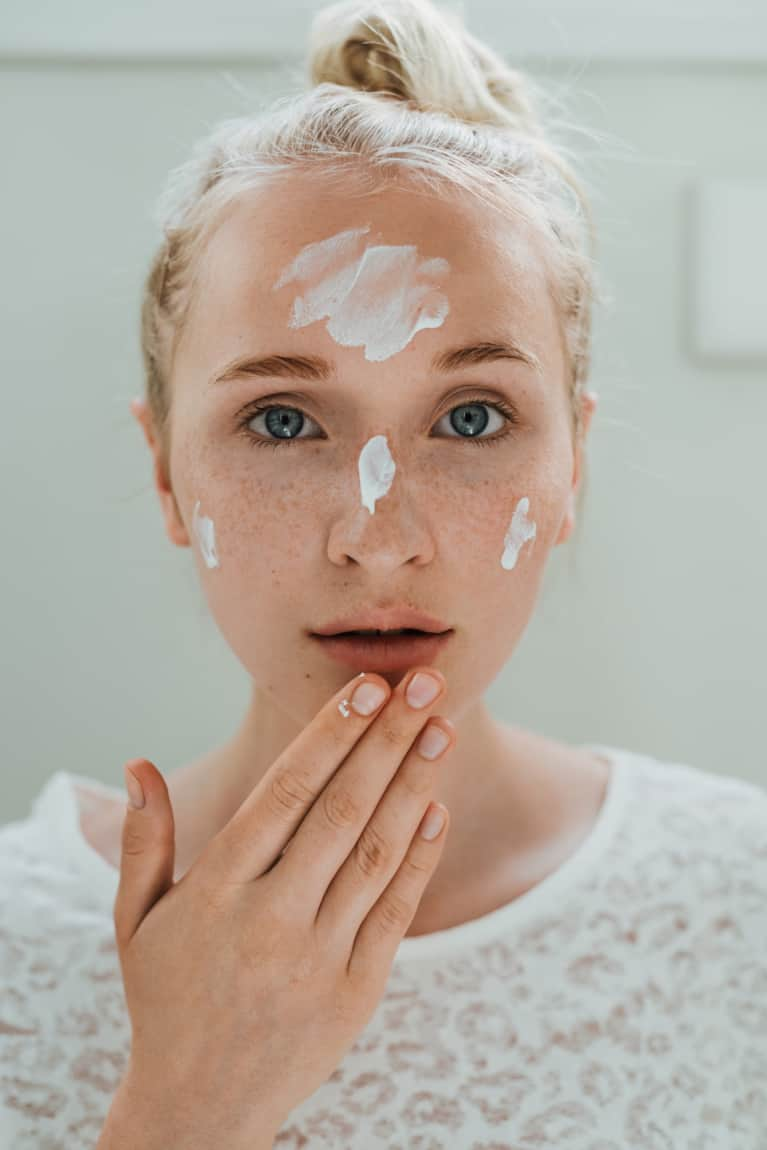 Concurring with Mark Twain, "the finest clothing made is a person's own skin". But for many who suffer from conspicuous and irritating skin conditions, like eczema, this sentiment can be hard to embody. Eczema refers to many chronic, inflammatory skin conditions that affect about 334 million people globally. Generally characterized by dry, itchy, and red skin patches that lead to crusting, eczema's root cause remains elusive. Some medical experts believe there is a strong allergen component related to eczema, be it food or environmental. Beyond environmental factors, it's also believed to be partly genetic. Others suggest that eczema is the result of an autoimmune reaction triggered by things like stress, poor nutrition, and underlying bacterial infections.
Currently, Western medicine struggles to treat this common condition. Many dermatologists prescribe corticosteroid creams and lotions that while effective for some, do little for others. When approached from a holistic perspective, eczema can be treated once we make the connection between healing from the inside out. If allergy testing and/or partial elimination of known trigger foods, like dairy and gluten are an option, by all means try and see. If not, botanical aids can be just as effective.
In conjunction with becoming mindful about how nutrition affects the skin, aromatherapy and plant medicine can help treat eczema and reduce topical inflammation. A word on safety—I advise patch testing any essential oil before using topically. Don't let your skin condition continue to isolate you from enjoying life to the fullest. If you've been in and out of the doctor's offices and still find yourself dissatisfied, try your hand at these five easy remedies to tackle even the most stubborn eczema.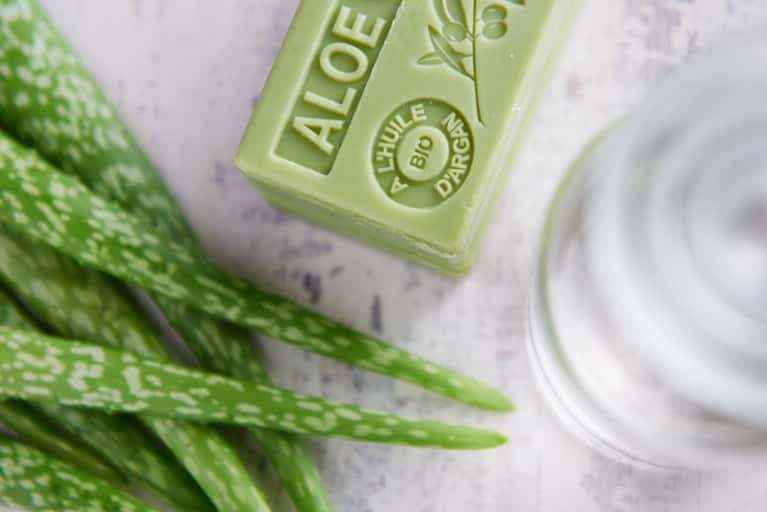 1. Calendula aloe vera gel
If your eczema is really dry, dehydrating it with a scrub is not the best treatment option. Instead, cool it off with an effective aloe vera gel immediately after cleansing. Gels are the most effective way to dermally absorb what we put on the skin and they're super easy to make. German chamomile hits the trifecta—relieving itching, healing the skin, and calming the nervous system. It's also been shown to enhance skin hydration in an aqueous gel (Monges et al., 1994). Lavender is an all-around healer that harmonizes this blend and pairs nicely with the sweet aroma of balsam Peru, which is included for its immune-supporting and anti-inflammatory properties.
How-To: Blend organic aloe vera gel, calendula oil, and Roman chamomile hydrosol. Add in 10 drops German chamomile, 5 drops balsam Peru, and 15 drops lavender. Mix well in a 1-oz. jar and apply twice daily.
2. Healing tamanu body oil
If you have unshakable eczema on already dry skin areas, like elbows and knees, then this body oil is for you. It can be used immediately after showering on damp or wet skin. Tamanu oil is a go-to for healing very dehydrated skin, plus it boasts this unique light-green hue. If your eczema is related to an autoimmune reaction, make this oil your base because of its anti-inflammatory and analgesic properties. Tamanu's moisturizing actions can be enhanced by deeply healing essential oils, like helichrysum, Melissa, and Roman chamomile.
How-To: Add 3 drops helichrysum, 12 drops Melissa, and 10 drops Roman chamomile into an ounce of tamanu oil. Apply directly on affected areas.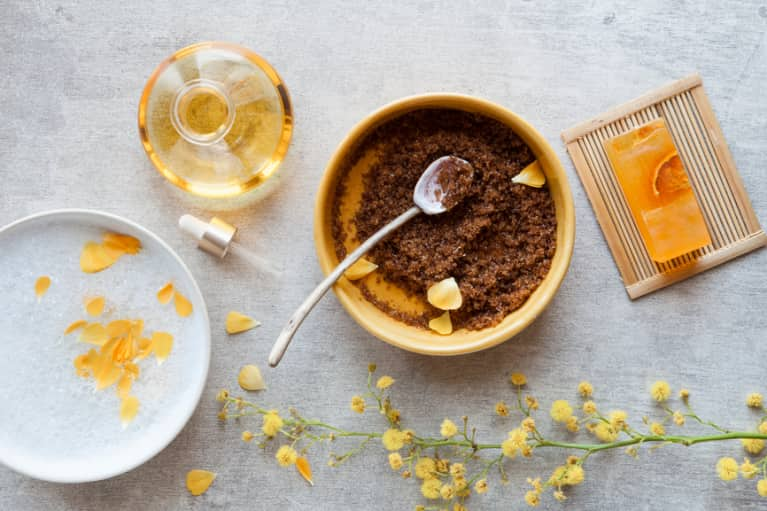 This at-home routine starts in the shower. Avoid using harsh and synthetically fragranced soap and experiment with lathering up every other day (your groin and armpits excluded). While showering in lukewarm water, gently exfoliate your fungal eczema with a soft washcloth. Patchouli is an effective essential oil for treating eczema due to its affinity for the skin and anti-inflammatory and antifungal properties. Patchouli has a calming aroma known to relieve depression, which can energetically support those suffering from unbearable eczema.
How-To: Add 5 drops patchouli to 1 ounce of organic sugar. Do this only once a week to avoid irritating the skin more. This scrub is designed to alleviate mild fungus-related eczemas. Anyone presenting severe weeping or dryness should not use this scrub.
4. Overnight manuka salve
Got itchy eczema that drives you up the wall? Some have such a strong urge to itch that they're unable to sleep. To quell itching, use an occlusive salve that hydrates and heals overnight. A favorite remedy of mine—just ask my mom how well it works! Manuka essential oil is rarely in the spotlight, but it's the center of this blend due to its protective and preventive effects. Plus, its slightly spicy aroma helps balance the nervous system before bed. If you want a vegan product, use candelilla in place of beeswax. This recipe makes ~4 oz. of salve, and feel free to experiment with the wax and herbal oil ratio.
How-To: In a bowl, melt ½ oz. beeswax with ¼ cup calendula herbal oil, ¼ cup arnica herbal oil, and add a dollop of vitamin E. In your separate product jar, add 15 drops helichrysum, 30 drops manuka, and 30 drops carrot seed. Once the beeswax and herbal oils are well-combined on heat, pour them into the jar containing the essential oil synergy and allow the mixture to harden. Use at night on itchy eczema patches.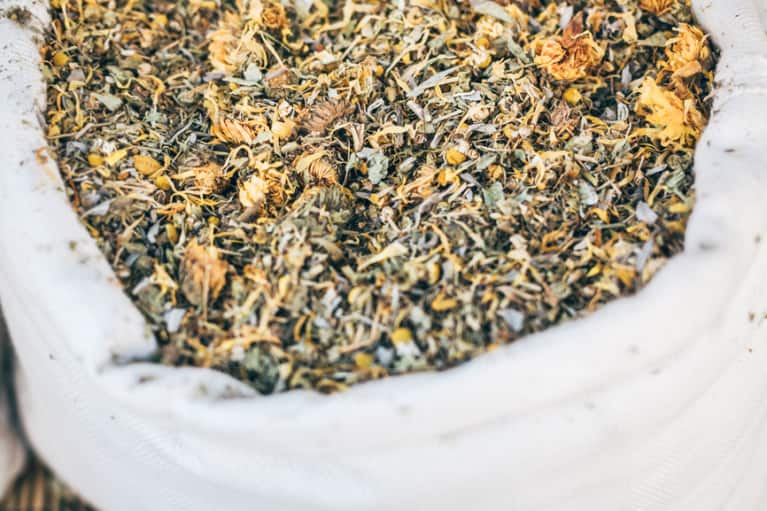 If you've never used hydrosols and you have eczema, they're about to become your best friends. Gentle and safe, they keep skin hydrated, which decreases painful cracking and the likelihood of infection. I suggest experimenting with hydrosols. Reach for Roman and German chamomile hydrosols to calm inflammation, Manuka hydrosol to treat tender skin and fungus-related eczemas, helichrysum hydrosol to supplement or use in place of the rather pricey essential oil, and calendula hydrosol for any dermatitis.
How-To: Dip washcloth in warm water. Spray hydrosol (or combination—I love yarrow and helichrysum) of choice onto the warm towel and place it on affected areas. Repeat as necessary.