On Becoming a Yoga Teacher: Finding Your Heart to Find Your Voice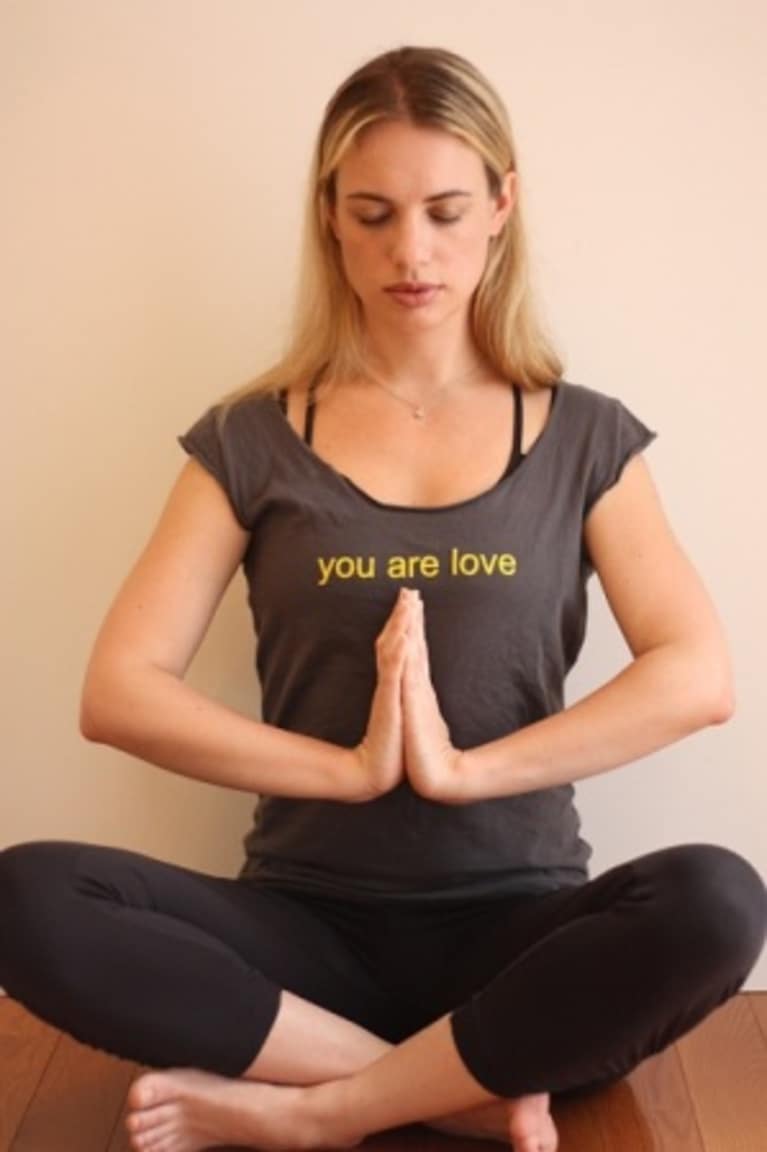 One of the most difficult aspects of teaching yoga is finding your authentic voice as a teacher. This is something I have struggled with tremendously over the past few months, feeling both inadequate and inarticulate. I would spend hours preparing, devouring poetry and literature, listening to music, taking classes, journaling… anything that would help me express my interior in a way that was both relatable and valuable to my students. Ironically, this was what I thought would have been easiest for me. I spent most of my time worrying that I would forget my sequences or break someone while giving an adjustment. Usually quite chatty and eager to share my thoughts, I figured I would have no problem weaving a poignant message into my classes. Turns out, the inverse was true.
During my first few classes I would stand there like a stammering idiot. Or, at least that is how I imagined it seemed. The moment I asked the class to close their eyes for a centering my mind would erase. I'd get so flustered that I would forget everything I wanted to say, and that condition would persist for the entire duration of the class. Then I decided to get super proactive and start writing a script for myself. That was even worse: my classes started to feel meaningless and wooden. My soul wasn't in it at all. I could physically feel my heart wanting to burst through, but for whatever reason I threw up so much resistance.
It wasn't until something painful happened to me that I was able to really tap into that vulnerable place and connect with the meaningful part of teaching yoga. During this difficult time, my teacher offered to meet with me to discuss how teaching was going. She and I have always had a really sweet connection, and she is much more than just a teacher to me. We scheduled an hour at the studio before one of her classes, and I emptied my heart into that room. She listened with patience and responded honestly, pressing me to integrate the substance of my life into my classes. She insisted it was useable and that although the details were unique to me, the emotions and concepts were universal.
Then she suggested an exercise: center her.
I sat in the front of the room on a pile of blankets and had her lie on a mat and close her eyes. I brought her attention to her breath and talked about the experience of breathing in the body, its relevance to yoga, and blah, blah, blah until she interrupted me and said, "you don't believe a word you're saying, do you?" I did not. "Okay, well stop talking about ribs and body parts – that's not sexy. Flirt with me! Imagine you're in my position. Connect with me!"
I tried again. This time, I put her in child's pose and closed my eyes. I imagined myself on the mat, taking my own class and I spoke about how my body feels. I danced with the silence and the space in my heart and let myself communicate with my body and my mind as a student. And then I just started talking, interweaving the tangible experiences of the body with more esoteric concepts. It was a real and meaningful and surprisingly cathartic conversation. My thoughts were fluid and coherent, and my blaring internal monologue was finally quieted. I broke through the roadblocks that had rendered my mind blank and I spoke with soul and confidence.
Speaking about what was happening my in heart in a non-specific manner enabled me to understand it a bit more. By gently touching the thing inside me that made me feel most unhinged, I began to soothe myself and heal. Or at least see a way to heal. It was a revelation that made me certain that I am on the right path. By speaking from a place of honesty and experience, I am not only providing a safe environment for my students to turn inward and confront themselves, I am also giving myself an opportunity to do the same. What a beautiful, continually renewing gift.
Since my session with my teacher, I've worked really hard at finding and holding my voice in each of my classes. It hasn't been perfect but I'm going so much deeper than I thought I could go, and I know I will only get better. I continue to search for inspiration everywhere, however instead of looking for something to inform my heart, my heart is translating everything I find. As a teacher, there is no need to avoid your life or what you are going through – even if it is not always positive – because it can be used as an instrument to cultivate a beautiful and intimate class for your students and a rewarding experience for yourself. Your heart is always your greatest asset and your greatest gift.