Radiant Resonances: Choosing to Begin Again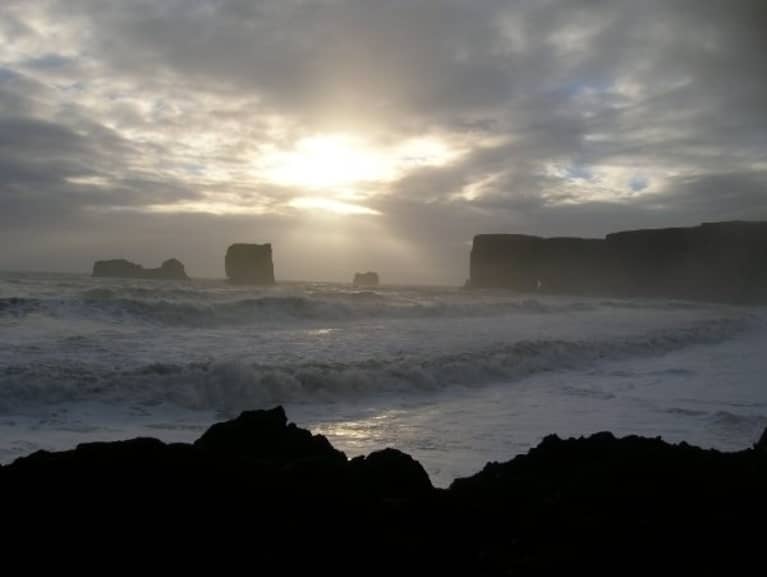 I used to dread Savasana. The silence, the stillness, the solitude -- however brief -- were a volatile triad. What thoughts would surface? What entrenched emotions would be dredged up, brought to the fore? I didn't want to stick around to find out. Instead, I wanted to keep moving -- flowing and breathing and sweating, challenging my body to assume different shapes and forms, feeling the intoxicating ebbs and flows of the physical practice. I was a product of our hyperactive, hyperstimulated zeitgeist; I didn't want to sit still.
Imagine my reaction, then, when I learned that part of my yoga teacher training would involve studying -- and practicing -- meditation. I approached meditation, as many of us do, with a host of misguided expectations and assumptions that scared me away from ever giving it a shot. Was I really expected to just stop thinking? (Wouldn't I have to think about not thinking? Wouldn't that defeat the purpose?) Even if I could stop thinking, why would I want to? And what if I got the urge to shift positions, or had to cough, or my back itched? How would I know how long I'd been sitting there? Or how long I had left? Worse yet, what if I just wasn't good at it?
My first experience meditating allayed all my fears. Kneeling on a block, eyes closed, palms resting softly on my thighs, I entered another place. Not a final destination, but rather, a fluid space for seeing, for recognizing. A place both for zooming in to examine closely and for panning out to gain perspective. My teachers likened meditation to a lasso: it allows us to grab what's far away, what lies in our subconscious, and reel it into our awareness, our conscious mind. It allows us to weigh and measure our experiences -- to bring them in and out of focus, to connect them to one another, to interpret their relative value.
Earlier this spring, I had the privilege of hearing Sharon Salzberg, one of the leading insight meditation teachers in the West, speak at the studio where I practice. Her presence was at once ethereal and surprisingly down to earth—a rare and exquisite combination that enveloped the room in a warm, easy energy. With just a few words, Sharon altered any lingering assumptions and fears I had about what meditation is and is not. She said that meditation doesn't need to be austere or formal. We don't have to live in the woods as ascetics, nor do we have to disavow our bodies, our culture, our tangible experiences in this world. All we need to do is make a loving commitment to sit with our breath, to mindfully cultivate our attention, and, most importantly, to begin again.
Sharon didn't describe meditation in lofty or rigid terms. Instead, she explained that meditation comes down to a series of pivotal moments, each of which is part of an ongoing process. We sit (or stand, or lie down, or walk) to meditate. We breathe. We focus our attention on our breath. Eventually, our mind wanders. We hear a noise, we feel hungry, we get antsy. The "real world" beckons. And that's when we arrive at the pivotal moment -- the moment at which we have a choice to make. We can either launch into the familiar series of self-deprecating judgments, admonishing ourselves for yet another "failure," or we can decide to be gentle. We can greet ourselves with love, compassion, and kindness -- and understand that doing so doesn't make us weak or navel-gazing or complacent. Because meditation, Sharon said, amounts to this: choosing, in those pivotal moments, to begin again. To recommit. To -- inhale by inhale, exhale by exhale -- love ourselves enough to start anew. In this sense, then, meditating -- focusing our energy and awareness, exercising the muscle that is our mind -- is an act of love. An empowering, radically affirming act of self-love, to be precise.
And here's the sweetest part of all: anyone can meditate. Anyone can meditate because we all have the power to start again -- to honor ourselves with light and love and compassion and take another breath. During one of my teacher trainings, the studio owner spoke about the beautiful impact meditation has had on her life. "I'm one of those people," she said. "I'm one of those people who can't move my body the way I used to, who can't stretch like I could when I was younger. I can't…I can't use my body that way anymore." Her eyes swelled with tears. "I'm one of those people. But still, I can meditate. I can sit and listen to my breath, I can breathe into the space surrounding my heart." As can you and I.
So be gentle, be compassionate. Be loving and kind to yourself. And choose to begin again.