Are Seasonal Allergies Driving You Nuts? This Doctor-Approved Strawberry Fojito Smoothie Will Help
Integrative Medicine Doctor
By Taz Bhatia, M.D.
Integrative Medicine Doctor
Dr. Taz Bhatia is a board-certified physician, specializing in integrative and emergency medicine, pediatrics and prevention, with expertise in women's health, weight-loss, hormone balance and nutrition. She attended Emory University, the University of Georgia and the Medical College of Georgia.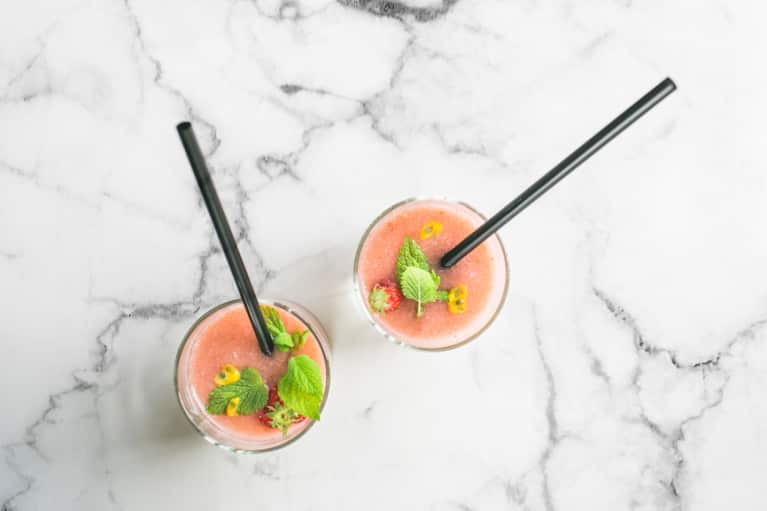 If your spring allergies are coming on full force, we've got you covered. Last week was Allergies Week on mbg, and to take your allergy healing to the next level I'm sharing a recipe that's not only delicious but highly functional. Strawberries are high in vitamin C and polyphenols, both important in boosting the immune system. Using a locally grown honey can help boost your ability to fight off local allergens. Finally, using your favorite herbs, including mint, cilantro, or watercress, increases levels of quercetin, a natural antihistamine, and boosts antioxidant levels.
2 cups of water
1 cup of fresh strawberries, whole or cut
2 to 3 teaspoons watercress
1 teaspoon mint leaves
½ cup crushed ice (if not wanting ice, you can use frozen strawberries)
1 to 2 teaspoons local honey
Blend together for three minutes, pour, and enjoy!