Planning Your Next Vacay? Here Are The Best Places To Stay According To Your Personality Type
Is it just us or has the travel bug hit hard? Spring's arrival also marks the unofficial start of summer vacation planning—a frenzied rush to find cheap flight deals, cute lodging, and exciting itineraries.
And this year, our browsing has revealed an exciting trend: More and more destinations—from modest hotels to luxury spas—are highlighting new sustainable initiatives. This makes sense considering 73 percent of millennials now say they're willing to pay more for brands that show commitment to green, eco-friendly practices.
With such an ever-expanding pool of options, it's hard to know where to get started when planning your next trip. These six resorts around the world are at the top of our list right now—each one with an incredible green feat of its own.
Our green hotel bucket list:
1. For the hard-core camper: Whitepod (Valais, Switzerland).
Straight out of a Lord of the Rings or Star Wars set, these pods in the Swiss Alps are the adult version of an epic fort. And they're more than just stunning; the domes are designed to be as energy efficient as possible. Formed from an array of triangles, the spheres are self-supporting and glean the most structural strength from the least amount of materials. Plus, since the domes don't have corners, their indoor airflow is continuous and uses 30 percent less energy to heat and cool than a conventional building.
At Whitepod, a community of 15 domes sits hiking-distance away from civilization, totally immersed in a silent forest. The pods even blend into surrounding landscapes, taking on nature's shades with white exteriors in the winter and green ones in the summer. If you're looking to completely immerse yourself in a gorgeous landscape and all the outdoor activities it has to offer (think hiking, paragliding, and pony riding), it's probably time to look into flights.
2. For the conscious yogi: Sanarà (Tulum, Mexico).
Sanará in Tulum really is its own little magical village—an off-the-grid paradise that runs on solar energy produced on-site and rainwater collected in an irrigation system. With natural cleaners covering a beachfront yoga studio, organic produce stocking the tables of an acclaimed plant-based restaurant, and natural beauty products stocking spa shelves, this Mexican oasis is every eco-conscious yogi's dream.
3. For the urban plant-lover: Palo Santo Hotel (Buenos Aires, Argentina).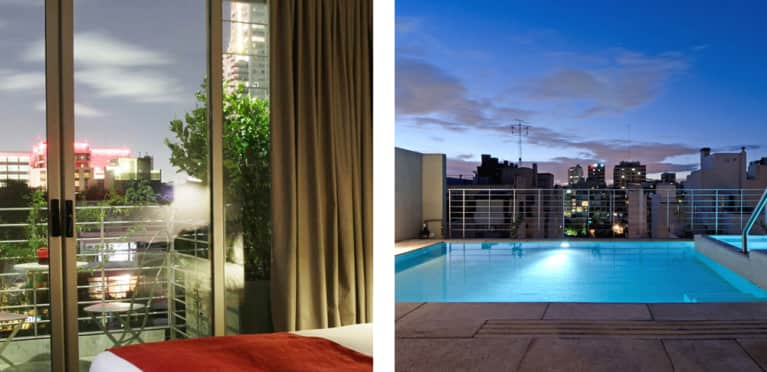 Just in case its name doesn't give it away, the Palo Santo is a veritable feast for the senses, with over 800 plants blanketing walls and balconies in a sea of green. Walk inside and your tropical journey continues with a 60-foot-tall fountain in the lobby and natural materials—hi, Palo Santo hardwood—throughout. Marketed as the first urban green hotel in Latin America, it doesn't skimp on the details either. Pencils from renewable forests and biodegradable ink fill the offices, and borrow-a-bike programs make it easy to explore the city in a more responsible way.
4. For the beach bum: Suarga Boutique Hotel (Bali, Indonesia).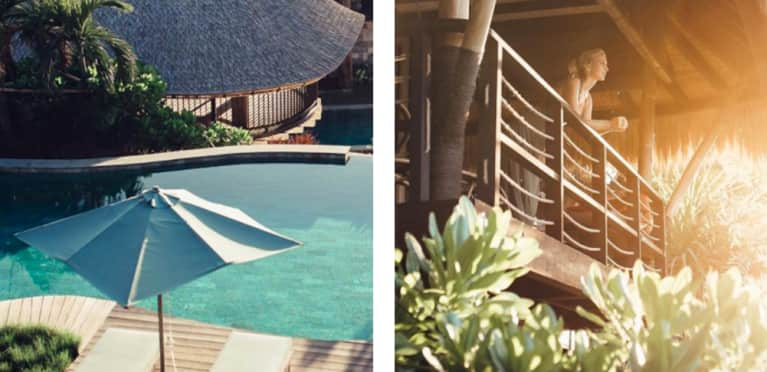 The Suarga lies on a "constructed wetland," meaning its gardens and landscaping are designed to blend seamlessly into the surrounding ecosystems. The buildings themselves also appear to have just sprouted out of the Bali coastline, and most of them are made of reclaimed materials like wood from abandoned ironwood pontoons in Borneo, broken down teak houses, and old factories. Built to appeal to so-called rough-luxury travelers, the hotel offers spa amenities alongside coastal adventures like kayaking, stand-up paddleboarding, and of course, surfing.
5. For the daydreamer: Rosegums Treehouse (Queensland, Australia).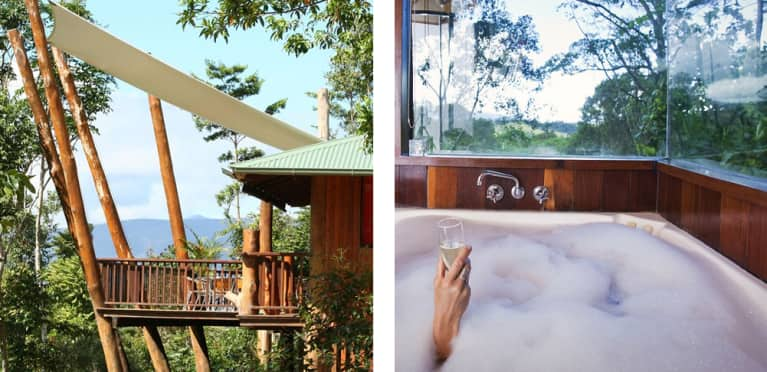 If you grew up begging your parents for a backyard treehouse, you're in luck. Rosegums' timber houses perched high in the sky are equipped with private balconies and spa tubs—plus Queensland is probably a bit more scenic than your backyard. With naturalists on site to guide your stay in the sky, you'll leave with a newfound love for the natural world and all its creatures. Plus, the getaway on Australia's Northeast tip is doing its part to boost the area's biodiversity. To date, the management has planted over 25,000 trees in the area and tackled acres of invasive weeds.
6. For the explorer: Grootbos (Gansbaai, South Africa).
When you stay at Grootbos, you don't just get a resort; you get access to more than 6,000 acres of protected animal kingdom, with 791 plant species, 29 mammals, and 21 amphibians out there for you to discover. With a laundry list of hospitality awards and a National Geographic feature under its belt, this green oasis has nailed the whole "adventure vacation" thing.
How to find your perfect version:
There are plenty of hotels lauding green accolades, even if your idea of a dream trip doesn't include such exotic locales (or such a lax budget). To find eco-friendly lodging wherever your plane, train, or automobile touches down, look out for these three things:
Look for hotels that are LEED-certified—this designation means that it was built using environmentally friendly practices.
Keep an eye out for Green Key Global and Green Seal certifications. These mark more environmentally conscious hotels by factoring in things like energy and water conservation and indoor air quality.
If the hotel has a restaurant, look to see if it serves local ingredients (bonus if it lists the farms it got them from!).