Why The Benefits Of Yoga Will Only Get Better As You Age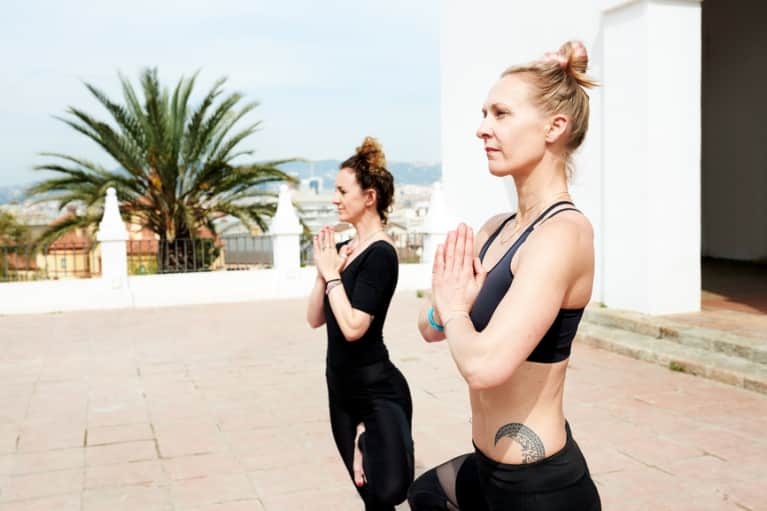 As we age, certain exercises become tough on the body—running, weight lifting, even cycling. But there's one practice that helps the aging body every step of the way, and you're probably already doing it: yoga.
We are a culture on the run. Our lives are focused on achieving, multitasking, and working ourselves to the point of exhaustion. Somewhere along the way, we lose our sense of play. We begin to work long days and crash in front of the TV at night. It's a cycle of work, sleep, eat, repeat. Exercise often takes a back seat and becomes another item on a never-ending to-do list. We continue this cycle, and our bodies feel it.
Not to be a downer, but as we age the things that were easy when we were younger suddenly become a little more difficult. Toes that were once easy to touch suddenly seem farther away. Thankfully, no matter how long it's been since we've given our body love through physical movement, there is hope!
We are adaptable humans. Our bodies can get used to just about anything with practice and patience. We need to keep learning, growing, and challenging ourselves with new activities. We need to build new neural pathways.
So, how can we keep an active body and mind while avoiding the high-impact, high-intensity workouts we enjoyed in our younger years? Do yoga. It's the safest workout for an aging body. Here's why:
1. Yoga helps to improve balance, mobility, and flexibility.
This one is not very surprising. Yoga asanas (poses) greatly improve flexibility in the joints, helping us to be more mobile while also working on balance. When you're better at balancing you decrease your risk of future falls—one of the most common causes of injury for older people.
2. Yoga aids in hypertension.
Hypertension is a strong risk factor for cardiovascular death in older populations. One study found that yoga is effective in reducing oxidative stress in elderly, hypertensive individuals.
3. Yoga helps to minimize depression.
Yoga improves awareness in our bodies and minds. The act of learning how to find appropriate degrees of stress in a pose—particularly one that we are able to relax in—adds value off the mat. We can learn how to relax into our emotions and thoughts in the same way. A study found that yoga is valuable in helping to diminish depression, pain, and fatigue and helps cancer patients perform daily activities more easily, resulting in an improved quality of life.
4. Yoga improves cognitive function and sleep quality.
It's true that if you don't use it, you lose it. The act of physical and mental awareness keeps the brain active and strong. This study showed improvement in memory and attention in elderly people after regular yoga practice.
It's never too late to start self-care. We need to start nurturing our bodies through gentle activity to continue feeling healthy and happy. Yoga is a great tool for preventive health and can be done regularly without injury. The practice aids in so many stresses on the body and mind. Try a restorative class today—you will understand what all the fuss is about!