Yes, You Can Create A Self-Cleaning Home. Here's How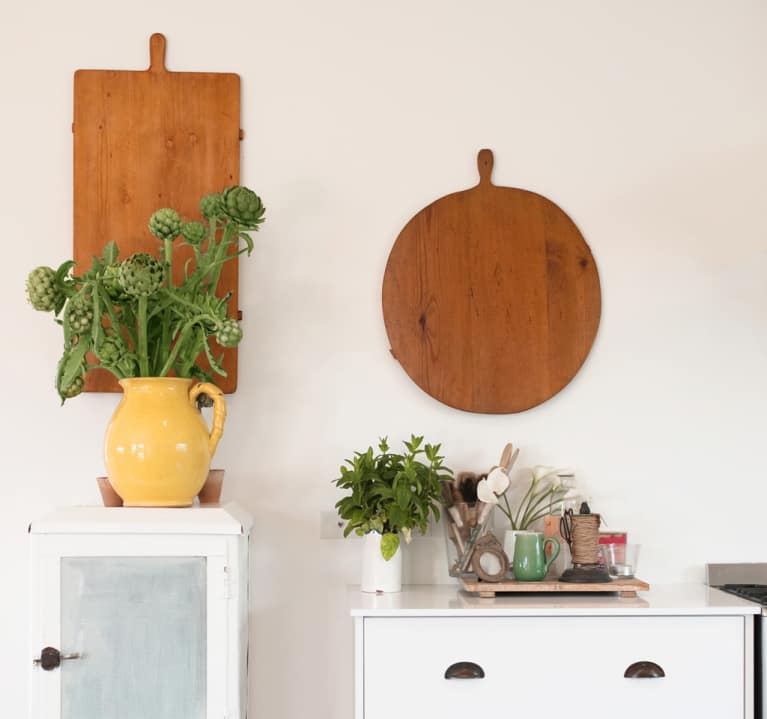 Our editors have independently chosen the products listed on this page. If you purchase something mentioned in this article, we may
earn a small commission
.
There's a wild misconception that having a simple, stunning home requires hours of obsessively organizing, cleaning, and perfecting. In reality, people with tidy homes often spend less time cleaning than those who live in messy chaos.
Truthfully, I used to dread cleaning my house and lived in a state of cyclical clutter until I began learning the principles I now teach as a professional organizer. Today, my home is a no longer a cycle of messes, procrastination, and time-consuming cleanups. Rather, my home is a "self-cleaning" home, meaning the mess is never overwhelming or time-consuming.
So, no, I'm not sharing how to buy a robotic house that scrubs, sweeps, and stows clutter while you sleep (although, that does sound pretty cool). Instead, I'm sharing the tips, products, and habits that will help you craft a home that's slow to getting dirty and mindless to keep clean.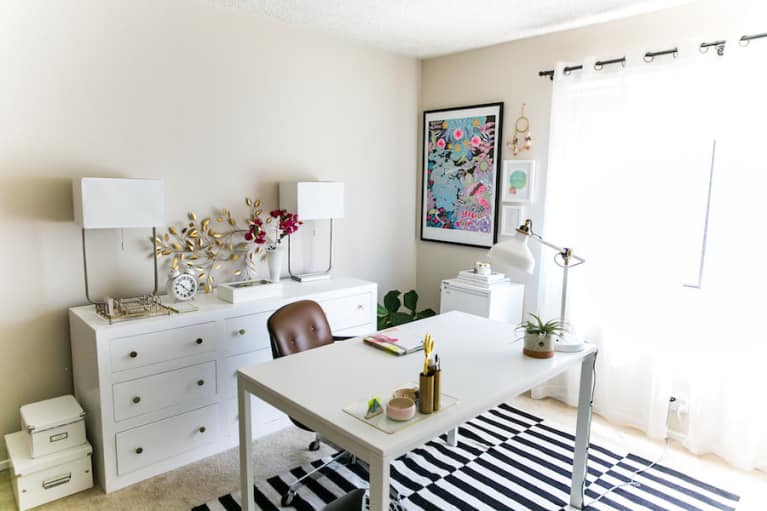 1. Furnish your home in concealing colors.
From black appliances to beautifully speckled floor tiles, consider which colors and fabrics show dirt quickly and which ones conceal it. If you have a white couch and you cringe at every spot or stain, it's time to consider a couch cover that will put your mind at ease.
2. Place doormats at every entrance.
If floor dirt is your nemesis, upgrade your doormats to something considerably more cleansing. Bristly mats outdoors and absorbent mats indoors are a great pairing for wiping shoes clean at every entrance.
3. Create a "table only" rule for mealtimes.
Especially if you have kiddos with slippery fingers and a love for all things crackers and crumbs, consider creating a house rule that everyone must sit at the table when they eat.
4. Label bins, shelves, and drawers.
The more intuitive it is to put items away, the more likely it is your entire household will follow through on cleanup. Consider labeling bins, shelves, and drawers to keep your family or roommates accountable and keep items easily accessible.
5. Put a catchall basket in a high-traffic area.
Consider setting up a basket to house miscellaneous items at the foot of the stairs or by the front door. Put any item that's out of place in the basket until it's full, and empty the basket when you have a moment to reset. It'll speed up the cleanup process to have everything in one place and will keep the house looking a bit tidier in the meantime.
6. Enforce a no-shoe policy.
Keep floors clean by putting a shelf near the front door and asking visitors to remove their shoes upon entering. Just make sure to offer people cozy house slippers for those chilly months.
7. Brush your animals outdoors daily.
Animal hair is one of the major causes of dirt and grime in the homes I work with. Consider doing a quick brushing routine right outside the house with your cat and/or dog every day.
8. Consider a monthly or weekly cleaning service.
Leaving the most dreaded scrubbing and dusting to a professional can alleviate hours of cleaning. It'll also set a weekly or monthly check-in time for you to make sure everything is put away and looking marvelous. If the extra expense is out of budget, consider what an hour of your time is worth to you. If it's more than the hourly cost of a cleaning service, it's time to shift things around.
9. Create a family or roommate chore list.
Make sure the entire family is contributing equally to project "clean home" by creating clear expectations on what each person will pitch in on. If asking family members or roommates to complete tasks is like pulling teeth, consider posting a chore list on the fridge and incentivizing the completion of specific tasks. A bit of bribery can go a long way—with children and adults!
10. Buy some robotic cleaning products.
It's what you all were hoping for. From robotic self-cleaning toilets, window cleaners, vacuums, and litter boxes, there actually are quite a few ways to clean your home while you sleep if you really want to go that route.