Bananas On A Stick — The Perfect Snack For Your Afternoon Slump
Founder of Philosophie Superfoods
By Sophie Jaffe
Founder of Philosophie Superfoods
Sophie Jaffe is a certified raw-food nutritionist and raw-food chef. She's a member of the Yoga Alliance as an advanced teacher and is certified by the National Academy of Sports Medicine as a personal trainer.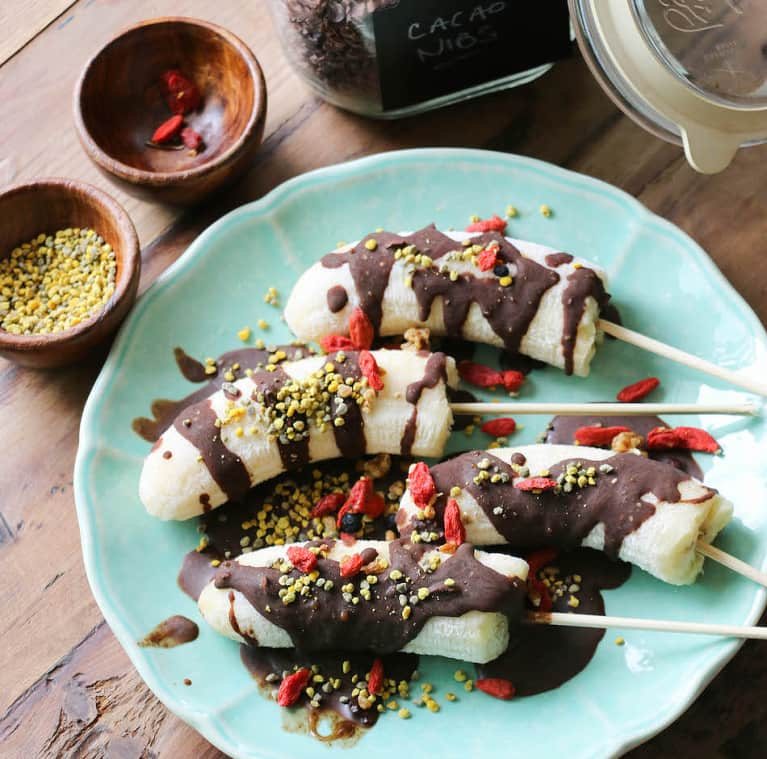 We're all about a good snack, and taking a classic treat to new superfood heights is one of the best ways to beat the 3 p.m. slump. Superfood maven and founder of Philosophie, Sophie Jaffe knows exactly how to incorporate tons of nutritious goodies in ways that feel natural and delicious. Today she's sharing her recipe for chocolate-covered bananas with magnesium and antioxidant-rich cacao, bee pollen for B vitamins and folate, and anti-inflammatory goji berries—which all add up to one energy-boosting snack.
Chocolate. Bananas. And Superfoods. OH MY.
Goodness. And so much of it. I've always enjoyed chocolate-covered bananas on a stick. I remember falling in love with them at street fairs as a little girl and hoping that the ice cream man would still have some left in his truck after making the rounds through my neighborhood. Well, some things never change, and for the most part, my tastes haven't changed either. I still love chocolate, I still love bananas, and I definitely still have a sweet tooth, but I'm not so much in love with the idea of putting overprocessed, sugary sweets into my body.
So as a healthier, nutrient-dense, superfood-rich spinoff, I've recreated a childhood favorite and mashed three ingredients I can't live without into one recipe. These pops may take a little time to freeze, but trust me, once they're solid, you'll be inhaling them in a matter of seconds.
Cacao Magic Covered Bananas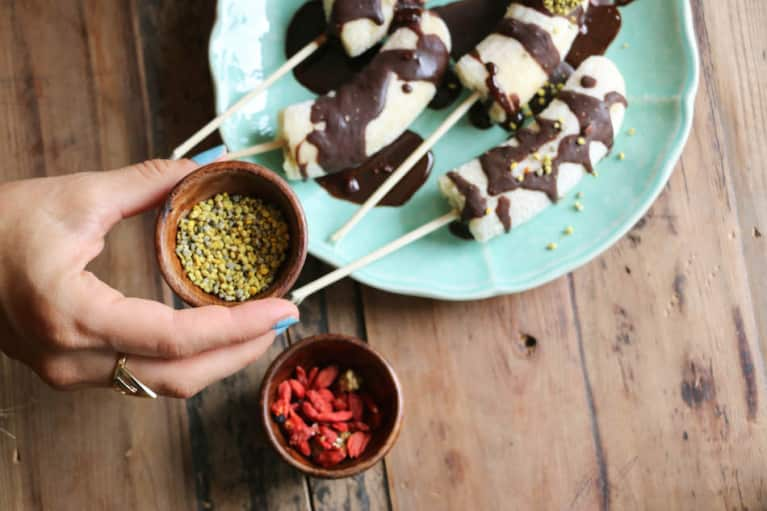 goji berries
bee pollen
cacao nibs
chopped nuts (toppings)
Method
1. Melt the coconut oil and evenly mix in the Cacao Bee and Cacao Magic powder.
2. Gather some bananas and place them on ice pop sticks or skewers. Place them on a tray and freeze them (1 to 3 hours depending on how solid you want them).
3. Drizzle or dip the chocolate mixture on the frozen bananas, and add your favorite toppings! Place back in the freezer to set or devour immediately!