The Buzzy Trend About To Take Over Our Homes: An Interior Designer Explains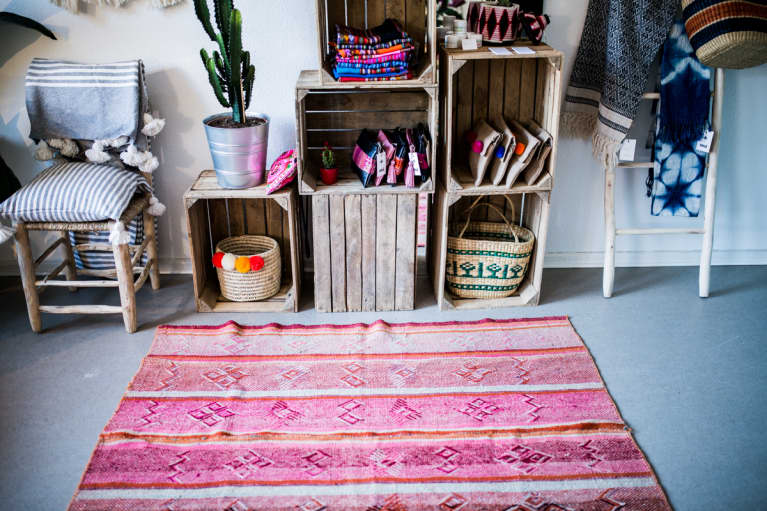 As an interior designer, I've noticed that more and more of the design shops I visit are specializing in beautiful, one-of-a-kind accessories with a story. And these days, these items are becoming increasingly international.
I hope that this trend is here to stay, as these small-batch goods with a story are far more responsible than mass-produced, wear-and-tear home accessories from large chains that are often made with questionable sourcing and production methods.
Here in Berlin, Nandi recently opened its doors and won many a customer's heart with unique handicraft from countries like Morocco, Kenya, Mexico, and Peru, offering an abundance of colors, textures, and origin stories. Afroart in Stockholm and Gothenburg is another one of my favorite shops supporting developing-nation craft from Africa, Asia, and South America. Not so long ago, these kinds of products were more difficult to find in Western cities and online. They would show up in the interiors of well-traveled stylists or passionate collectors, but they weren't as accessible to everyone.
As I browse shops like Nandi and Afroart, I'm struck by the labels on the immensely popular fair trade sisal baskets from Kenya that describe the female artisan who made them. It's always rewarding to know that I'm doing good by purchasing an object and supporting an artist while bringing character into my home and the homes of my clients.
I believe a consciousness for a product's origin and a bigger need for objects with a story have resulted in a greater demand for fair trade and artisanal craft. Here are some of my personal favorite international accessories, and some tips on how you can use them in your own home.
Cactus silk, also called sabra or vegetable silk, is a luxurious, vegan fabric made from the fibers of Saharan Aloe Vera Cactus. The leaves are crushed and soaked in water for separation then washed, dried, and spun into silk threads. Sabra rugs are handwoven by Moroccan Berber women. Their intricate, symbolic designs have a personal meaning to the women behind them, only translatable by the artist herself.
Cactus silk rugs are beautiful additions to your bedroom or living room, as they also make for charming and sound-absorbent wall hangings. (They're not suitable in your bathroom, however, as they are hand-dyed!) They can bring character and personality to any home and are available in many colors and varieties. Choose a toned-down rug for a calm, sophisticated look or choose one with pops of color to brighten your space.
2. Textured cushion covers.
Whether they're woven in Peru using wool in warm, earthy colors or made in Mali from black-and-white cotton, textured cushion covers are my favorite go-to accessory to quickly change the style of any home. I love using them when styling interiors as they are so full of character and easy to combine with plain, solid textiles.
Handmade baskets made from sisal fibers are just as beautiful for your houseplants as they are for random objects such as scarves, toys, toiletries, or beach wear. Colorfully striped, solid, or natural, they make for a practical accent in any home. Bonus: Baskets from the Hadithi Crafts Support CBO in Kenya support women's cooperatives, enabling financial independence.
The carefully crafted evil-eye mirrors, made of wood, take artisans an entire week to make. These beautiful statement pieces are actually thought to protect from evil by reflecting it away. I love to surround mine with smaller mirrors of various shapes and styles for a bold accent wall.
5. Vietnamese rice baskets.
Now fairly widespread, Vietnamese rice baskets, traditionally used to carry rice, are made from saltwater reed. Make sure to buy baskets that are fair trade. I love searching for fair trade goods on the online marketplace the Good Trade.