Here's What Men (And Women) Are Actually Thinking On A First Date
mbg Love Contributor
By DeAnna Lorraine
mbg Love Contributor
DeAnna Lorraine is a relationship and dating coach living in the Greater Los Angeles area. She holds her bachelor's in both journalism and psychology from California State University, Chico.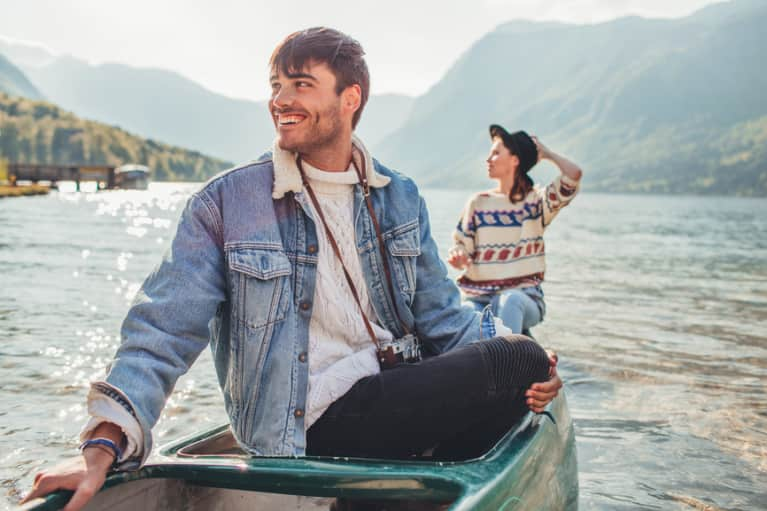 Surprise, surprise—men and women think differently. Believe me, after nearly 10 years of coaching both men and women (and "informally" coaching, by growing up in a house full of four brothers and all their rowdy friends), I know there are some key differences with how each sex goes into dates, as well as what we're thinking on and after the date.
Understand the differences between both sexes' perspectives, and you'll be more successful in connecting with and attracting them.
Guys are thinking about sex before anything else.
Like it or not, their first thought is, "Am I attracted to her? Do I want to have sex with her?" and, "I wonder what she looks like naked?"
Sorry, but it's the naked truth. No pun intended.
Boys will be boys. If they don't feel attracted to you, they won't bother seeing you again. Most women do not realize this and mistakenly believe that the guy will take the time to get to know them and give them a few dates to see if she has qualities to be long-term girlfriend material. This simply isn't true.
Women, on the other hand, go into a date wanting to be "swept off our feet."
We are hoping that men will be masculine, confident, and chivalrous at every turn.
We hope he has his sh*t together, that he will make us laugh, and somehow, magically, read our minds and anticipate our unspoken wants and needs. We want him to communicate with us in a way that feels like we've known each other for a long time.
Women also want to feel that attraction, that chemistry, but we're not usually thinking about having sex with a guy when we first meet him. Instead, if the other elements are there, then we ask ourselves, "Can I imagine kissing him?"
Oh, and if we like you, we're also hoping that you're not a player, and that we'll hear from you again soon (none of those three-day-rule shenanigans).
How we think about the future:
Guys don't start thinking about "forever" potential on a first date.
They are not necessarily planning for the future, imagining walking hand-in-hand with you, or even thinking about next weekend yet. Guys are much more in the present than women are.
They are asking themselves more simple questions, like "Am I having fun with her, or am I bored?" and "Am I feeling good around her? Do I feel comfortable?"
Women are thinking long-term as soon as they meet a guy.
They are evaluating everything a man does and says as either "husband and father material" or not. And, typically, the older they are, the less patience they have, and the less time they take to evaluate someone—which is why some men feel like they're being interrogated when they're just trying to have their second cocktail.
So, how can we try to be more understanding of each other's approaches to dating and meet in the middle?
Focus on making an awesome first impression. Know that men are going at a slower pace than you, so try to stay in the moment and take things one step at a time rather than planning your next 10 years together on the first date.
Remember that women need to have an emotional connection and build sexual tension with you before they're ready for sex. Delayed gratification allows you to spend some more time creating connection and that "spark" that she needs to feel. Women have a player radar, and if you try to rush it, her alarms will sound and you'll delay it even longer or you'll eliminate yourself completely. Try to understand that women DO plan ahead, so drop hints that you do have the qualities someone wants in a long-term partner, take the lead if you like her, and if you don't, have the courtesy of not using her for sex, stringing her along, and wasting her time.