Bond With Your Dog By Making This Nutritious Make-At-Home Pup Paella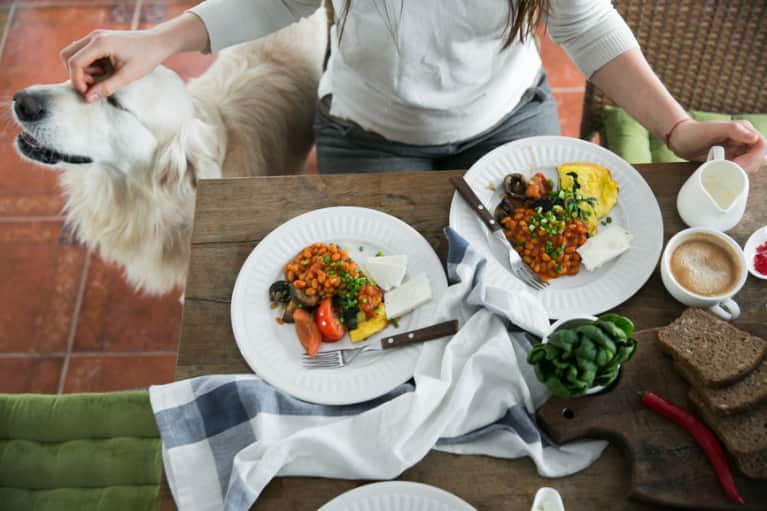 It's not exactly an authentic Spanish paella, but this richly flavored rice dish with chunks of real or vegan meat is one you and your pup could eat often, varying ingredients and side dishes. Try it with chunks of vegan sausages (just be sure all ingredients are dog-safe!), chicken or crab nuggets, and the like. Cooking for your dog is a great way to ensure she or he is eating whole, nutritious food, and it's a great way to show your affection. There's nothing to stop you from enjoying this meal as much as your pup, so set the table for two to bond with your best pal.
1 cup dry brown rice
2½ cups water
6 cremini mushrooms
½ teaspoon salt or tamari soy sauce to taste
1 tablespoon olive oil
3 tablespoons nutritional yeast
1 teaspoon poultry seasoning
1 cup frozen or fresh peas
½ cup sliced zucchini
5 ounces of any vegan or lean animal meat (about 1 burger patty's worth)
1 tablespoon hemp hearts
2¾ teaspoons Vegedog (the daily amount of your favorite pet supplement)
In a large saucepan, bring the rice to a boil in the water.
Add the mushrooms, salt, oil, yeast, and poultry seasoning.
Cover and simmer for about 35 minutes.
Then add the peas, zucchini, and meat.
Continue cooking for another 10 to 15 minutes.
Top with the hemp hearts and Vegedog.
Serve with a baked sweet potato or winter squash.
Note: For weight loss, serve alongside broccoli, Brussels sprouts, or a salad instead.