Your Weekly Horoscope Is Here: What's In The Stars For You?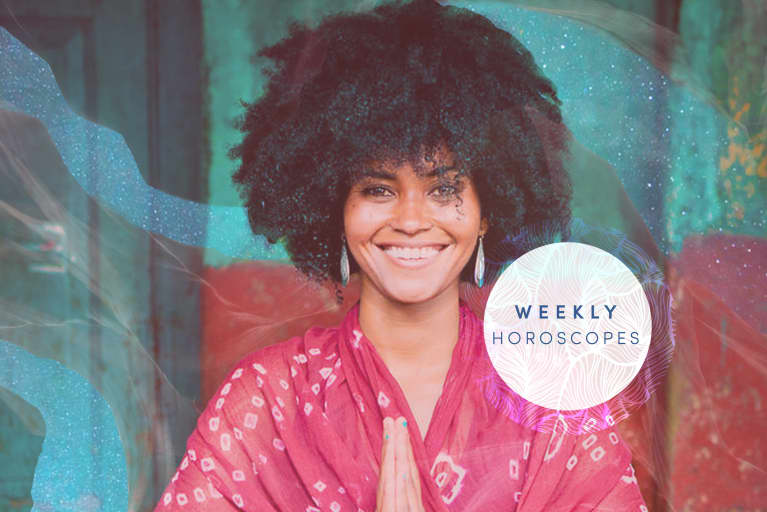 Break out the confetti and champagne! On Monday, March 27 the new moon in Aries restarts the lunar clock and refreshes the worldwide perspective on pretty much everything. Like an astrological New Year, we're ready to set intentions, spark initiatives and leap into action star mode. And more so than ever since this new moon lands alongside four other heavenly bodies in Aries including the bold Sun, messenger Mercury and revolutionary Uranus. Boom!
But there's also beauty queen and hopeless romantic Venus, who happens to be retrograde in the Ram's realm. With her diplomatic powers—and discerning eye—on hiatus, we'll need to tone down some of that firepower and impulsivity. Careful with the aggressive statements and shoot-from-the hip communication style. And though the spirit of extreme makeover magic could strike, post all inspo to Pinterest until Venus corrects course on April 15.
Tattoos and pixie cuts can't be undone easily or on the cheap, after all. Nevertheless, Aries is the first sign of the zodiac—daring and impulsive. This is one of the best times of the year for starting a new solo project. There are certain "non-negotiables" that we should never compromise. Instead of getting muddled in red tape, think about striking out on an independent path. Circle October 5—the date of the corresponding full moon in Aries—to achieve a milestone or even complete the efforts that get ignited this week.
On Friday, March 31 one planet drifts away from Aries—for a little while, at least. Mindful Mercury slows his roll, settling into practical, sensual Taurus. Head's up! From April 9 until May 3, we'll wage through our second Mercury retrograde of the year, which rewinds through Taurus, then Aries again after April 20.
Don't underestimate the power of touch and TLC. Affection is a language unto itself.
Start the preparation early by backing up all data to password-protected (or firewall-protected) storage, changing overused login codes and making sure that all important bills are being paid in a timely fashion. (Nothing worse than discovering that you're three months overdue on a utility bill!) Rather than racing around and reacting to every whim, the next few weeks are all about careful planning. Which activities are really worth our time? Our precious hours, like our cash, should be invested wisely.
Though discerning in quality and taste, Mercury in Taurus can point us towards practical luxury. If you're going to spend your hard-earned coin, invest in objects that have an eternal rather than ephemeral quality—especially ones that stand a chance of appreciating in value like limited-edition artwork or hey, gold. Tuck those mobile devices away when spending time with your squad. Social Mercury in Taurus is old school, encouraging us to linger in legit "facetime" instead of sharing all our QT via the cameras in our phones.
Mercury governs communication, but in Taurus, we can express ourselves more sensually than verbally. Set the mood with lighting, burn scented candles, add gourmet touches to food like truffle oil or pink Himalayan salt. Don't underestimate the power of touch and TLC. Affection is a language unto itself.