Why I Got Engaged To Myself
Written by
Osha Key
Osha Key is a Transformation Coach based in Southeast Asia who helps women revolutionize their lives by using unique tools to change their identity, tap into their limitless potential, and connect to their purpose in life. She received her Bachelor's in Economics from Kaunas University of Technology, and completed her Advanced Holistic Nutritionist certification at the School of Natural Health Sciences.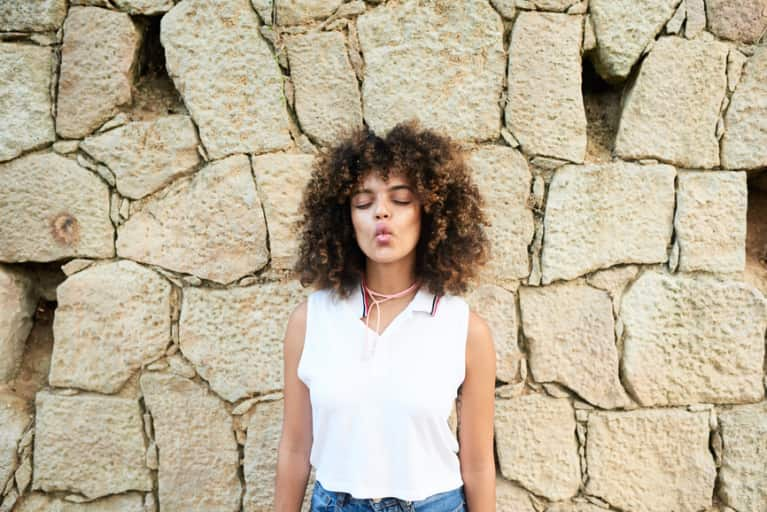 I received a special silver ring from my parents when I was 12 years old. I remember how grown-up it made me feel; it was my "Ring of Power." But I gave it away.
About eight years ago, I gifted it to my boyfriend to wear it as a pendant on a silver chain. I guess I was just so in love that I wanted him to carry a piece of me. Symbolically, I gave away some of my power.
I thought I'd completely lost this ring after all these years and countries, but I recently found it with some of my old stuff in an attic in England. I couldn't believe it! It still fits my finger 18 years later, and I've been wearing it every day since.
My joy isn't really about the ring, though. It's about the power I feel like I've been reclaiming through my self-love routines—the ring just served as a reminder. So I decided to use it as my engagement ring.
I thought if I were skinnier and prettier, my whole life would be blissful.
Yes, I found the love of my life. Who is He? Is it the same boyfriend I've been dating since eight years ago? Nope. And it's not even a man. It's She...
And she's been with me all my life. Yet at times I neglected her, criticized, punished, disapproved, ignored, and rejected. Yep, that's the girl I see every day in the mirror. She's amazing and I no longer need anyone else to see or say this.
But it wasn't always this way.
When I was a teenager, I subscribed to the idea that, in order to be worthy, I needed to be attractive to men. I'm not entirely sure where it came from—maybe because I got less attention than my prettier friends. Maybe it was the pressure to look a certain way from the media, or maybe because I got rejected by the guy I really liked. I can't pinpoint it to the exact moment when I started feeling unworthy, but it was definitely because I found myself unattractive. And it made me do some pretty crazy things.
I thought if I were skinnier and prettier, my whole life would be blissful; I would feel more confident and more attractive to guys. So I starved myself to fit the image of what I thought guys wanted me to be. Although it was not something that consciously went through my mind at the time, looking back, I did it all for approval, and from everyone but me.
When I was 17 years old, in order to attempt to "fix myself" and become a valuable human being, I went on my first diet, which ended with me fainting and seriously hurting myself. I didn't learn the lesson, though. My war with my body has lasted for over a decade.
I've tried insane methods to lose weight: from no-carb diets, to exhausting exercise programs, to a coffee-and-cigarette diet. You name it, I've tried it. I lost and gained weight, but until I did the inner work and found my worthiness—and my self-respect—no number on the scale could convince me that I was good enough. So I gave myself away repeatedly in hopes that someone else might.
The sad thing is, I'm not the only one. So many people go through life feeling they're not worthy of their desires (or being desired), and that they're not good enough the way they are. There's always something that needs to be changed...something to be fixed...something to be adjusted.
But that something is never you. You are perfect just as you are. And life gets a lot better when you accept that. At least, that's how it's happened for me.
After working with many women, I've noticed this recurring pattern—they try to fix themselves in hopes that life will be so much better when they're prettier, skinnier, or more successful. Because then they'll get the love and recognition. Then they'll get all the attention they want—whether that's the current or potential partner, parents, friends, bosses, colleagues, or any other person whose love and approval they seek.
You are perfect just as you are.
But if you've ever been in a similar situation, you've realized that hitting those goals doesn't fill the hole. It doesn't make you love you.
It took years of commitment to my personal growth to realize that I could get everything I wanted from another—all the love, attention, respect, kindness, devotion, and care—if only I chose to love myself. And that decision to love myself is one I can make every hour of every day. I'm really the only person who can make it.
That's why I decided to get engaged with myself—I needed to stop seeking validation from others. This engagement and the ring on my finger serves as a daily reminder to stay committed to myself and to prioritize my own needs instead of getting lost serving others. Ironically, when I prioritize myself and make sure I'm nourished on all levels—physical, emotional, spiritual—I'm able to serve others better and give unconditionally, without needing anything in return. Because my cup is already full. What I get from others is just a nice extra that adds to my life, but I don't need to rely on what others give for my happiness. And that's what makes me happy.
If you're someone who's also been dying to get love, respect, and recognition from others, I encourage you to commit to yourself and become your own fiancé. Acknowledge all your needs, then meet them yourself, and be just as dedicated to you as if you were serving the love of your life. Once you learn to love yourself the way you deserve, you'll set an example for the rest of the world to follow.
Be your own best friend, your cheerleader, your mother and daughter, student and teacher. Be the Love of your Life. Because you're amazing! And there's only one person who can truly convince you of this...it's you.
Start today with affirmations, journaling, exercise, self-encouragement, meditation, yoga, walking, cooking right, and all the self-care routines that make you feel good about you, for you.