This Boho Apartment Is The Ultimate High-Vibe Sanctuary: Let's Take A Peek Inside
mbg Sustainability Editor
By Emma Loewe
mbg Sustainability Editor
Emma Loewe is the Sustainability Editor at mindbodygreen and the author of "The Spirit Almanac: A Modern Guide To Ancient Self Care."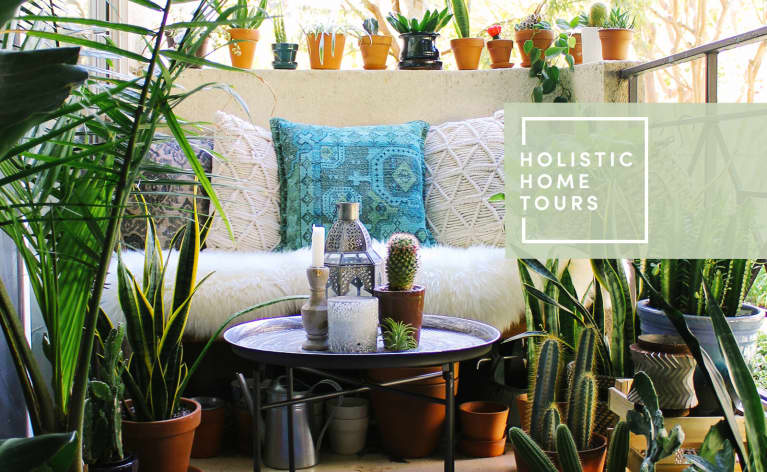 Today on Holistic Home Tours, we're traveling to LA to check out a bright, colorful space that's basically a warm hug in apartment form.
Over the last four years and change, actor and graphic designer Sara Toufali has molded her Westside LA space into the ultimate boho escape. Along with her boyfriend, Eddie, she's filled it with all the plush surfaces, vibrant photos, and colorful textiles you could ask for. Take a look inside—and prepare for a huge smile to ensue.
What are three words that describe your design philosophy at home?
Favorite season in your home?
Definitely summer, lots of sun shining through the open windows, and I get to enjoy our little jungle balcony every day. When two people live in 700 square feet, every foot counts - our balcony is like an additional room for us! It was so rainy and cold for LA this winter, I had to bring almost all the plants and furniture on the balcony inside. It's starting to warm up now though and the rainy weeks seem to be behind us, so I've been able to set everything back up thankfully!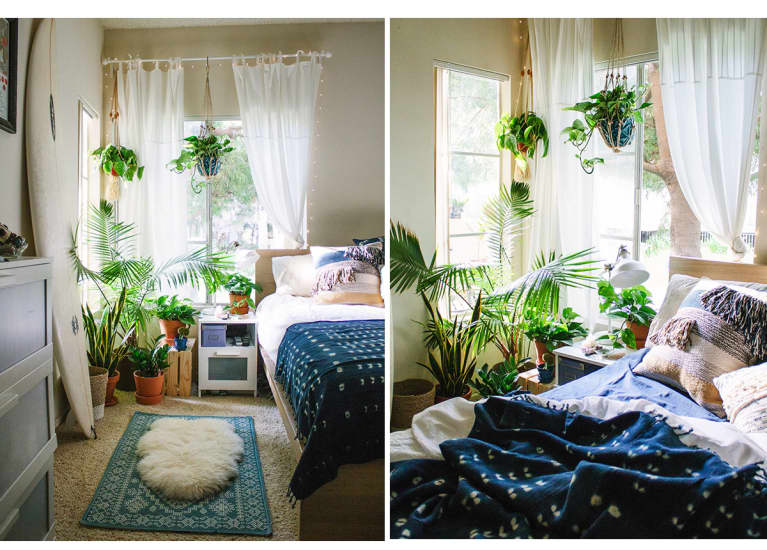 What's your favorite room in the house and how do you use it?
The living room, definitely. It's where we eat, watch TV, cuddle on the couch, play guitar, and entertain guests. I love our fireplace too, even though it's gas and doesn't really give off much heat! I turn it on year-round.
Coziest spot in your home?
My little nook on the chaise part of our sofa. It's in the corner across from the fireplace, next to the sliding glass door that opens to our balcony. The door is always open so I can get a cool breeze and hear our wind chimes outside. I'm surrounded by plants, candles, incense, blankets, and lots of pillows—my happy place!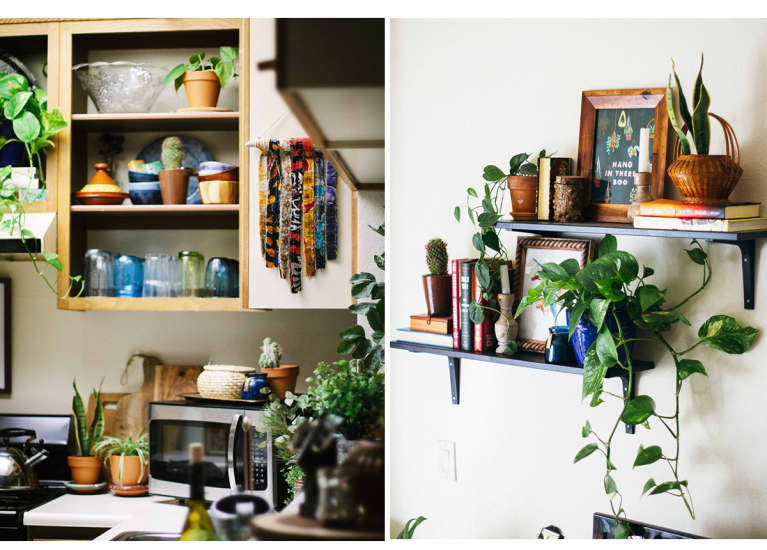 Favorite place to buy furniture? Accessories?
IKEA! I love how affordable they are, without sacrificing attractiveness. They're stepping up their boho game too! The new JASSA collection is so good. Also, I could spend days wandering around the IKEA showrooms—such great inspo!
For accessories, it's a tie between Urban Outfitters and World Market. It's actually really hazardous to my bank account when I go into both stores. I just want everything!
What's the oldest thing in your home? Newest?
Oldest is probably a vintage brass floor standing mirror that Eddie's grandmother gave us. Newest would be the batch of plant babies I brought home this week. Never too many!
What noises can be heard in your home?
Old records playing, bamboo wind chimes, electro swing music, me singing (badly), Eddie yelling at his computer games, lots of laughter.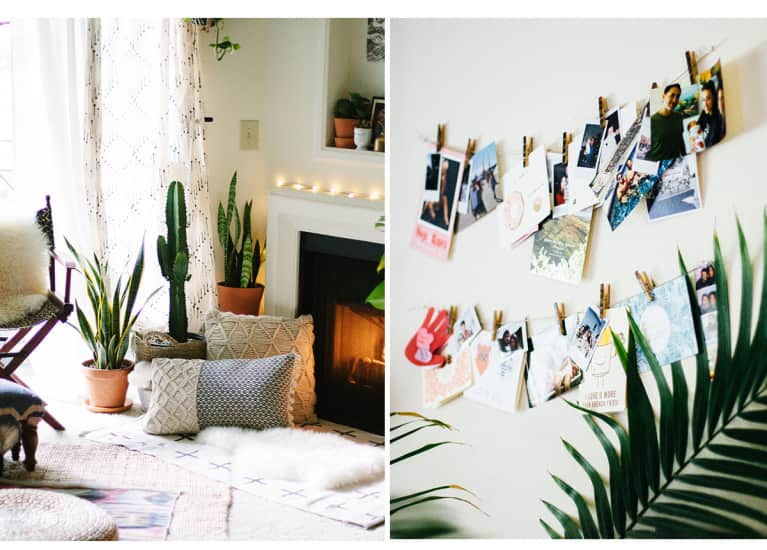 Candles, coffee, incense. Eddie actually came home recently with a bag of incense he bought from a guy selling them out of a backpack in front of our supermarket. Welcome to LA! If that's not sketchy enough, the incense scent is "Opium"... It smells good though, so I don't ask questions.
What's the most sentimental thing hanging on your walls and what's the story behind it?
We have strings hanging on our wall where I hang polaroids, old cards, and family photos to with clothespins. Most of the polaroids are of trips Eddie and I took together or of my niece when she was a little baby, so they're extra special to me. The cards are older ones Eddie and I gave to each other for birthdays or anniversaries that were too sweet to throw away! They've become little works of art on our wall.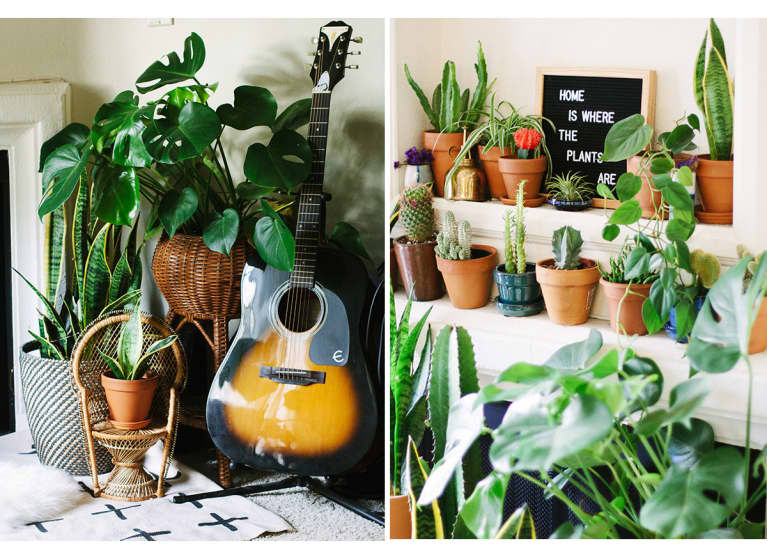 How does your home relax you? How does it motivate you?
I'm big on comfort. Right when I get home, I change into comfy pants and t-shirts. As for motivation, I'm always moving things around and styling different nooks in the apartment. I like that our place grows and changes with us.
What's the best compliment you've ever received on your space?
I think the greatest compliment has come from anyone who's said our home inspired them to go out and adopt some plant babies of their own. I just love that!
Here's a primer on how to bring some of Sara's high-vibe touches into your own space, wherever it may be.