These Easy Hacks Are The Secret To A Clean, Blissed-Out Home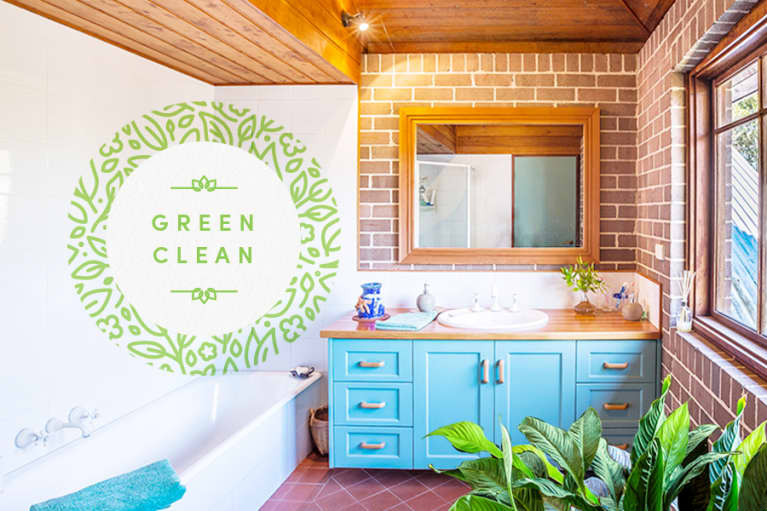 What better way to usher in spring than with a home that's a blank canvas for all of your warmer-weather intentions? Welcome to Green Clean, a 4-part series with approachable and sustainable tips to help you prepare your space for the new season. We already told you how to use natural cleaning products, declutter your whole home, and repurpose your trash. Now, we're wrapping things up with tips from the pros on how to keep your home clean year-round.
You deep clean your entire house on Sunday and it's a mess again come Friday. Who hasn't been there? This cycle of clean-dirty-clean-dirty can get pretty disheartening, so we reached out to the pros for their take on how to make this year's spring clean last well into summer and beyond.
I like to have clients do what I call a 10-minute tidy. Every day, or every few days, set a timer for 10 minutes and return items to their respective homes. Having a timer going really helps people hustle to get things done. Plus, if every member of your household participates, you can get a lot accomplished.
—Bonnie J. Dewkett, The Joyful Organizer
2. Keep checking in every day.
I believe that organizing is like weight-loss maintenance—you have to tend to it every day. Get in the habit of sorting mail immediately when it enters your home. Make your bed. Put away beauty products after you've used them. Return a book to its shelf. A system only works if you keep it alive.
If there is some resistance to keeping your system chugging along, perhaps there needs to be an adjustment in the system itself. Perhaps it's annoying for you to put away the hair gel because your bathroom cabinet layout isn't quite right. Fix the issue so it's easier for you to keep it up. If you set up a system that makes sense to you and your home, it should stay vibrant for years.
—Jeni Aron, Clutter Cowgirl
Your drop zone is a small table or chair by your front door where you can drop the stuff that comes in, like your keys, wallet, bags, jacket, mail, and even your groceries, as soon as you walk through the door. Once you have a moment, you can return to the drop zone and put away anything that needs a more permanent home. For some items, the drop zone is temporary. For others, it's more permanent: a spot for keys, wallets, or perhaps a travel or makeup bag.
In addition to giving us a quick breather when we get in the door, these zones also help us to keep both small and large objects from trailing into the house.
—Maeve Richmond, Maeve's Method
When purchasing items, take a moment to think about where you can store it in your home. Sometimes, just thinking about your options can help you make the right purchasing decisions.
—Bonnie J. Dewkett, The Joyful Organizer
Like with any fresh routine, we need to first set our intention for getting clean and organized and allow ourselves time to root new systems in place. It takes anywhere from 7 to 21 days to form a new habit, so don't expect yourself to become Martha Stewart overnight. Instead, start small by giving yourself one small change to start your day, like making your bed daily or starting a morning exercise or meditation routine. Take the time to do something each day (even if small) that has a pattern to it, as it will help you to ground and support your organizational goals.
Not sure where to start? Everything we do sits in our muscle memory, so take one morning to connect with your daybook, your laptop, or your phone and take a look at how you view your calendar, pay your bills, or get yourself or your family ready for the day. Are there tweaks that will make things go more smoothly?
—Maeve Richmond, Maeve's Method