I Found My True Self In The Desert: This Is My Journey Of Spiritual Healing
mbg Contributor
By Angela Watson Robertson, MBA
mbg Contributor
Angela Watson Robertson, MBA, aka The Reinvention Warrior, is a well known nutrition blogger, endometriosis thriver, mom and health coach who teaches you how to transform your life starting with the food you eat. She has an MBA from The University of Phoenix and a B.A. from The University of Missouri – Columbia.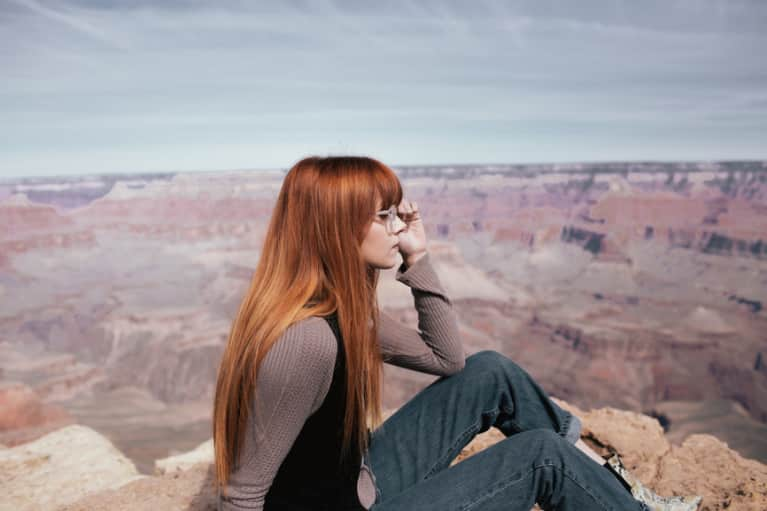 The year after I graduated from college I left my Midwestern home for a job in the desert of Northern New Mexico. I was 23. I was in love. And I was scared to death.
I'd spent the previous year working my butt off as an aide to a nonverbal and nonmobile 12-year-old boy. Though the work of feeding and cleaning this kind boy was deeply needed, I was barely making enough money to pay my rent. That year left me depressed and unsure of what to do next. So when my adventurous boyfriend accepted a job at Ghost Ranch Conference Center outside of Abiquiu, New Mexico, I decided to tag along.
As a farm girl from a small town in Missouri, a land filled with trees, rivers, and lakes, I imagined the desert to be desolate, parched, and dusty, with little to offer me. Little did I know the desert of New Mexico would help me refill my well in a way the lush woodlands of Missouri never could.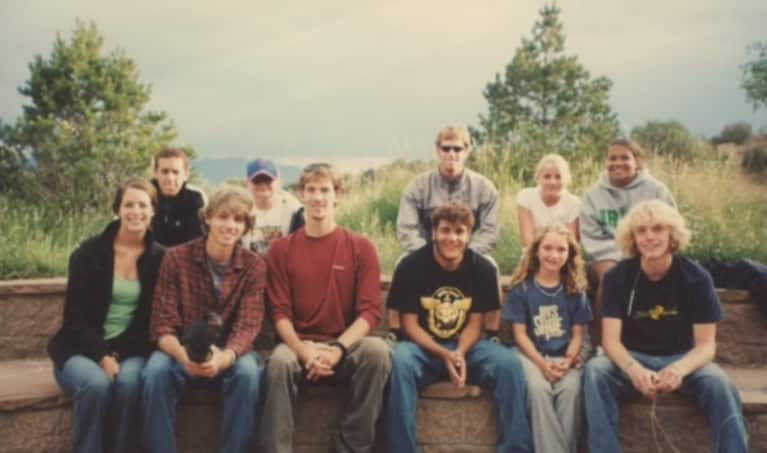 Those eternal summer days pushed me to limits I didn't know I had. By day I felt like I was being baked alive in an oven as big as the sky. My lips cracked. My shoulders burned, then blistered and peeled. I'd reach for my water bottle constantly to quench an unquenchable thirst. Sweat spilled from my pores even while showering. And just when I thought I couldn't take the heat one more minute, the sun sank beyond the horizon, bringing with it a blessed coolness. I'd reach for my sweatshirt and imagine every living creature in a hundred-mile radius collectively sighing with relief.
The deafening silence and utter darkness of the desert night stripped me bare. With nothing to distract me I was left with only myself.
That summer at Ghost Ranch I taught kids to swim while my boyfriend led outdoor education programs. After work, we'd kayak or canoe on Lake Abiquiu or the Chama River. On weekends we'd climb and sweat our way up the breathtaking red, yellow, and white rock formations that surround the resort where we worked. We'd restore and heal our raw skin and aching joints in the timeless waters at Ojo Caliente (literally "hot eye" in Spanish, so named because there previously were small ponds or pools of water in the springs), a secluded refuge deemed sacred by Native Americans.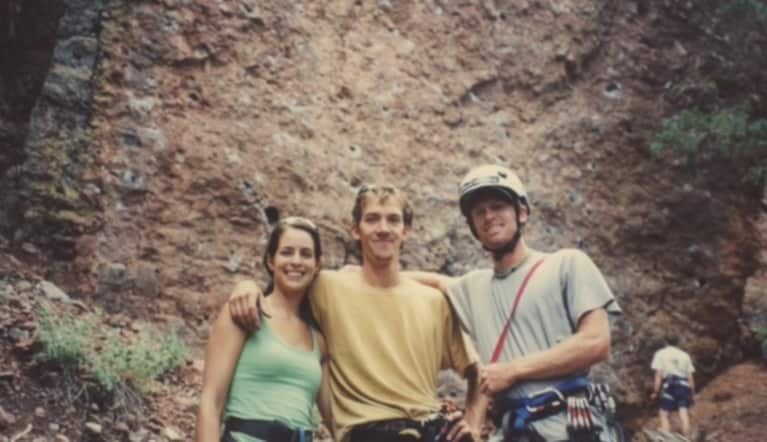 At night, we socialized with the rest of the summer staff in those magical waters as the smell of sweat from climbers and hikers blended with the chlorine stench from the pool and the smoke from pinyon and juniper wood.
From the outside, life seemed blissful, yet I was hurting. And it wasn't from sunburn or dehydration. It was the nights—the vast darkness that seemed to emanate from all directions, to the point that it felt like it was overtaking my soul.
All that quiet emptiness fueled my old friends, panic and anxiety. I was constantly obsessed with my future: Would I get a good job at the end of the summer? How could I make a six-figure income? What should I get my master's degree in? When would I get married?
Needless to say, I wasn't in the present. I was years ahead of myself. And I was a mess.
The deafening silence and utter darkness of the desert night stripped me bare. With nothing to distract me I was left with only myself—not what I look like or who I think I am, but what I can only describe as my soul. It was the first time we'd actually met. And it was not pretty. All I could see was darkness—as if all the light in the world had been extinguished.
The truth is, I had been depressed when I showed up at the ranch. And now it was stubbornly moving in, threatening to overflow my toaster-oven-size staff dorm room and my very being.
My boyfriend tried to help, but we were in very different places. He just wanted to have fun, and I just needed to feel safe. Though we loved each other deeply, most of that summer we fought. I was triggered by everything, and no matter what I did (from yoga to meditation to peaceful walks in nature), I couldn't get myself to feel OK.
And so, one dark night I found myself alone and kneeling on the concrete floor of my small, dark, and dusty room. I'd had another frustrating day fighting with negative thoughts and depression. I couldn't bear the thought of living another minute drowning in blackness.
This wasn't the first time I'd needed help. I'd come out of some horrific situations in my past, and prayer had always helped. Though I wasn't particularly religious, I prayed:
Dear God, Spirit, Universe, Divine, Angels, Spirit Guides, (as a Midwesterner, I'm nothing if not practical and polite—I didn't want to leave anyone out),
Let this suffering end and banish the darkness inside of me. And if I am able to get out of the dark and I can let this go, let me live. Better yet, I want to thrive. And if I can thrive, I'll make something of myself. I'll never give up. I'll do my soul's work.
The words poured from my lips as if they'd been inside me waiting to be birthed for a very long time.
I wish I could say that something instantaneous and definitive happened after that prayer—that I had some deep insight, saw something magical, or that my depression lifted immediately.
I actually spent much of the rest of that summer hurting. But as I look back, I see that night as a defining and critical juncture on a long journey to the rich, meaningful life that I live today. Though I didn't know it at the time, my soul found courage and faith that night that I'd never felt before—strength that fueled my long climb back to myself.
I often say that the Midwest (Kansas City, specifically) has my heart, but my soul will always be in New Mexico. Whenever I feel lost I find myself heading back that way. I'll be forever grateful to the "land of enchantment" (yet some call it the "Land of Entrapment") for introducing me to my soul and teaching me we need the dark just as much as the light in order to heal.