Parent Like A Parisian: 6 Things French Moms Do Differently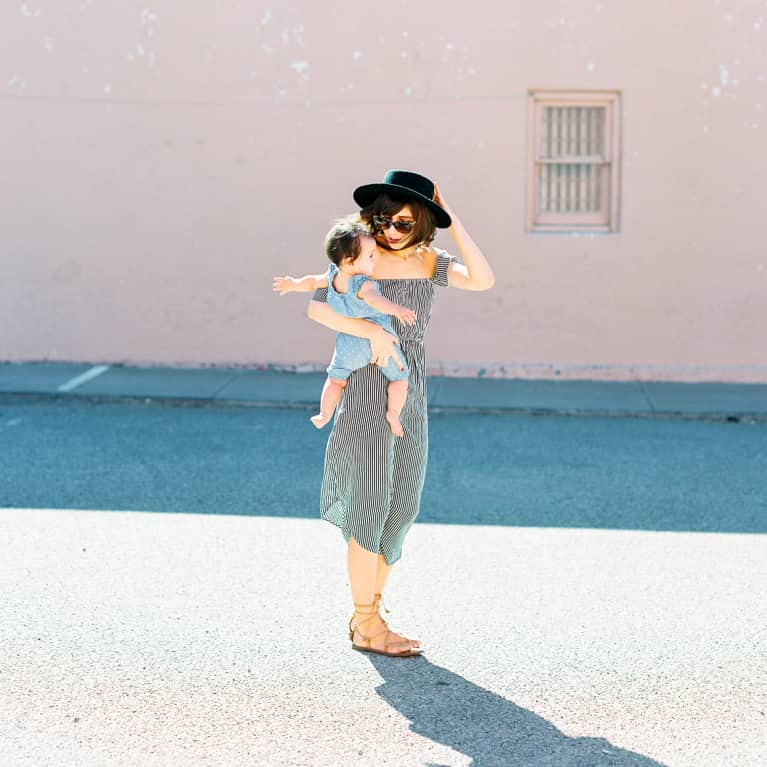 Our editors have independently chosen the products listed on this page. If you purchase something mentioned in this article, we may
earn a small commission
.
Florence Mars and Pauline Lévêque co-authored their first children's book, Say Bonjour to the Lady: Parenting From Paris to New York, to highlight the differences in parenting. In the adapted excerpts below, they find ways to appreciate each other's parenting styles and celebrate them—making it a fun read for both parents and children.
In their first co-authored book, Say Bonjour to the Lady: Parenting From Paris to New York, Florence Mars and Pauline Lévêque explain the often comically stark differences between French and American parenting. Interestingly, both women have experienced living in Paris and being raised by a French family, but Pauline moved to America during her formative years and ultimately had her children there. Since then, Pauline's family has moved to France and then to New York, and Florence's to Brooklyn, so their viewpoints are especially unique in having fully experienced both sides of the spectrum. Below, we share a few experts and illustrations from their book on some key differences between French and American parenting and their words of wisdom.
"I was raised by an amazing (if slightly dysfunctional) family that fully embraced the unwritten rules of French parenting. I was properly dressed, which is to say my mother dressed me, until I turned eighteen—unless, of course, we were at the beach, in which case I was naked until ... let's just say late, later in life than anyone outside of Europe seems comfortable with. There were no choices, no explanations." —Florence
"I was raised by a loving family. My father, an artist, was obsessed with the beauty of things—though his opinion of beauty was admittedly sometimes a bit narrow, especially for a 10-year-old girl. I had to keep my hair short throughout my childhood—and even today my long hair remains a sensitive subject. I couldn't wear the shoes or clothes I wanted until I left for college. My parents raised me the classic French way, where children follow the rules and don't make them. I was constantly being told: Don't talk with your mouth full. No elbows on the table. Stand up straight! I don't blame them for a minute—especially because they also introduced me to American culture." —Pauline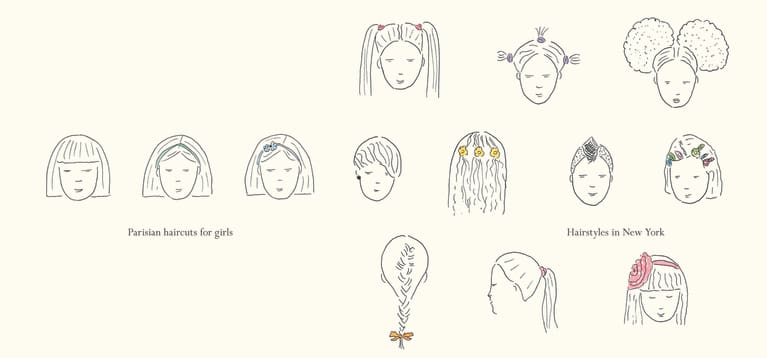 Parisian haircuts for girls are bobs versus American hairstyles where anything goes!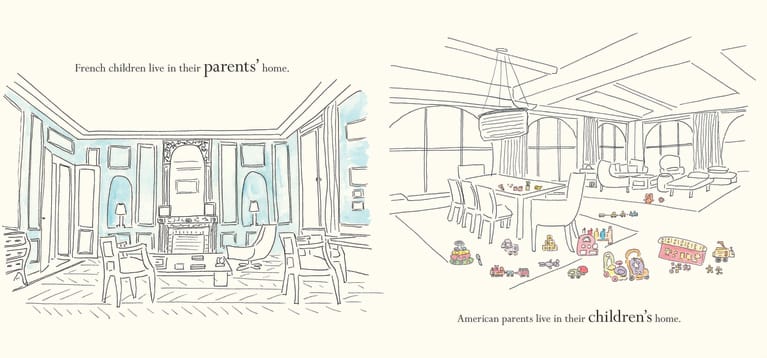 French children live in their parents' home, whereas American parents live in their children's home.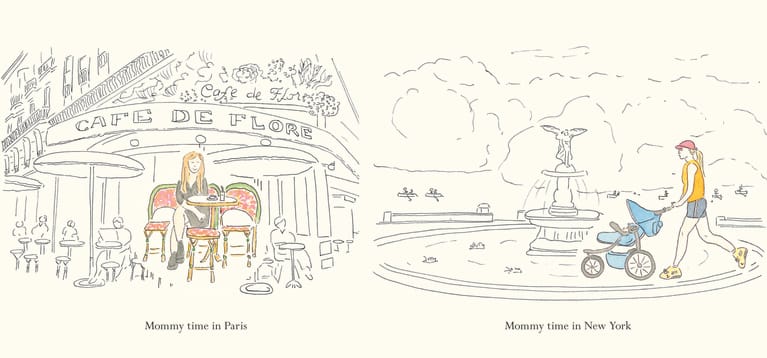 Mom time in Paris looks like a solo latte at Cafe de Flore. Mom time in New York is a jog through central park, pushing a stroller with baby.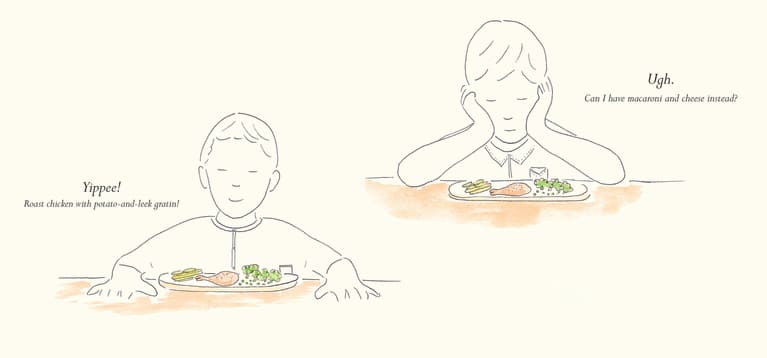 Dinner in Paris is exciting: a roast chicken with potato-and-leek gratin! In America that would be gross, but mac and cheese would be much better.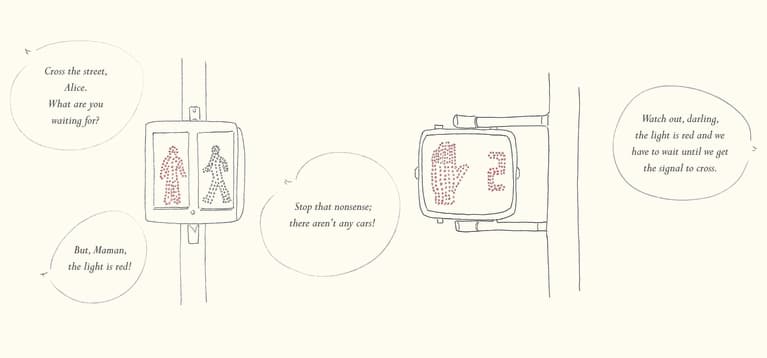 In Paris, traffic lights are blasé. "Cross the street, Alice. What are you waiting for?" "But, Maman, the light is red!" "Stop That nonsense; there aren't any cars!"
In America, on the other hand, the light is more respected. "Watch out, darling, the light is red and we have to wait until we get the signal to cross."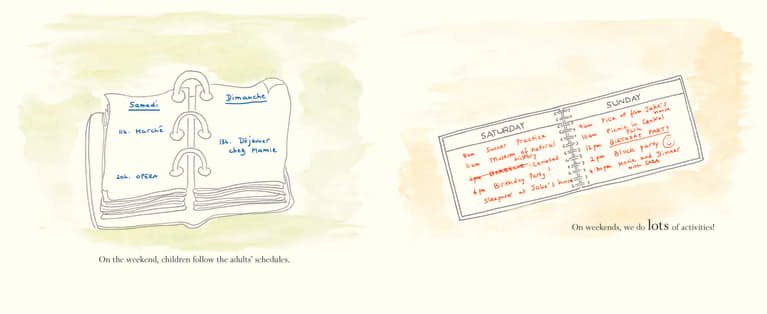 In Paris, children follow the adults' schedules on the weekend. In New York, on the other hand, schedules are jam-packed and centered around kids' activities.
So which is better: French or American parenting?
"Which style is best? I still hold firm to many of my traditional ways, but I can tell you what the best approach is probably somewhere in the middle, a subtle mix of French authority and American enthusiasm. Our kids are very chic indeed, but yours look much happier." —Florence
"When Florence and I get together, we always compare notes. While our parenting approaches are pretty different—she sticks more closely to the traditional French way we were raised, and I have embraced the American style with open arms—we always agree on one thing: If we were raising our kids together, they'd be perfect!" —Pauline
Based on excerpts from Say Bonjour to the Lady: Parenting From Paris to New York by Florence Mars and Pauline Lévêque, with the permission of Clarkson Potter/Publishers, an imprint of Penguin Random House LLC. Copyright © 2017.