The Best Style, Beauty & Wellness Tips From French Vogue's Former Editor-In-Chief
Former mbg Deputy Editor
By Elizabeth Inglese
Former mbg Deputy Editor
Elizabeth Inglese is a writer living in San Fransisco, California. She earned her bachelor's in english literature and cultures from Brown University and her master's in writing from The University of Southern California. She's the former Deputy Editor of mbg, and has also worked for Vogue, Architectural Digest, Bon Appetit, and Good Magazine covering food, health, and culture.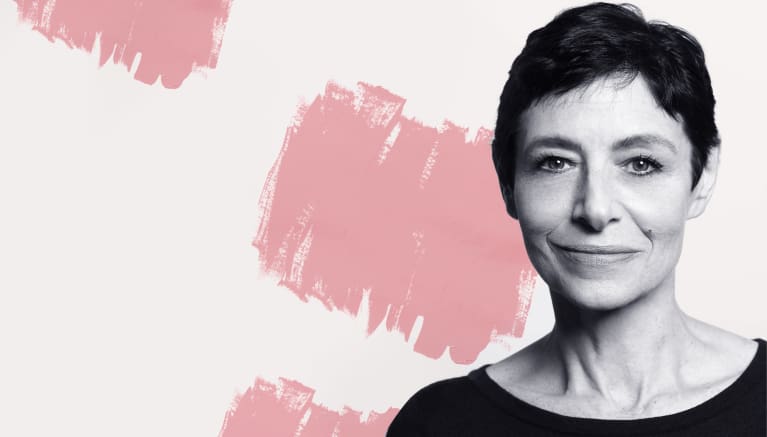 Our editors have independently chosen the products listed on this page. If you purchase something mentioned in this article, we may
earn a small commission
.
You would expect Joan Juliet Buck to know fashion. The American turned heads in 1994 when she was named editor-in-chief of French Vogue, doubling its readership and ushering in a new era of casual glamour in Paris. But did you know the editor is also fluent in adaptogens? This month marks the release of her memoir, The Price of Illusion (Atria Books), in which Buck recounts a glittering life lived between Paris, London, New York, and LA. Through her friendships (and love affairs) with actors, artists, and the international cognoscenti at large, Buck learned the secrets to beauty and wellness that lie in holistic treatments. mbg spoke with her from Los Angeles to learn what keeps the 68-year-old ever-young.
I hear you throw a mean dinner party. Do you like to cook?
I adore to cook—the more people, the better. I've been cooking all my life. I was taught by my godfather's wife, Ricki Huston. I love to boil, roast, simmer, sauté vegetables, but I can't bake to save my life. I can't make a cake.
Are you a healthy eater?
I keep my psoriasis at bay by avoiding all gluten and avoiding all alcohol. I live alone and I write, so I always eat the same thing.
What does your daily breakfast consist of?
I learned to poach eggs from the script of Julie & Julia. I always thought you needed a special pan, vinegar—that there was some secret to it. The only secret to it is to use room temperature eggs. You boil the water and you swirl it counterclockwise, you crack the egg into the center of the counter clockwise swirl and that makes perfect poached eggs. You don't need anything more. Every morning I have two poached eggs on a mound of arugula. I throw turmeric onto my eggs, add curry powder, grind pepper, and add olive oil and Kerrygold butter. I also love to have my black-currant jam and black coffee with cocoa powder, sweetened with a little honey. If you have a lot of cocoa powder in your coffee, you won't crave sweets throughout the day. And it's good for the memory.
What is your morning routine?
I've been living in a place that has only a shower, which is upsetting because I'm a bath person. When you're writing a book, there's a temptation to just get up, drink the coffee, and go to work. Because of my skin condition I only use goat milk soap. I use the one by Canus. If I'm near a bathtub, I use Epsom salts and baking soda.
How to you wind down before bed?
I drink various tea. I love rooibos and plain hot water. My big indulgence is bottled water. I vary it. There's a wonderful brand called Evamor, which has a high pH. Love Fiji, Mountain Valley Water, Ozark. I take magnesium and B6 together—it's a French pill you can't find in America. To calm me down I take Rhodiola and a thing called 200 mg of Zen.
How did you learn about holistic health?
I've lived in the country, where many of my friends couldn't afford health insurance. They had to learn to take care of themselves in a natural way. Instead of a flu shot, they drink fresh thyme in hot water.
When I was editor-in-chief of Paris Vogue I went to this very fancy spa in Northern Italy where they taught me about magnesium and B6. I use natural remedies. For my psoriasis, I went to the Blue Lagoon Clinic in Iceland, which has a pool with silica from the center of the earth. They don't do anything to you; they just put you in this pool a few times a day. The pool is hot, the air is cold, and you do nothing but hang out in the water. The silica cures it.
I had allergy tests and discovered I'm highly allergic to common a shampoo ingredient, cocamidopropyl betaine. You look at any bottle of shampoo or conditioner, except Seventh Generation, the second ingredient is cocamidopropyl betaine. It's everywhere. I only use HairEver or Dr. Bronner's. And I carry around a tiny bottle of Dr. Bronner's and use it in public restrooms.
What other wellness rituals do you swear by?
Essential oils are so important. At home I have one of those ceramic circles you place on a light bulb to burn the oil. It's much cheaper and healthier than a candle. For every day, I love geranium. If I'm feeling cold: cloves, cinnamon, ravintsara. Nutmeg smells good, but If you burn nutmeg for three days, you'll get a little loopy. Avoid that. I like fresh roses but don't like the smell in oil or perfume. To be alert, I burn lemongrass.
In The Price of Illusion, I write about burning a smudge stick in my office to counter negative people—it's a comic scene, and it made people think I was smoking pot. But using smudge sticks works if you've been through a difficult day or had an argument or you just want to clean your space. I burn the dry sage in a shell and walk around the house.
What helps support your creativity?
When I get up, I start to work immediately, so I have my breakfast around noon. And I have my second meal at about five or six o'clock and then I'm done. I love quinoa and lamb. I also do transcendental meditation; I learned with some of the people from the TM center in Iowa, over two days in the '90s. It was a weekend house party and all the guests learned.
What wellness tips did you learn in Paris?
I used to go a salon in Paris where Francoise Morice would pinch my face for about an hour. It felt wonderful, particularly on the eyebrows. I've never had any cosmetic surgery, but now I go to various different places for microcurrent treatment, the electric thing. At my age it does good things.
What was the best beauty tip you learned from Vogue?
One Vogue makeup artist said, "Rub red Tiger Balm on your lips," and it works. The red Tiger Balm, just rub it off before you eat. You don't want to be eating Tiger Balm.
What's one great piece of style advice?
It sounds kind of weird, but you know how sometimes you buy something and the first time you wear it things go well? The good-luck clothes are the good-luck clothes. If you wear something and there's a disaster? You don't want to wear it again. Because I'm very European I say there's no need to dress your age. Everyone has a way of dressing where they look good and they also feel happy. That's how you find your style. I found harem trousers in black silky jersey designed by a woman called Nu in Istanbul, and I now have 18 pairs, identical. I like to wear the same thing. All last winter, I wore a navy blue cashmere Michael Kors turtleneck sweater from 1997, when he designed for Celine. It's what I've worn all winter. That's my No. 1 sweater.